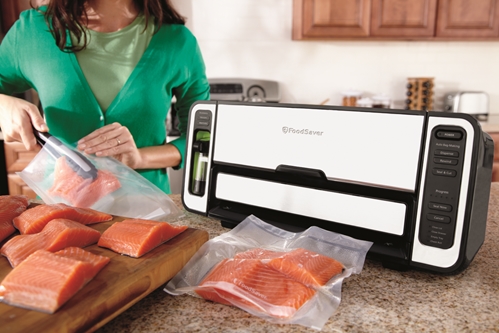 5 Reasons Why the FoodSaver® 2-In-1 Vacuum Sealing Kit Needs to Be on Your Black Friday List
Black Friday is swiftly approaching, meaning it's the perfect time to start checking off those gifts on your Christmas list. Instead of going to the store and flying blind the day after Thanksgiving, it's important to create a well-organized list of items to make your shopping trip easier and more efficient.
The FoodSaver® 2-In-1 Vacuum Sealing Kit should be at the top of your list - not only is this product the ideal gift for aspiring chefs, cost-conscious shoppers and gardeners, but it offers a variety of benefits that can't be denied. Consider these top five reasons this versatile vacuum sealer should be on your Black Friday shopping list this season.
1. It Can Save You Thousands in the Long Run
Ever wondered how much money a vacuum sealer could save you? Well, if you buy in bulk and on sale, you can reduce your waste by keeping your foods stored with this appliance - something that can save you up to $2,700 a year for a family of four. Stop wasting money on plastic bags, wasted food and takeout by using your FoodSaver® Vacuum Sealer to preserve your kitchen's contents.
2. Keep Your Food Stored for the Season
Your vacuum sealer can preserve any edible, from fruits and vegetables to your meats and cheeses. Depending on the food you're storing, there are certain specifications to keep in mind, but for the most part, your vacuum sealer can extend the shelf life of most of your ingredients up to 5X longer than ordinary storage methods.
3. It's Got Accessories Galore
The FoodSaver® 2-In-1 Vacuum Sealing Kit comes equipped with several accessories, including:
4. You Don't Have to Worry About Bags for Now
Sick of shelling out cash for plastic bags that don't even keep your food fresh for the long haul? The FoodSaver® brand bags keep your foods fresh up to 5X longer than ordinary storage methods, and they maximize your storage space and help you organize your freezer, refrigerator and pantry. You'll need to restock eventually, but your FoodSaver® 2-In-1 Vacuum Sealing Kit comes with enough bags for the first few months.
5. It's Compatible with Other Items
If your food preservation needs extend beyond conventional sealing, you're in luck - your FoodSaver® Vacuum Sealer can attach to all FoodSaver® brand canisters, containers, marinators and other accessories.