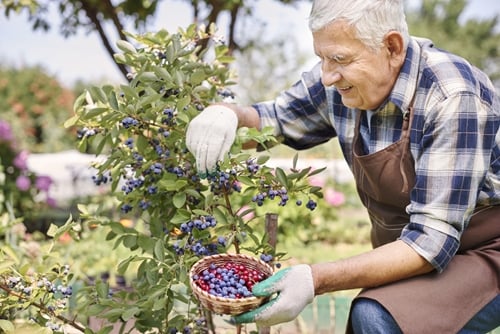 Prepare Your Garden For Spring
As the snow melts and temperatures rise, you're likely ready for spring to finally get here and stay! While warmer weather is certainly a favorite aspect of the season, a FoodSaver® FM5460 2-in-1 Food Preservation System user is probably excited to get his or her garden up and running for the year. After a winter freeze, there are plenty of things you need to do to prepare it for the coming months. Here are some tasks to check off your to-do list a couple of weeks before growing your produce:
Clean Up Your Old Plants
The great thing about perennials is that they grow back every year - but that doesn't mean you don't have to maintain them! Some plants, like strawberries, might look dead when spring rolls around because of the abundance of dried leaves. However, a little bit of grooming can restore these plants to their former glory. If your perennials started growing a little wild last season, now's the ideal time to divide them for the coming season.
There will also probably be plenty of other plant debris left over from last year in your garden. Pick out dead leaves, branches and anything else that doesn't belong in there before planting anything new. This is a good opportunity to pull all of the weeds that have already started growing as well. This is a task you'll have to maintain all season, but the earlier you get started, the less those weeds will root.
Add More Soil
Over the winter, your soil has probably gotten significantly compacted. It's advisable to add a few inches of soil to the top of your garden before your plants start growing. Feel free to pile it on! Your soil will settle after a couple of weeks - especially if it rains - so it's better to add too much than not enough. Integrate this new soil and compost with your old stuff by turning it with a hoe or rake so the roots of new plants can easily grab a hold of the earth.
Once you turn your soil, you'll probably find that there were some pests lurking beneath the surface. While some bugs are inevitable - and some, like ladybugs, are even good for your plants - insects like slugs or aphids can wreak havoc. Taking care of these before planting any new plants is the best way to go! If you want take a natural route before trying pesticides, try saving your coffee grounds and combining them with your dirt.
"Add fertilizer before planting your seeds."
Wait It Out
While it may be tempting to start planting as soon as your local nursery begins having springtime sales, getting the ball rolling too early can be detrimental to your little seedlings. Over the winter, the ground becomes moist and even though it may seem like the surface has dried, it might still be too wet for your plants to thrive. After rotating your soil, make sure it's dry enough to host plant life by making a ball with your hands. If it falls apart instead of forming into a ball, it's good to go. If the soil clumps together, let it dry out a little more.
Many gardeners wait until they've planted their seasonal plants before adding fertilizer. However, the best time to do this is actually after you've cultivated the soil and before you've started your planting. When the soil has been turned, it's more porous instead of compacted, so the fertilizer will have a further reach.
Try Composting
If you haven't started composting yet, now is a good time! After tearing organic matter out of your garden, you'll have a lot of dried leaves and dead plants, so you'll have a good foundation to start with. Whether you build a composting area or just use a trash can, this is an easy way to make sure you don't waste anything, and also create the best environment for your produce. You might not get enough compost made to make a huge difference this season if you start now, but you'll have plenty for next year!
With your garden ready to go, fresh produce will soon pop up. Keep those delicious, home-grown fruits, vegetables and herbs fresh by storing them with your favorite FoodSaver® products.