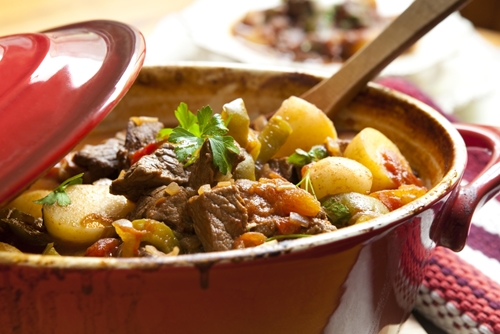 Venison Recipes for the Skilled Hunter
Hunting season is coming to an end, which means you've probably got a freezer full of deer meat with no place to go. If you've had a successful hunting season, start searching for unique ways you can repurpose that meat for tasty dishes that you can enjoy on your own or share with your loved ones.
Ready to start divvying out all that deer meat? Consider whipping up one of these delicious dishes.
Deer Jerky
Dried deer meat is perfect for packing in your lunch, taking camping or merely snacking during the day. Try making a batch of deer jerky, then keeping it fresh for much longer by sealing it with your FoodSaver® GameSaver® vacuum sealer system.
You'll need:
2 pounds deer meat
1 cup Worcestershire sauce
1 tablespoon garlic salt
1/2 cup soy sauce
1 teaspoon red pepper flakes
1/4 cup brown sugar
1 tablespoon sesame seeds.
Directions:
Cut your deer meat into small strips - at least 1-inch thick - then spread them out on an oven tray. In a small bowl, combine Worcestershire sauce, soy sauce, brown sugar, garlic salt and red pepper flakes. Stir until the ingredients are well-blended, then transfer them to a large plastic bag. Place your cuts of deer meat into the bag, using your hands to ensure the sauce has coated your pieces, then put the bag in the fridge for a few hours.
Preheat the oven to 200 degrees, then place your marinated meat on an oven tray. Coat the pieces with sesame seeds and allow them to cook until they're completely dried, or about six to eight hours.
Vegetable and Venison Stew
Get a few of your essential food groups together in one serving by whipping up a savory venison stew along with the meat from your game. The best part? You can adapt this recipe depending on the type of meat or vegetables you have in your home.
You'll need:
2 pounds venison, chopped into bite-sized pieces
1 large onion, diced
2 cloves garlic, minced
1 cup celery, chopped
1 cup carrots, chopped or baby
1 cup tomatoes, diced
4 potatoes, peeled and chopped
3 cups water
3 tablespoons Worcestershire sauce
1 tablespoon basil
1 tablespoon oregano
Olive oil
Salt and pepper to taste.
Directions:
Coat the bottom of a saucepan in olive oil, then turn the stove to medium heat. Add diced onion and garlic to the pan and sautée until the onion is tender. Stir in deer meat and, after about two minutes, add your vegetables. Stir in water and Worcestershire sauce, then top with your spices. Allow the mixture to simmer for about 45 minutes to an hour, stirring occasionally.