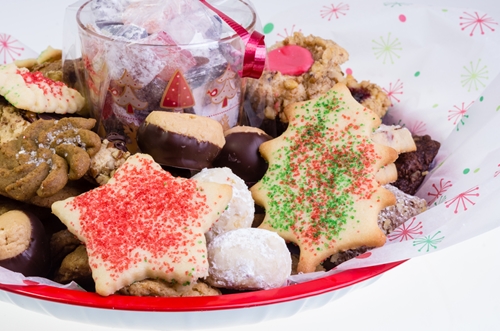 Sweeten Up the Season: Treats You Can Save
'Tis the season for sprinkles, icing and chocolate-covered cookies.
Whether you're whipping up treats for your neighbors or attending a holiday-themed cookie swap, you'll no doubt be looking for new recipes to show off this season. Use your FoodSaver® 2-In-1 Automatic Bag-Making Vacuum Sealing System to distribute these delicious sweets over the holidays.
Chocolate Pinwheels
These timeless favorites are perfect for setting out for Santa - just don't forget the milk!
You'll need:
2 cups softened unsalted butter
1 cup powdered sugar
1/4 cup light brown sugar, packed
1/2 teaspoon salt
4 cups all-purpose flour
1/2 cup semisweet chocolate chips
1 tablespoon unsweetened cocoa.
Directions:
Combine butter, powdered sugar, brown sugar and salt in a large bowl, mixing until well-blended. Slowly add flour, beating along the way. Melt 1/2 cup chocolate chips, then separate your dough in half. Add the chocolate and cocoa to one bowl until they're completely mixed in. Separate each pile of dough into fourths, then roll in individual balls. There should be eight total - four chocolate and four plain. Use a roller to flatten one plain ball, then place it on a rectangular oven sheet. Flatten a chocolate ball and place it on top of the plain one, then tightly roll the two together to make a log. Wrap the dough up in plastic wrap, then repeat with your other balls and refrigerate all four logs for an hour.
Preheat the oven to 300 degrees, then cut the logs into small pieces - each one should yield about 20. Bake for 10-12 minutes, then allow them to cool before sealing.
Candy Coated Pretzels
These are the perfect party favors for any holiday or festive event. Added bonus? You only need three ingredients! Send a bag of these sweet treats to your loved one across the country or use them as part of a larger cookie collection - either way, you're guaranteed to please.
You'll need:
1 bag pretzels
1 bag caramel-filled chocolates
1 bag candy-coated chocolates.
Directions:
Preheat the oven to 350 degrees. Line an oven tray with pretzels, then top each pretzel with a caramel-filled chocolate. Place the pretzels in the oven for about 5-7 minutes, or until the chocolates have just begun to melt. Remove the tray and top each chocolate with a piece of candy, then allow the treats to cool for about an hour, or until the chocolate has hardened.