Images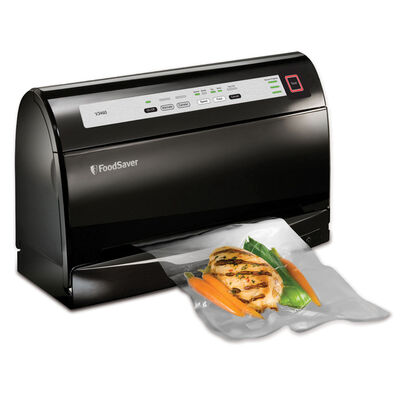 Système d'emballage sous vide FoodSaverᴹᴰ V3460
Details
https://www.foodsaver.ca/fr_CA/systemes/systeme-demballage-sous-vide-foodsaver%E1%B4%B9%E1%B4%B0-v3460/FSFSSL3460-033.html
Foodsaver
FSFSSL3460-033
https://www.foodsaver.ca/on/demandware.static/-/Sites-master-catalog/default/dwde537bc5/images/highres/FSFSSL3460-033-1.jpg
La trousse de départ inclut :
1 rouleau FoodSaverMD de 11 po x 10 pi
3 sacs FoodSaverMD de 1 pinte
2 sacs FoodSaverMD de 1 gallon
Tuyau pour accessoire
Le système d'emballage sous vide FoodSaverᴹᴰ V3460 préserve la fraîcheur des aliments jusqu'à 5 fois plus longtemps.
Spécifications du produit
Dimensions: h: 9.57 po x l: 16.02 po x  P 5.91 po
Longueur de la corde: 33 po
Poids: 7.85 li
Voir la suite...
Additional Information
Le système d'emballage sous vide FoodSaverMD V3460 combine un boîtier vertical compact et une opération entièrement automatique pour sceller la fraîcheur d'une variété d'aliments. Faisant appel à une technologie exclusive qui détecte automatiquement le type de sac et d'aliments, ce système crée un joint étanche à l'air parfait, pour éliminer toute devinette pendant le processus. Son nouveau profil vertical occupe également peu de place sur votre comptoir. Parmi les autres caractéristiques de ce modèle, notons 2 vitesses d'aspiration, 2 niveaux de scellement, logement intégré pour rouleau à coupe-sac pratique et ramasse-gouttes breveté amovible facilitant le nettoyage.
Boîtier vertical peu encombrant
Opération entièrement automatique intégrant 2 vitesses d'aspiration
Réglages pour aliments humides / secs assurant un scellement optimal
Scellement instantané CrushFreeMC protégeant les aliments délicats
Support pour rouleau et coupe-sac pratiques
Ramasse-gouttes breveté amovible pouvant être nettoyé au lave-vaisselle
Bande de scellement ultralarge créant un joint étanche à l'air résistant
Garantie limitée de 1 an
Système d'emballage sous vide FoodSaverᴹᴰ V3460
est évalué de
5
de
153
.
Rated

3

de

5
de
MoodyMe
par
Does not always seal
I have to agree with those who say that the V3460 does not always fully seal the bags. I had an old VAC550 unit that was smaller, less expensive, and did a much better job than this one. I love the idea of vacuum sealing my food - it really does help prolong shelf life, and preserve frozen foods. But, in the future, I will do a lot more research before I buy another unit so that I know that I will get my money's worth.
Date de publication: 2015-09-13
Rated

5

de

5
de
None
par
Happiness!
After debating, for years, we finally bit the bullet. Just purchased and have found a number of things we can use it for. Example: 1/2 block mozza cheese, croutons to store away for emergency! We live out in the country so these things make life simpler.
Date de publication: 2015-07-21
Rated

4

de

5
de
suzie queue
par
One of the best
This is the second one of these I've owned. I had an earlier model (no longer made) I bought years ago and used until it failed this year. So I got many years out of it. It is easy to use and does a pretty good job. Bought this model, as it is just like the one I had. I didn't give it five stars simply because all of them tend to quit (I believe they overheat) if doing a large packaging project, such as processing a deer. If this design flaw could be overcome, it would be perfect. I just take my time and when it starts to fail vacuuming, I stop and let it cool down, then resume. Good time for a break, anyway.
Date de publication: 2018-01-07
Rated

4

de

5
de
Owlett5
par
Looks great, hard to seal
I was given this as a gift from my boyfriend. The first thing I used it on was some leftover raw hamburger. We all know how prone to freezer burn ground beef can be! I used the wet setting with the provided bags. It had a bit of difficulty forming a seal. It did suck out most the air but the seal was patchy and needed to be resealed about 5 times before I could see it had formed a seal all the way across the bag. I personally don't mind having to press the seal button like 4 times, but it should seal the first time!
Date de publication: 2015-09-15
Rated

5

de

5
de
mcmcmc
par
food saver
I bought this food saver a couple of months ago. I love this thing. It is easy to use and does a real nice job of sealing the food. The only thing I should have done differently is get a smaller unit. I feel this unit is a bit too large for what I am going to use it for. I do have to say that I did not have much luck using the rolls so I buy the bags and that works much better for me.
Date de publication: 2017-09-27
Rated

5

de

5
de
PTs2
par
We are so glade that we got this foodsaver we had one many years ago and like it then and were unable to get another till now so glad the new one is great it does so much more than the one we had before great machine
Date de publication: 2017-04-11
Rated

5

de

5
de
Nvflash
par
Great for marinating!
I had a few of the original Food Saver vacuum systems in the past so I'm not a stranger. I bought a new one to try out the new features like the marinating container. I've only used it for that so far and the jerkey was perfect! Chicken for the grill did well too.
Date de publication: 2017-06-15
Rated

4

de

5
de
Dames01
par
Great product for the orice
I bought this same food saver for myself a year ago and used it so much in the first year I bought it again as a gift for my mother. She was thrilled to receive it because she used mine so often. Occasionally I don't get a complete suction and removal of air from my bags. I'm not sure why. I don't think I am altering my technique. But I still love my food saver. I will use it again and again for many years.
Date de publication: 2015-12-28
Rated

1

de

5
de
GJFT
par
Not for large quantities
Make & seal 6 bags - unit overheats then wait 20-30 minutes to start again. Make bag #7 - no suction, waste a bag, #8 no suction waste another bag. Wait another 10 minutes do 6 more bags repeat waiting and wasting. When we bought this I explained to the salesperson that I buy 16 chickens and 4 turkeys every autumn that I portion out, 8 portions/bird. I wanted to stop using Ziplock bags because I wanted to keep things fresher in the freezer. He said this was a great unit for that (not so much). It took almost 6 hrs. to butcher & package everything, 3 hrs. more than using Ziplocks.
Date de publication: 2019-09-28
Rated

1

de

5
de
wvcatmom
par
Great color in red
I bought this item v3461 in red, love the color and that is all thats good about it. Sometimes I have to put the item in 3 or 4 bags to get to seal. When seals leaves air pockets under my roasts letting them get freezer burn. Does not seal 2/3 of time. Don't waste your money, wish I hadnt! Extremely disappointed!
Date de publication: 2017-01-17
Rated

5

de

5
de
Pumpkin51
par
I love it!!
My sister has one and I have always wanted one so I caught this one on a special and decided to get it. I am tired of throwing away foods from freezer burns and been in there too long spoiled foods in the fridge. Since I have purchased it I seal everything. What a savings!!!
Date de publication: 2017-11-30
Rated

5

de

5
de
QueenB925
par
BEST PURCHASE EVER!
I have needed a food saver for a long time and finally made my purchase - GREAT value for the money. I love that I can buy meat in bulk (saves a TON of money) , vacuum seal and freeze! Well worth the investment for anyone on the fence about it. You can't go wrong!
Date de publication: 2017-11-29
Rated

5

de

5
de
Stellahblue
par
Saving food
People on here complain about the extra plastic that seems left over after a food saving vacu-seal is done. I disagree on a few aspects. Yes there is extra plastic if you don't use the exact right bags for the job. Find your groove and your sealing needs to Not feel that way. We had to order different sizes and some vacuum seal plastic containers to figure that out. If your keeping lots of food for at least over a year this is for you. Back to the loss of plastic. I figure you loose a little plastic or you get freezer burn. Get one with a pulse setting.
Date de publication: 2018-02-02
Rated

5

de

5
de
Coffey Park Survivor
par
Automatic vacuums!
I have used this a few times now, I bought this unit to replace a different model of Food Saver Sealer that I lost in the Norcal Fire. I decided on this unit because it was the next step up and compact in size. I do not favor the big bulky ones. This one automatically senses the bag and vacuums and seals like a champ. The only down side is it needs a full inch and half to slide inside and activate it. it also seals about an inch in from the ends, so you will need larger bags for what you seal. If you owned one before, you know what I am talking about.
Date de publication: 2018-01-23
Rated

3

de

5
de
ohio girl
par
noisy
I had an old unit but thought I needed a newer version.It is great at sealing bags and containers but it is twice as loud as my old sealer
Date de publication: 2017-09-05
Rated

5

de

5
de
Sauvage
par
pour l'instant tres satisfait, depuis une semaine
Oui bon achat et pratique , utilisation facile après avoir lu et compris la méthode d'emploie, 1-se serait pratique d'avoir dans ce modèle le plat pour marinade, lors de l''achat, il reviendrait peut être moins chère . 2-Aussi peut être penser a mettre un rouleau complet de 11X16. 3- j'ai enveloppé mes gâteaux aux fruits, pour une meilleur conservation et je suis sur et confiant du scellage parfait.
Date de publication: 2018-03-10
Rated

4

de

5
de
dasuri
par
no more freezer burnt foods
love the ease and convenience great product, Wish I would have bought the unit with the retractable hose
Date de publication: 2017-11-29
Rated

5

de

5
de
Jadek1
par
Best thing since sliced bread
This is only our 3rd unit in FORTY YEARS. I bought it because our current unit is starting to act up and my wife would rather do without ME rather than not have a super sucker ( what she calls it ) in the house. :-) .........
Date de publication: 2017-11-04
Rated

5

de

5
de
rav4nana
par
Love foodsaver
I had a foodsaver for over 10 years.and decided it was time to upgrade. I recently purchased a V3460 as it had all the features I needed. I am so happy with this unit...I can keep it on the counter instead of "getting it from under the counter and putting it back, then getting it from undet the counter and putting it back" , you get the picture!! Love the unit and all the features!!
Date de publication: 2017-12-09
Rated

5

de

5
de
Bish427
par
Great Product
I liked this sealer so well that I purchased one for each of my two daughters as well as bags to go with it. This sealer works great and we use it constantly.
Date de publication: 2015-12-28
Rated

5

de

5
de
ORquailfeeder
par
Great Vacuum Sealer!
I was sad to have to replace my 9 year old vacuum sealer but it took so much "coaxing" to vacuum. So I purchased the FoodSaver® V3460 Vacuum Sealer. So glad I did! The new unit is so user friendly with less steps for processing - it is very fast and even easier to use. And it looks wonderful in the kitchen as it sits ever ready to work! What was I waiting for????
Date de publication: 2015-10-20
Rated

5

de

5
de
Boyd
par
Work great
I have had this machine for about 5 years . I seal lots of fish in big game it works incredible no problems whatsoever.
Date de publication: 2017-11-06
Rated

5

de

5
de
BUBBY
par
MONEY SAVER
i purchased the Food Saver for my daughter. I have had a Food Saver for many years and LOVE it. I use it almost everyday for all types of food storage. I have used it for freezer storage which keeps foods much longer than conventional methods. I use it for left overs, as a one person household, there are lots of those and before using the Food Saver these would go "to waste" because I do not like left overs stored with other methods. I reseal chips in the bags which they were purchased, they stay fresh much longer than the "fresh by date" on the original package .Some things, I prepare in large quantiles and place extra servings in Food Saver bags in the freezer for later meals. What more can I say, I LOVE my Food Saver and wanted my daughter to enjoy the savings and convenience of the Food Saver. Did I mention that when the supermarket has buy one, get one free specials, the free one keeps well in the freezer? YEA = FOOD SAVER = MONEY SAVER
Date de publication: 2017-08-17
Rated

5

de

5
de
Tracker208
par
Just purchased a second one!
I have used my V3460 for six years, mostly packaging my antelope. This year the bottom strip failed, and so did the top strip. I ordered new parts online. While doing so I found this model on sale at a greatly reduced price. Great Value. Easy to use. I highly recommend it. I did buy extra replacement parts (cheap) for the future!
Date de publication: 2017-11-03
Rated

3

de

5
de
Dawn 1
par
Wastes bags
I am a long term FoodSaver user. Had one of the first ones to come out. Loved it!!! This one does do the job, but it is a pain, cause sometimes it works and other times it doesn't. Very, Very frustrating!! and it wastes way more of the bag to make it work. Next time or when I recommend it will be that flatter style!!!!!
Date de publication: 2017-10-18
Rated

5

de

5
de
DebDeb
par
So many uses
I love everything about this system. It is my first machine and already I can see how much I am saving on both food and time. I love being able to reseal my salad mix, my chips, etc. I can buy larger packs of meat and put some in the freezer. I use the resealable zipper bags for cookies and fruit. I can save half an avocado to eat a couple of days later and it's like I just sliced it. I eat only a few slices of precooked bacon and I can seal up the rest, open and reseal, open and reseal...you get it
Date de publication: 2018-01-06
Rated

3

de

5
de
Rockin mimi
par
Works well
The only downfall is if you cut your own bags you need to leave about 2inches of hangover bag because you can the amount of excess bag after sealwd is about an inch and a half. I had the machine a step down from this one and was able to control how much of bag was wasted. Works great just seems to have much more wasted bag using this machine. Had i known i probably would not have upgraded. Will continue to use it though. I would recommend the smaller lower model machine if a friend where to ask me.
Date de publication: 2018-06-25
Rated

5

de

5
de
Gh247
par
Vacuum sealer
Love it! This is the 3rd system I have owned in 30+ yrs. I use it everyday for something. From blanched vegetables to meats to resealing a potato chip bag! Use it so much I've burnt out the motor in 2 machines. I'd be lost without this machine!
Date de publication: 2017-06-29
Rated

2

de

5
de
Kacey
par
Hard to get it to seal
I find it very hard to seal unless you leave a lot of bag. I also find the tall shape awkward. I use to have another one which was not tall and loved it, it didnt seem to need as much bag and was much easier to seal
Date de publication: 2018-01-11
Rated

1

de

5
de
gappel
par
FoodSaver V3460 Vacuum Sealing System
I bought this for my son. He opened it to use it and it worked the first couple times real well then it did not seal properly. It kept stopping to cool down before you could use again. Sent this back.
Date de publication: 2016-12-21