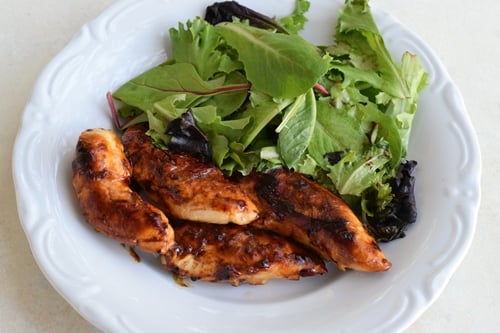 Marinated Chicken
Christy Jordan is a paid advertiser for the FoodSaver® Brand.
I love simple, delicious, uncomplicated meals. Marinated Chicken is one I keep in my bag of tricks and usually pull out at least once a week. These tender and flavorful chicken tenders pair nicely with a salad and satisfy even my pickiest eaters.
There are so many ways that the FoodSaver® FM5000 Series System, FoodSaver® bags, and FoodSaver® Fresh Containers save me time and money but today I'm showing you one of my favorite fuss free ways to make this supper in a flash. With just a minute or two of prep, delicious chicken tenders are ready to cook up whenever supper "sneaks" up on me at the end of a busy day.
I buy chicken tenders in bulk at a warehouse store and as soon as I get home, divide the tray up into individual family sized portions inside FoodSaver® bags.
Before sealing my chicken, I simply add a bit of my favorite salad dressing (Italian in this case) and then seal using the "wet" setting for a perfectly vacuumed marinated chicken. Toss this in my freezer and forget about it until I have one of those hectic days. I try to keep at least two or three bags of marinated chicken on hand at all times. That way, if I end up having company I can just grab two bags instead of one.
Since the FoodSaver® system allows my chicken to stay fresh up to five times longer in the freezer than ordinary storage methods, I have bought several months-worth at a time to put up. This saves me time, trips to the store, and money. I am also able to have more suppers with my family because knowing I have ingredients on hand keeps us coming home to eat rather than having one of those last minute drive through trips.
This thaws well if placed in the fridge the night before but you can also cook it from frozen in a large skillet as I have, more times than I can count.
I serve this with a fresh salad, which is easy to keep on hand when you use FoodSaver® Fresh Containers. I purchase salad ingredients (and other veggies to use as sides), chop and prep them, and keep them in the fridge for delicious meals on the fly.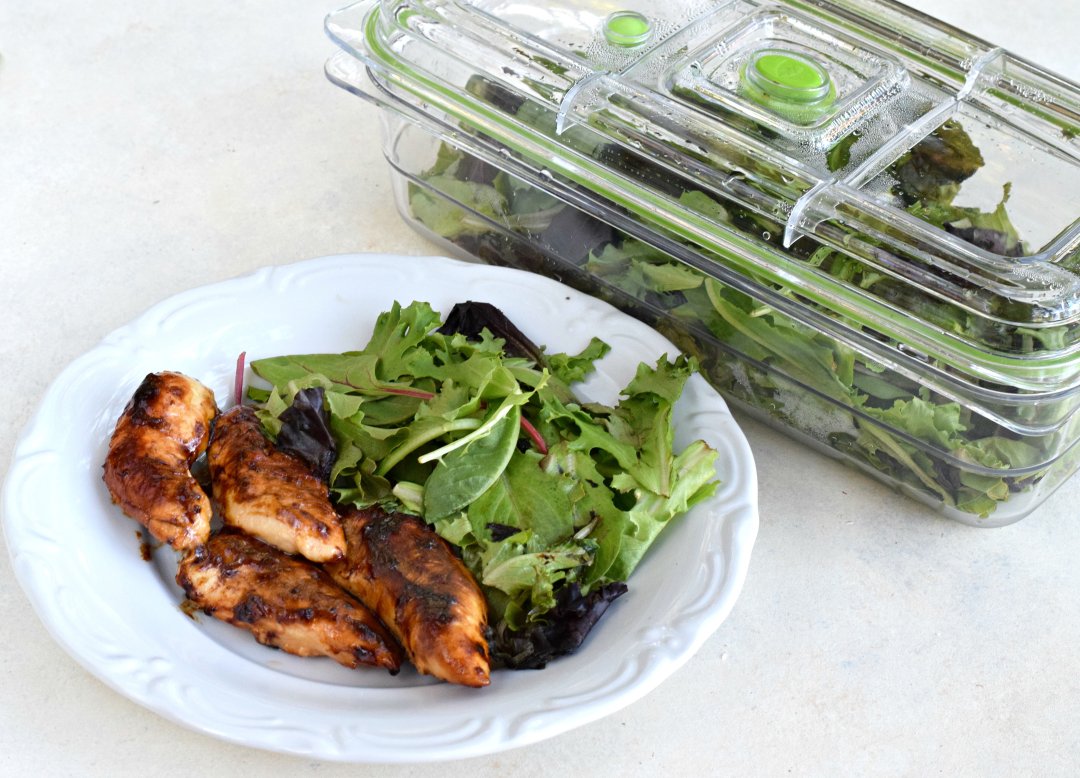 The FoodSaver® System saves money, time, and can pay for itself in the first month when buying food in bulk! But most importantly, the FoodSaver® system helps ensure I have more fresh and tasteful suppers with my family, at home, together.
Ingredients:
2 pounds chicken tenders
2 cups Italian dressing (or dressing of your choice)
Method:
Place chicken tenders in FoodSaver® bag along with Italian Dressing. Using the "wet" setting, vacuum seal bag. Place in the fridge for at least one hour or freeze for longer term storage. In large skillet over medium high heat, pour contents of bag, dressing and chicken. Cook, turning as needed, until dressing has cooked down to thick and chicken is no longer pink in the center. This will feed 4-6 servings at $1.51 per serving.