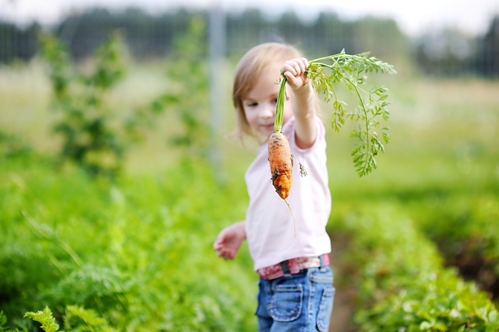 How To Preserve Your Summer Garden For Winter
Planting a summer garden is a wonderful way to connect to the earth and provide healthy, delicious meals for your family. It's rewarding to grow your own food and enjoy the freshest tastes possible. Additionally, you get to head outside and get your hands dirty for a while. Gardening can actually be pretty good exercise!
If your garden is really successful, you may harvest more vegetables than you can use. While you can gift some to your neighbors and friends, you can also save them in the freezer to enjoy their freshness long after you've picked them. To keep your veggies fresh up to 5X longer than ordinary storage methods so they stay crisp and delicious you need to use the FoodSaver® Food Preservation System.
Why FoodSaver® Vacuum Seal Bags and Rolls
FoodSaver® Vacuum Seal Bags and Rolls are the best way to keep your food tasting fresh. You won't have to worry about freezer burn or contamination from outside air. After all, when it comes to freshness, air is the enemy. The FoodSaver® System preserves the freshness you would expect from a newly harvested vegetable.
In addition to preserving fresh vegetables, you can also save time with meal prep by batch-cooking entire recipes and keep them in FoodSaver® Bags until you're ready to cook them. For instance, you could prepare all of the ingredients for a hearty slow cooked meal, vacuum seal them, freeze the bag and have a ready-to-cook meal waiting for you weeks or months later. Whatever you have in your garden patch, FoodSaver® Vacuum Seal Bags will keep it tasting vine fresh.
Read on to learn how to save your summer veggies for the winter.
Peas and Beans
Snap peas and green beans are a staple of summer gardens. After the threat of frost disappears, these are easy plants to sow and grow. With a little water and weeding, these plants can grow quite tall and produce a healthy harvest. Many people enjoy eating beans and peas right off the vine because they have a wonderful crunch and a refreshing flavor. That's the experience you want to capture and preserve with the FoodSaver® Food Preservation System.
To keep your beans tasting fresh, trim the ends and wash and dry them. Make sure you completely remove the excess moisture or ice may form on them. Then, simply fill a FoodSaver® Vacuum Seal Bag with the beans, leaving enough room for a strong seal. Remove the air using the FoodSaver® Food Preservation System, and label and date your bag. The beans should last about one year in the freezer. For peas, follow the same method without cutting into the pea pod.
Corn
Corn is one of the signature summer crops. When the ears of a corn stalk are showing, you know that summer is in full swing. With a little salt and butter, corn instantly turns into one of the most delicious veggies of the season. Even when frozen, corn is fresh and tasty, and it's easy to prepare. You just need to take it from the freezer and add it to a saucepan, and you'll have a healthy side dish in a matter of moments.
To preserve corn, you'll need to blanch it first. Here's how: Use an electric knife to cleanly remove the kernels from the cob. Try to remove as much corn silk as possible. Next, boil a pot of water and add in the kernels. After a moment or two, drain the pot and immediately add the kernels to a large bowl of cold water. When the kernels are completely cool, spread them out on a clean towel and pat dry with another soft towel. Let them dry completely before putting them in a FoodSaver® Vacuum Seal Bag. Then, simply seal the bag, label it and place it in the freezer!
Cucumbers
Cucumbers can be notoriously difficult to freeze, but with this method you can preserve that awesome cucumber freshness for salads and other dishes. To freeze a cucumber, you'll first need to peel it. Use a potato peeler for best results. Next, cut the cucumber in half and use a small spoon to scoop out the seeds and membrane. This will preserve as much of the cucumber flesh as possible. From there, you can cut up the veggie any way you want. Then place it in a FoodSaver® Bag, seal the bag, label it, and freeze it for later.
From Freezer to Table
All FoodSaver® Vacuum Seal Bags and Rolls are microwave and simmer safe, so it's quick and easy to heat what you have saved in the freezer. Whether it's a thick stew or a side of grilled veggies, FoodSaver® Vacuum Seal Bags and Rolls will lock in the freshness and flavor. Busy moms and dads will love the ability to take fresh, tasty meals out of the freezer and have them ready in time for dinner. With the FoodSaver® brand, you have the promise of freshness.