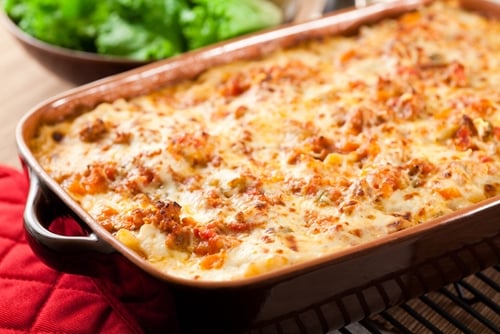 Send Your College Student Back To Campus With These Tasty Meals
It can be hard sending your kids back to school after having them home for the holidays. And it can be difficult for them too. But you can still be a parent from a distance by crafting them some home-cooked meals, sealing the love inside, and sending them along for the ride back to the university.
Check out these two hearty recipes that your students will love.
Trail Mix
This is a great snack for walking between classes or just to help your students get through their early morning course. It's packed with protein and just enough sweetness to be absolutely delicious.
Ingredients:
1 handful almonds
1 handful raisins
1 handful dried pineapple
1 handful macadamia nuts
1 handful walnuts.
Directions
All you need to do is pour the ingredients into a FoodSaver® Pint-Size Heat-Seal Bag, give it a gentle shake to distribute the ingredients and seal it up. You can mix and match ingredients for different combinations depending on your student's preferences.
Chicken Casserole
It's during the college years that a lot of health-conscious people begin to learn to cook. Still, with tests to study for and papers to write, there's not much time for meal-preparation. Give your college students a helping hand by making this tasty casserole for them.
Ingredients:
1 cup bowtie pasta
3 tablespoons olive oil
5 chicken tenderloins
1 tablespoon parsley, dried
3 tablespoons onion, minced
2 cloves garlic, minced
Salt and pepper to taste
1 can cream of mushroom soup
2 cups frozen vegetables
1 cup breadcrumbs
1/4 cup parmesan cheese, shredded.
Directions
1. Heat your oven to 400 degrees. Prepare a baking dish with a light spray of cooking oil.
2. Cook the pasta according to the directions on the box.
3. In a skillet, heat the oil. Then cook the chicken in a mixture of parsley, onion, garlic, salt and pepper until it is no longer pink in the middle.
4. In the baking dish, combine the soup, chicken, vegetables and pasta. Sprinkle the breadcrumbs and cheese on top.
5. Bake for 30 minutes, or until it is golden brown on top.
6. Allow the casserole to cool, then carefully transfer it to an appropriately sized vacuum seal bag. Use your FoodSaver® Vacuum Sealing System to remove the air and freeze.