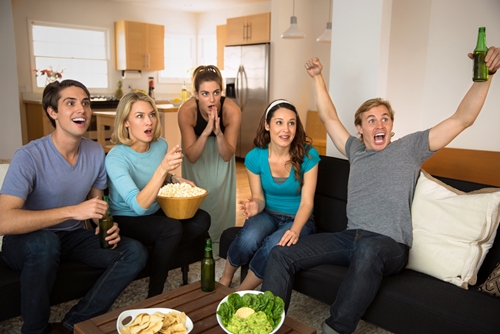 Recipes to Make Ahead of the Super Bowl Kickoff
With the excitement of game day you might not have much time to prepare finger food before kickoff. If you want to throw a Super Bowl party and be an active participant, you'll need to prepare some of the food in advance. Doing so will save you from a headache, and you'll be able to catch every second of the big game. No matter which team your guests are rooting for, they are sure to enjoy these delicious finger foods.
Fajita Strips
These mini-fajitas are sure to be a hit at your party. They're flavorful, full of protein and easy to enjoy.
Ingredients:
4 to 6 tablespoons lime juice
4 to 6 tablespoons orange juice
1 teaspoon salt
1 teaspoon cumin, ground
3 chilies
4 tablespoons olive oil, and more for cooking
3 tablespoons fresh cilantro, chopped
2 cloves garlic, minced
2 pounds flank steak
1 white onion, sliced
2 bell peppers, sliced
10 flour tortillas.
Directions
1. To make the marinade, combine the following ingredients in your FoodSaver® Quick Marinator: the fruit juices, salt, cumin, chilies, olive oil, cilantro and garlic.
2. Cut the flank steak into thin strips and place them into the marinator, making sure to cover both sides.
3. Remove the air from the marinator and place it in the refrigerator for 30 minutes.
4. About 10 minutes before kickoff - or whenever you want to enjoy the fajitas, remove the steak from the fridge and grill the strips for 4 minutes on each side.
5. As the meat is finishing up on the grill, toss the vegetables in a pan with a small amount of olive oil and cook for about 6 minutes or until limp.
6. Distribute the vegetables and meat evenly between the tortillas, then, carefully holding them closed with one finger, use a sharp knife to cut each fajita into mini proportions.
7. Serve and enjoy!
Spicy Beef Chili
Chili isn't strictly a finger food, but this thick and rich recipe is perfect for dipping chips, which is why it's a must for any Super Bowl party. You can prepare it the night before and reheat it on game day and it will still taste fresh and delicious.
Ingredients:
1 tablespoon olive oil
2 bell peppers, diced
2 white onions, diced
3 garlic cloves, minced
4 tablespoons chili powder
1 tablespoon cumin, ground
2 teaspoons oregano, dried
Salt and pepper, to taste
1 1/2 pounds ground beef
24 ounces crushed tomatoes
24 ounces diced tomatoes
15 ounces kidney beans
15 ounces black beans.
Directions
1. Heat up the olive oil in a large pan and cook the bell peppers, onions, garlic, chili powder, cumin, oregano, salt and pepper for 5 minutes or until the onions begin to caramelize.
2. Add the beef and cook until browned.
3. Carefully transfer everything to a large pot, then add the tomatoes and beans. Stir thoroughly, then cover and let simmer for 1.5 hours.
4. Allow the chili to cool for 10 minutes, then transfer it to a FoodSaver® container and refrigerate overnight.
5. On game day simply reheat the chili on the stove and transfer it to several bowls so that everyone can reach it from their positions in front of the TV.