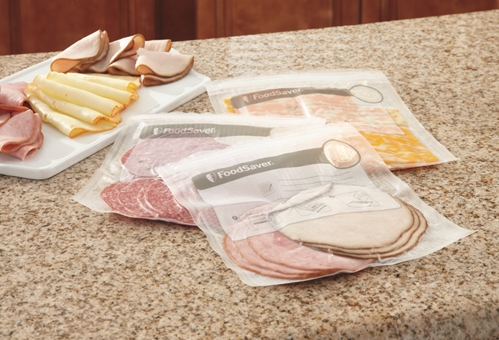 What You Need to Know About Auto-Ship
We've all found ourselves rushing to the store to buy products that completely slipped our minds when we went shopping. Whether you need a stick of butter for the recipe you're making or vacuum seal rolls to preserve your leftovers, it's always beneficial to have these things on hand so you don't end up in a bind when you need them. While we can't help you with kitchen basics like the butter, FoodSaver®'s auto-ship program makes sure you're never without your vacuum seal rolls or bags.
Who Benefits from Auto-Ship?
Auto-ship is a great advantage for people who regularly use their FoodSaver® Food Preservation System. Whether you preserve your fresh garden vegetables, wild game and fish or vacuum seal bulk purchases, enrolling in auto-ship is a great way to make sure you always have the materials you need.
How Does Auto-Ship Work?
When you enroll in auto-ship, you're able to completely customize your orders. This means you get to choose the specific FoodSaver® products you need and how often you want them shipped to you. Unless you change your order, you're guaranteed to receive your products in a timely manner at the frequency you set. You'll get a reminder email 10 days before your auto-ship order is set to go so you can confirm what's being sent to you and tweak your order if need be, in case you don't need to restock just yet, or need a few extra products.
It's also easy to customize your future orders if you foresee needing a larger amount of products or want to try something new. All you'll have to do is go to your account page, and add the new products to your next order under "My Next Shipment."
Why Do I Need Auto-Ship?
If you frequently use FoodSaver® products, enrolling in auto-ship is incredibly time- and cost-effective. Enrolling is absolutely free, and you'll never find yourself without the supplies you need to preserve your food, and never have to make special trips to the store to get them. Unlike when you order your rolls individually as you need them, orders that auto-ship have the shipping fee waived. As if all of these benefits don't already far outweigh the traditional methods of buying your vacuum seal bags and rolls, you also save 5 percent on each order. If you preserve your food regularly, then that 5 percent saved will add up very quickly!
Where Do I Sign Up?
While shopping for your vacuum sealing needs, simply select the "auto-ship" option instead of the "deliver one-time only" option. From there, you'll have the opportunity to select to have your supplies shipped to you every two, three, four, five or six months. You can opt out of the program at any time - though we doubt you'll want to!