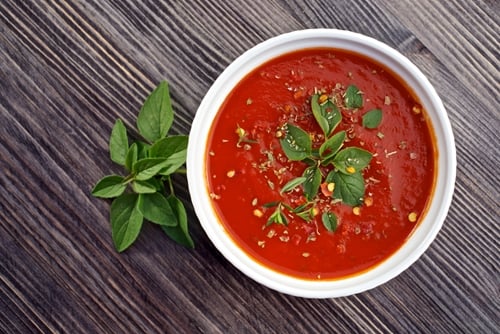 How to Seal Tomato Sauce and Other Liquids
Alas, you'll be collecting that last harvest of fresh garden tomatoes in just a few short days. It might feel like yesterday when your tomato plants were flourishing with your favorite veggie, but every plant has a lifespan. You can't fight the seasons!
What you can fight off is oxygen, bacteria and other contaminants that will harm your tomatoes' delicious flavor in the weeks ahead. If you want to enjoy unmistakably fresh tomato sauce in the dead of winter as well as the peak of the garden harvest, grab your FoodSaver® 2-In-1 Vacuum Sealing System and take some notes.
Use a FoodSaver® Jar Sealer
By far, the easiest way to save your homemade tomato sauce is by using a Ball® and Kerr® Mason jar and a FoodSaver® Wide-Mouth Jar Sealer. This way, vacuum sealing and preserving your tomato sauce in an air-tight environment that locks in the freshness is as easy as:
Pouring the sauce into a jar
Applying the jar sealer with the accessory attachment on your 2-In-1 Vacuum Sealing System
Pressing the "Accessory Button."
Your jar will have a sturdy seal that's oxygen-free and protected from mold. You can keep that sauce in the refrigerator for months now.
However, if you want to go above and beyond with your fresh food saving, you could try freezing that jar, too. Ball® and Kerr® make special freezer-safe canning jars that can stand up to tough temperatures. Just treat the jar with care and thaw and freeze gradually, as glass can crack during drastic temperature changes.
Use a FoodSaver® Bag
You don't have to use a jar, though. There's a simple way to seal up tomato sauce or diced tomatoes using a FoodSaver® bag or roll. The trick is freezing the substance first so it remains in solid form when you put it in the bag to be vacuum sealed. You can find the step-by-step breakdown here.
Put your sauce or diced tomatoes into an ice cube tray.
Put the container into your freezer and wait until the substance is frozen solid. Don't wait too long, though, as your sauce may suffer the effects of freezer burn shortly after becoming a solid.
Take it out of the freezer and gently edge the frozen sauce out of the container and into a FoodSaver® bag or roll.
Vacuum seal the bag the same way you would any other food item, moving the sauce back into the freezer afterward.
This is the ultimate way to preserve fresh tomato sauce and diced tomatoes. Your veggie dish will stay fresh for two to three years. Stop settling for tasteless tomatoes in the off-season and start enjoying your homegrown veggies whenever you'd like!