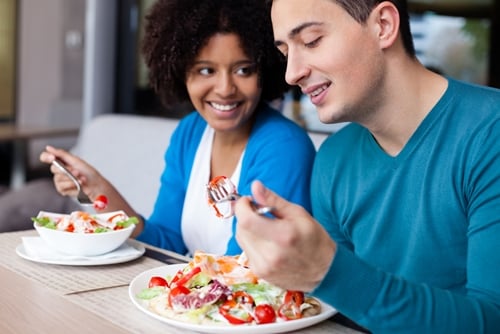 Save Meals For Your Teens To Eat While You're Away
Do you plan on going away for the weekend, leaving your teens to fend for themselves? They don't always make the best choices when it comes to nutrition. Sure, it's easy enough to leave $20 behind for pizza and soda, but that's not the most nutritious dinner. Neither is boiling a cup of instant noodles. So instead of leaving your teens to a feast of junk food while you're out of town for the weekend, prepare a nutritious meal for them and seal the air out and the love in.
For your teen athletes
Teenage athletes need meals packed with complex carbohydrates for energy and protein for muscle growth and brain function. Of course, they shouldn't forget their fruits and vegetables, either.
Breakfast. Use the The FoodSaver® 2-In-1 Vacuum Sealing System to store some fresh blueberries in the freezer. When you're not home, your teens can fire up a bowl of oatmeal and add in the blueberries for a nutritious carb-filled start to their day.
Lunch. Seal up a spinach salad in the FoodSaver® Jar Sealer and keep it in the refrigerator. Your teen can open the top, pour on some vinaigrette, and eat it out of the jar for a convenient side dish. Add that to a cooked chicken breast and a glass of skim milk, and they have a well-balanced lunch.
Dinner. Seal a large filet of salmon, either on its own or in a light marinade. All your teen has to do is take it out, put it on a greased pan in a 400-degree oven for 25 minutes, and he'll have a healthy entree. A side of brown rice and another vegetable will complete the meal.
For your spelling bee champ
Growing brains need lots of omega-3 fatty acids and antioxidants. These meals will keep your teens thinking clearly as they study while you're away.
Breakfast. Berry smoothies are perfect antioxidant-delivery systems. Not only are they nutritious, they're sweet and tasty. Teens will love them.
Lunch. Sweet potato and black bean chili is an excellent dish you can make in advance and store for later. Plus, it's super easy to reheat and enjoy.
Dinner. A tuna wrap is full of omega-3. Simply wrap up the fish, avocados, brown rice and scallions and seal them in a FoodSaver® container.