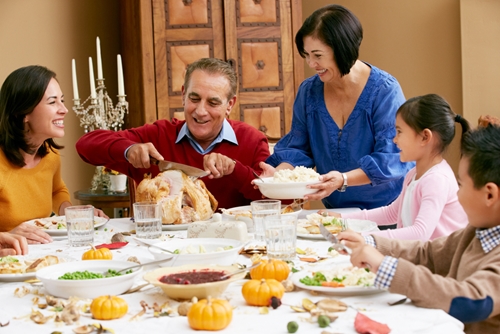 How to Make Thanksgiving Meal Prep More Efficient
Making Thanksgiving dinner can be a lot of work. If it's all up to you this season, it might feel very overwhelming. After all, the average Thanksgiving dinner has several dishes. It can be a lot to juggle for anyone. Instead of trying to get it all done at the same time, here are some ways you can plan ahead.
Turkey and Gravy
These are the two items that can take the longest. Instead of overworking yourself all day, make them the week before with this simple recipe.
Ingredients:
15-pound turkey
1-2 cup parsley
4 1/2 cups chicken broth, divided
1/4 cup lemon juice
2 teaspoons lemon peel, grated
2 large cloves garlic, minced
1 teaspoon dried thyme
1 teaspoon dried rosemary
1 tablespoon flour
1 tablespoon butter.
Directions
Heat your oven to 325 degrees. Prepare your turkey the way you normally would and roast it in the oven for 30 minutes. Then in a pourable mixing bowl, combine the parsley, 3 cups broth, lemon juice, lemon peel, garlic, thyme and rosemary. Stir the ingredients together thoroughly, then pour over the turkey. Roast for three hours or until the internal temperature reaches 180 degrees. Remove the turkey from the oven and place it onto a plate or board suitable to carving. Let sit for 15 minutes, then carve all of the meat from the bones.
Evenly distribute the meat into FoodSaver® 11" rolls and pour the roasting juices over each one before sealing and storing. When the big day arrives, remove the bags from the freezer and let them thaw. Heat the oven to 350 degrees. Place the meat in an oven-safe baking container and pour 1 cup of chicken broth on top. Bake for an hour.
Finally, remove the meat from the oven and separate from the baking juices. Pour the liquid into a saucepan and add the flour and butter. Boil for 2 minutes or until thickened. Serve immediately.
Cranberry Sauce
You could save time by simply buying cranberry sauce in a can, but doesn't homemade sauce always taste better? Now you can have the convenience of a can and the flavor of homemade sauce at the same time.
Ingredients:
1 1/2 cups sugar
1/2 cup water
12 ounces frozen cranberries
1 cup orange juice, freshly squeezed.
Directions
In a saucepan, stir together the sugar, water and cranberries. Bring the combination to a boil, then reduce the heat to medium and let simmer for half an hour. Remove from heat and mix in the orange juice. Let it cool completely before storing with a FoodSaver® Jar Sealer.