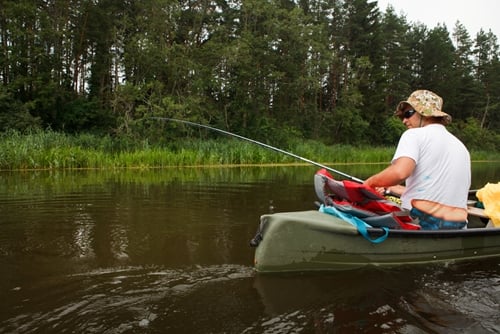 Lunches You Can Bring Fishing
Fishing is a great way to spend one of those particularly warm spring days. With the water at your feet and the wind in your hair, this is the perfect day-long activity for outdoor lovers.
While you already know which tools you need to bring fishing, you may be wondering which lunches are best-suited for your journey. Regardless of which meal you pack, you'll want to take steps to ensure your meals are sealed in waterproof containers to protect them from external elements.
Searching for simple dishes to bring along in the boat? Try one of these tasty lunch treats next time you're on the water.
Spring Pasta Salad
Use your favorite spring fruits and vegetables to liven up a chilled pasta salad to bring on your journey. Make a batch the night before, store it tightly in your FoodSaver® deli container and bring along it on your fishing trip.
You'll need:
1 red pepper, chopped
1 green pepper, chopped
1 ball mozzarella cheese, cut into small pieces
1/2 cup black olives, sliced
2 tablespoons Italian dressing
1 cup fresh chopped tomatoes
1/2 cup corn
1/2 cup fresh snap peas
Salt and pepper
Directions:
Combine all ingredients in a large bowl and stir together until they're well-blended. Place portions of your pasta in your deli containers, then remove the air with your vacuum sealer. Store the containers in the fridge overnight, then place them in your cooler when you're packing for your fishing trip. Don't forget to bring a fork!
Homemade Deer Jerky
If you're searching for a dish you can keep at room temperature while fishing, try dehydrating fruit slices at home or drying your own deer jerky. Gather up cuts of deer from last hunting season and start working on this tasty jerky recipe.
You'll need:
2 pounds venison, sliced in strips
4 tablespoons Worcestershire sauce
1/4 cup ketchup
3 tablespoons soy sauce
2 teaspoons garlic powder
2 tablespoons brown sugar
1 teaspoon red pepper flakes
Salt and pepper to taste
Directions:
In a medium-sized bowl, combine Worcestershire sauce, ketchup, soy sauce, garlic powder and brown sugar in a bowl. Whisk them together until they're well-blended. Add the venison to a vacuum sealer bag, then pour the sauce on top. Seal the bag and keep it in the fridge overnight. When you're ready to bake the jerky, set the oven to broil. Place the marinated meat on an oven sheet, top with salt, pepper and red pepper flakes, and cook for 8-10 hours.