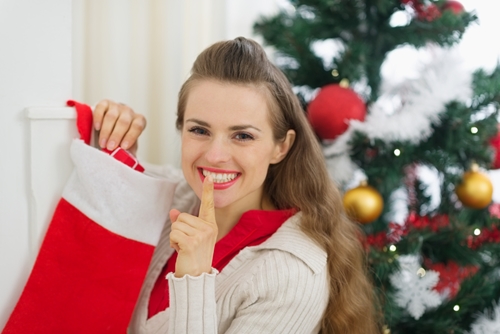 3 Creative DIY Stocking Stuffers
Like a home-cooked meal, homemade stocking stuffers show your friends and family just how much you love them. They're great, unique gifts to give if you're on a budget or just want to put a little extra personality into your gifts.
Ready to get creative this season? Check out these three DIY stocking stuffers:
1. Peppermint Soap
This handmade soap is easy to make and smells great. Make individual bars for your friends, family and coworkers.
Supplies:
1 pound goat milk glycerin melt
1 pound clear glycerin melt
Peppermint oil to preference
Red food dye.
Directions
Melt both of the glycerin bars according to the instructions on the package.
Stir a drop of peppermint oil into both bars as well as a few drops of red dye into the clear glycerin.
Pour 1/4 cup of the milk glycerin into a loaf pan or other similarly sized metal container. Cool for 20 minutes, then add a layer of red glycerin on top. Repeat until you reach the desired number of layers.
2. Coconut Lotion Bars
This gift is simultaneously unique, personal and fun. Anyone who receives these lotion bars will love showing them off to their friends.
Supplies:
2 tablespoons beeswax
4 tablespoons coconut oil
1 drop tea tree essential oil
1 drop eucalyptus essential oil.
Directions
Place the beeswax and coconut oil in a microwave safe bowl and melt at 10 second intervals, stopping to stir until they are completely melted and combined.
Add a drop of each essential oil and mix thoroughly.
Distribute the mixture evenly into a silicone ice cube tray.
Refrigerate for 2 hours, then remove the small bars from the tray.
Seal the bars using FoodSaver® rolls and tuck them away in a stocking that belongs to someone special.
3. Rosemary Salt
This gift is quick and simple to make. Consider giving it to a friend along with the jar sealer used to make it.
Ingredients:
2 cups kosher salt
2 ounces dried rosemary.
Directions
Process the dried rosemary into a fine powder.
Combine the powder with the salt until it's well mixed.
Transfer the mixture to a small jar and seal with the FoodSaver® Jar Sealer. Wrap the jar with a ribbon and give it to a friend.