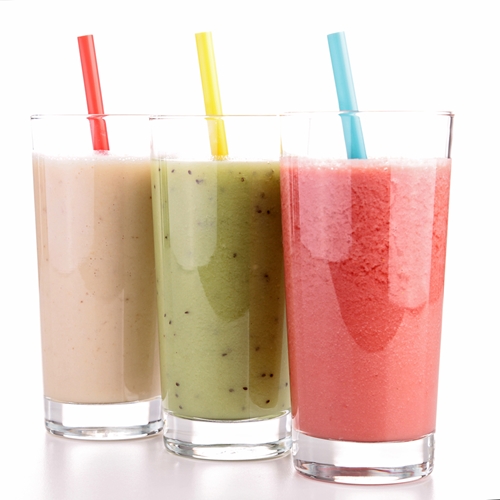 3 Smoothie Recipes for Spring
The sun is shining, the birds are chirping and it's high time to get out on the patio and start enjoying the warm weather. Before you kick back in that lawn chair, grab a cool beverage to beat the heat. These smoothie recipes are surefire favorites for porch lounging in the spring.
Remember, now is the perfect time to unwrap any out-of-season fruit that was sealed ahead of time using a FoodSaver® Vacuum Sealer. This way, you won't have to pay those steep prices at your local grocery store.
Strawberry yogurt grapefruit
Strawberry and yogurt alone make for a perfectly smooth and deliciously sweet smoothie, but a little splash of grapefruit juice gives the recipe a satisfying zip.
Ingredients
4 cups ripe strawberries
1 cup plain yogurt
1/4 cup grapefruit juice
1 tablespoon sugar
Directions
Slice the tops off of the strawberries and toss them into an Oster® Pure Blend™ Blender with the yogurt, juice and sugar.
Switch the processor to the highest setting for about 10 seconds. Scrape the sides of the blender with a spoon and process again to form a frothy puree.
Sweeten with sugar if necessary.
Vanilla banana
The most appealing smoothie around, it's hard to slip-up with this delightful recipe.
Ingredients
2 bananas
1 cup vanilla yogurt
1 cup milk
2 teaspoons honey
A dash of cinnamon
Directions
Peel the bananas and add them into the processor with the vanilla yogurt, milk and honey.
Blend on the highest setting for 10 seconds. Blend in short bursts to break apart any chunks of banana.
After pouring the mixture into glasses, add a dash of cinnamon to the top for a little added flavor.
Avocado mango lime
Nothing will spark your love for the tropics quite like this smoothie. It's a creamy and sweet treat perfect for spring and summer.
Ingredients
1 cup diced mango
1/4 cup avocado
1/2 cup mango sorbet
1/2 cup skim milk
1/4 cup ice
1 lime wedge
1 tablespoon sugar
Directions
Combine the mango, avocado, sorbet, milk, ice and sugar in the processor.
Blend on the highest setting in 10-second intervals until sufficiently pureed.
Pour into glasses and serve with a lime wedge. You can also add an optional spritz of lime juice beforehand for added flavor.
Smoothies are a perfect hot-weather treat, and you can bottle and save the leftovers to prepare for big occasions, like cookouts, or make relaxing with a drink easier on a whim. Pour the leftovers into jars and seal with a FoodSaver® Regular Jar Sealer to keep these tasty beverages around for whenever you'd like.