Images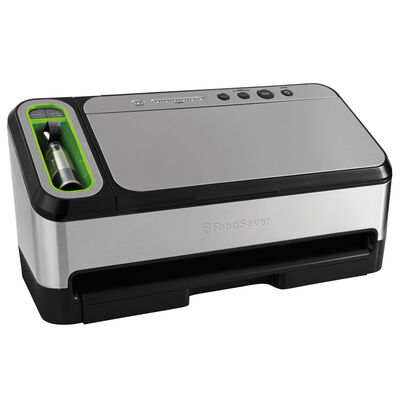 FoodSaver® V4825 2-In-1 Vacuum Sealing System
Details
https://www.foodsaver.ca/en_CA/vacuum-sealers/foodsaver-v4825-2-in-1-vacuum-sealing-system/FSFSSL4825-033.html
Foodsaver
FSFSSL4825-033
https://www.foodsaver.ca/on/demandware.static/-/Sites-master-catalog/default/dw386f8b78/images/highres/FSFSSL4825-033-1.jpg
Included in offer:
15 - Gallon Size Zipper Bags
1 - 11" x 10' Heat-Seal Roll
More Ways to Seal. More Ways to Save™. The innovative 4800 Series 2-in-1 Vacuum Sealing System combines heat seal and handheld vacuum sealing capabilities in one unit, offering maximum convenience and versatility.
Product Specs:
Dimensions: 8" H x 16" W x 6.75" D
Cord length: 30"
Weight: 8.4lb.
See More...
Additional Information
The FoodSaver® V4825 2-In-1 Vacuum Sealing System heat seals variety of foods using exclusive technology to automatically sense the bag and food type to create a perfect air-tight seal. Features include 2 vacuum speeds, 2 seal levels, convenient roll storage with built in cutter and patented removable drip tray for easy clean-up. Retractable handheld sealer offers convenience to seal and re-seal zipper bags, canisters and containers for frequently-accessed refrigerator and pantry items.
2-in-1 Sealing System
Built-in retractable handheld sealer seals zipper bags, canisters, containers and marinates food in minutes
Fully automatic operation
Moist/Dry food settings for optimal sealing
PulseVac™ button allows you to seal delicate foods without crushing them
Convenient roll storage and bag cutter
Pull-out drip tray drawer with patented, removable, dishwasher-safe drip tray
Extra-wide sealing strip creates a secure air-tight seal
One-touch marinate and accessory modes
FoodSaver® V4825 2-In-1 Vacuum Sealing System
is rated out of
5
by
22
.
Rated

4

out of

5
by
Fabrice
from
Excellente machine
C'est un système étonnant robuste. Le gadget manuel (qui n'en est pas un) sur le côté gauche pour enlever le vide est extrèmement pratique. Surtout utilisé avec les sacs réutilisables ! De quoi ne plus gaspiller d'aliments brulés par le gel et qui goûtent fades. ;o)
Date published: 2017-11-29
Rated

5

out of

5
by
Bi33
from
Je l utilise beaucoup. Fonctionne très bien
Je l utilise beaucoup. Très pratique. Fonctionne très bien
Date published: 2017-11-01
Rated

3

out of

5
by
Wonggirl
from
Fantastic idea, not so fantastic performance
My sister & brother-in-law gave us one of these several years ago, and I was SOOO excited. I had wanted one for quite a while, but could never afford one. Now that I've read some of these reviews, I don't feel quite so bad about myself. I tho't I was the reason why it would take multiple attempts to get a bag to fully seal. There just always seems to be spots that don't seal...and that's with DRY contents. Occasionally, it doesn't reach the max vacuum pressure to make the heat seal to kick in. The pump runs & runs, but never reaches the right amount of vacuum...which I take to mean there's a hole somewhere in the bag, but there shouldn't be, since I took the material off the roll to make the bag, so if there were to be holes, then one would think it would affect the entire roll, rather than just the odd segment...? I have cleaned anything and everything I could possibly see/reach, from the top as well as from the bottom, and it still happens. As I said, I love the idea of it, I just wish the proper performance was more consistent.
Date published: 2022-02-01
Rated

5

out of

5
by
Bmflds
from
Love my machine
I have the V4865. I have had it for around 8 years and used it regularly. This last few months it has had a big workout with me getting food storage done. Wish it did not overheat when vacuum sealing quite a few jars.
Date published: 2022-06-13
Rated

5

out of

5
by
JEWEL
from
2nd FOODSAVER
Bought this one to replace my first one (old faithful) from many many years ago. I'm very happy with how the machine works in gerneral. In many many years, I will get another FOODSAVER to replace this one.
Date published: 2019-03-24
Rated

2

out of

5
by
Ruthms
from
not a great sealer
I have had this machine about 2 years and it never seems to want to seal without several tries. Have to keep sticking in the bag in order to catch it right to seal. Its great when it works without hassel
Date published: 2019-01-07
Rated

5

out of

5
by
Food Fun
from
Has a bag cutter
I like mine very much . It is a little tricky to get used to . Only had mine for a while . The sealing process is great . Love doing my garden harvest and meats .
Date published: 2017-09-15
Rated

5

out of

5
by
FastZX6R
from
Awesome Sealer
My wife and I enjoy sealing foods. We use this sealer for Sous Vide, for avocados, for freezing foods, etc. it never fails! Great dealer we highly recommend it
Date published: 2017-09-07
Rated

5

out of

5
by
Imagi
from
Achat récent
Jai acheter cet article pour un cadeau de noel,je possède deja moi-même cet article et en suis satisfait .
Date published: 2018-11-26
Rated

5

out of

5
by
ananas21
from
Super pratique
C'est ma 2e scelleuse ,le tiroir de ma 1e est resté coincé et j'en ai racheté une autre
Date published: 2018-02-23
Rated

5

out of

5
by
Collie
from
Great features
I bought this as a gift since I love the I have and my sister in law Was impressed
Date published: 2017-11-09
Rated

5

out of

5
by
Tristan
from
Simple et facile a utilisez.
J'ai acheté cet article le mois dernier et nous aimons beaucoup son utilisation.
Date published: 2018-07-06
Rated

5

out of

5
by
Tazzman
from
Very simple , fast sealing ,look,s awesome THX .
It,s SIMPLE, it work,s Great it,s fast ,And it looks awesome on my counter.
Date published: 2018-09-07
Rated

5

out of

5
by
Herm
from
Super!
Fonctionne très bien. J'ai acheté sur le site et tout est parfait.
Date published: 2019-06-03