FoodSaver® FM1100 Fresh Food Preservation System
Details
https://www.foodsaver.ca/en_CA/vacuum-sealers/foodsaver-fm1100-fresh-food-preservation-system/FM1100B-033.html
Images
Product Actions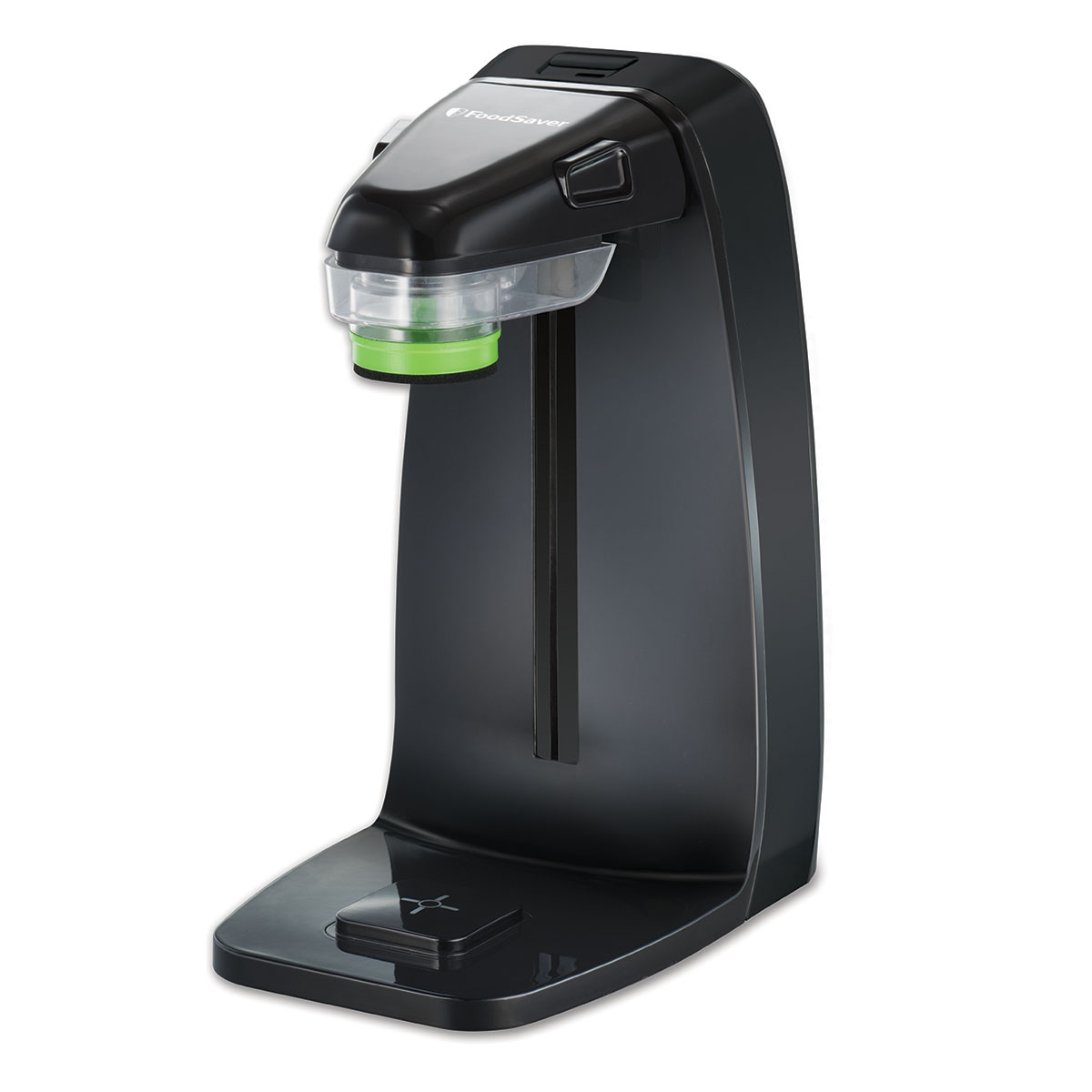 FoodSaver® FM1100 Fresh Food Preservation System
- See final price in cart
Promotions
Keep fridge and pantry food fresh up to 2X longer (when compared to other non-vacuum storage methods), enjoy fresh taste and reduce food waste when you preserve with the FoodSaver® Fresh System.
Product Specs:
Dimensions: 11" H x 8.5" D x 5.5" W
Cord length: 24"
Weight: 2.1lb.
Overview
Keep fridge and pantry food fresh 2X longer (when compared to other non-vacuum storage methods), enjoy fresh food taste and reduce food waste when you preserve food with the FoodSaver® Fresh System. Easily and conveniently vacuum seal FoodSaver® Fresh Containers and Vacuum Zipper Bags for storage of everyday foods, leftovers and prep-ahead ingredients. Its compact design is made for everyday countertop use and its one-touch sealing allows for hand-free operation once the sealing process starts.
One-touch start/seal button
Fast, simple one-hand operation
Automatically stops when vacuum seal is complete
Adjustable vacuum head
Ready green indicator light
Easy-to-clean, removable reservoir catches excess liquids
Works with FoodSaver® Fresh Containers & Vacuum Zipper Bags
Starter Kit Includes: 2 Gallon Size FreshSaver® Vacuum Zipper Bags, 2 Quart Size FreshSaver® Vacuum Zipper Bags
Questions & Answers
Service & Support
FoodSaver® FM1100 Fresh Food Preservation System
is rated out of
5
by
219
.
Rated

5

out of

5
by
chipgunter
from
ease of use...availability
I am a single person that has seen a lot of foods go bad due to my inability to consume it at the rate needed...fruits and berries seldom bought because of this issue. Same with breakfast cereals. I purchased the model that is about the size of a can opener. Because of this, I keep it out all the time. It is always available and easy to use when I open one of the containers to retrieve what I desire. very user friendly and no mess at all. I purchased two other sets of containers when I bought the machine. I just placed an order for 3 other sets of containers, I like it that much. This product shall enhance my lifestyle....Thanks....Roy
Date published: 2017-07-03
Rated

5

out of

5
by
DavaoJoe
from
Just What I Wanted
I've had this countertop Fresh Saver Appliance for about 2 weeks. I've been interested in vacuum sealing for sometime, but I was hesitant to purchase the "permanent" seal models because I was concerned about the need to purchase bags again and again and again. The Fresh Saver resealable zipper bags seem to solve that delema. The seal is tight and the vacuum holds between uses of the items stored in the bags. I'm hoping that the resealable bags will not have to be replaced too often. I believe the Fresh Saver will help preserve the freshness of my foods, reducing waste, and saving money. The product has a quick learning curve, I was sealing like a professional after 2-3 attempts.
Date published: 2017-06-17
Rated

5

out of

5
by
Lincr
from
The FM1510 Makes Fresh Food Last
I got this about a month ago and it is used every day. I grow a lot of vegetables and this system along with its different size containers helps them to last twice as long as just throwing them in a bag or container into the 'frig.you will not go wrong in this purchase.I use the largest container for my fresh picked salad greens. Grapes or small tomatoes go in the tall container. It is easy to use. The main thing to get right is the lid needs to be in the groove. Press hard on the sides before the suction process. Easy as pie!
Date published: 2017-05-07
Rated

5

out of

5
by
Brennan
from
Paid for itself in saved strawberries
May be the best little kitchen gadget we own. My kids eat a lot of strawberries, blueberries and blackberries. I buy a bunch of berries, chop them up and use this little machine to keep them fresh all week, whereas before i had this the berries would go bad. This also works with the vacuum resealable bags. We can keep deli turkey for weeks. Cheese for months. Leftovers can stay good for weeks as well. It's perfect. And it takes up hardly any room on your counter. We have the large vacuum sealer but it took up too much room. This thing is absolutely perfect.
Date published: 2018-08-02
Rated

5

out of

5
by
Anna Jean
from
Love it!
I purchased this Food Saver two months ago and like it very much. We are "Snow Birds," spending time in Forida and Ohio. I have this Food Saver in my Florida kitchen and use it daily. I use the canisters that came with it for strawberries, blueberries, and cheese. I seal both white and brown sugar in the resealable bags as insects can bea problem in Florida. I have an older model Food Saver that I use in Ohio. When that one no longer works, I will replace it with this model. I do find the canisters hard to open, but if I wait a few minutes after releasing the seal, it is easier.
Date published: 2017-04-27
Rated

5

out of

5
by
pam5025
from
Handy and quick
Just position your bag or container and press the button. You can walk away while it is doing its thing and finish making your sandwich or whatever. I can have my egg salad back in the frig by time my sandwich is done. Doesn't take up a lot of space on counter. I find myself using it everyday.
Date published: 2017-03-12
Rated

3

out of

5
by
Sbypackerfan
from
Overall, not too bad
The first thing we noticed when taking the machine out of the box was how light is was. It gave the feeling of not being well made. Once we tried the machine out, we liked how the machine worked with the provided plastic containers. We do wish we received two kids and two containers instead of just one lid and two containers. The bags were a little harder to manage, but we figured it out. We are curious how much it costs to buy more storage supplies, but for now, we are happy with the machine and the storage items we have received. I received this product as a sample to review. [This review was collected as part of a promotion.]
Date published: 2016-11-03
Rated

5

out of

5
by
Heme
from
Love it! Great little appliance
I'm so happy I bought this, I have limited counter space. This little appliance doesn't take up much space. I've used the containers for produce, they keep produce fresh longer which means it gets eaten instead of thrown out. I've also used the zipper bags for nuts, cheese, and for leftovers (beef, ham, bacon) which we use to make sandwiches. I also own a larger Food Saver system but, find myself using this smaller, light weight FM 1510 system more often.
Date published: 2018-08-03