Images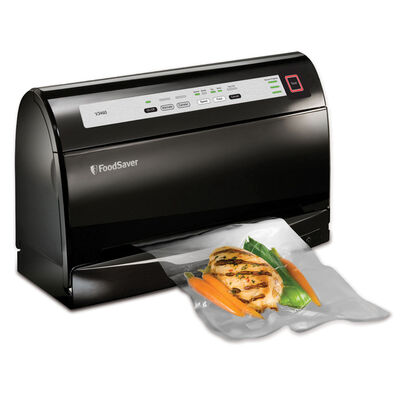 FoodSaver® Countertop V3460 Vacuum Sealing System, Black with Starter Kit
Details
https://www.foodsaver.ca/en_CA/vacuum-sealers/foodsaver-countertop-v3460-vacuum-sealing-system-black-with-starter-kit/FSFSSL3460-033.html
Foodsaver
FSFSSL3460-033
https://www.foodsaver.ca/on/demandware.static/-/Sites-master-catalog/default/dwde537bc5/images/highres/FSFSSL3460-033-1.jpg
Starter Kit includes:
1 - 11" x 10' FoodSaver® Roll
3 - Quart Size FoodSaver® Bags
2 - Gallon Size FoodSaver® Bags
Accessory Hose
The FoodSaver® V3460 Vacuum Sealing System keeps food fresh up to 5x longer.
Product Specs:
Dimensions:  9.57" H x 16.02" W x 5.91" D
Cord length: 33"
Weight: 7.85lb.
See More...
Additional Information
The FoodSaver® V3460 Vacuum Sealing System combines a space-saving, vertically-designed unit and fully automatic operation to conveniently seal in the freshness of a variety of foods. Using exclusive technology to automatically sense the bag and food type, a perfect air-tight seal is created, taking all the guesswork out for you. The new vertical profile keeps your kitchen counter clutter-free. Other features include 2 vacuum speeds, 2 seal levels, convenient roll storage with built-in cutter and patented removable drip tray for easy clean-up.
Space-saving vertical design
Fully automatic operation with 2 vacuum speeds
Moist/Dry food settings for optimal sealing
CrushFree™ Instant Seal helps protect delicate foods during sealing process
Convenient roll holder and bag cutter
Patented, removable, dishwasher-safe, drip tray
Extra-wide sealing strip creates secure, air-tight seal
1-year limited warranty
FoodSaver® Countertop V3460 Vacuum Sealing System, Black with Starter Kit
is rated out of
5
by
154
.
Rated

5

out of

5
by
orfanannie
from
MyWonderful FoodSaver
I have had a FoodSaver since the mid-70's and have loved them all. However, I am crazy about this model for several reasons. I love that it doesn't take up much counter space, allowing me to have it out all t he time. It's really easy to clean with the snap-out channels and it does a great job saving me money. It also has the ability to do regular bag sealing and works with canisters by just pulling out the "nozzle" from the bottom of the unit. I have recommended this model to several people. As yet, they haven't taken the step to purchase a Food Saver, but I still have hopes for them. thank you for this wonderful product!
Date published: 2015-02-25
Rated

3

out of

5
by
kay8
from
annoyed
i run a small business in which our product needs to be air sealed, so i bought this model and have rated the value at "average". the machine itself works great, it seals quick and isn't too noise also takes up little space. the part where i get very very annoyed is this.. the bags/rolls are very expensive!... and this machine seals the bag an inch and a quarter 1 1/4", from where the bag is cut/precut!!! thats almost 3" of wasted bag per product?!?!?! i hate loosing 1 foot of roll every time i seal 4 of my 7inch items! I'm so aggravated if i had known this earlier i would have looked at other brands that don't rob you of money with their bags and rolls. would i recommend?.. yes, to someone who uses it for small things and doesn't care about wasted bag/roll they paid good money for.
Date published: 2015-05-07
Rated

1

out of

5
by
LouW
from
Sealing is hit and miss!
I have had this unit for several years now and since I bought it, sealing bags is hit & miss. Now I use an old bag that I've washed and do practise sealing (so the heating unit warms up) before I seal my food in a bag. Once frozen, I usually have to check to make sure the bag is still sealed, because you guessed it, a lot haven't sealed properly. I've looked on line for a replacement part, but even the company doesn't have (not happy with that). So I will eventually get fed up and just chuck this piece of c*@p. And, it wastes a lot of time, money and bags.
Date published: 2018-04-17
Rated

5

out of

5
by
dyarb
from
Excellent Product
I bought the V3460 some years ago and I am so happy with it. I buy meats in bulk knowing that I can use the vacuum sealer and save them in the freezer for months and the meat is still fresh. No more waste or freezer burn. I love you FoodSaver. I have never had any issues with my machine. It still does the job today. I am now doing dehydrating and looking at ways to keep my dried foods. I will be purchasing the Mason Jar covers to add to my food saving adventure. I even used the marinate container during the Summer to marinate steaks for the grill. So happy with your product.
Date published: 2015-10-12
Rated

5

out of

5
by
DawnB
from
10 years and still going strong
I bought this model of FoodSaver over 10 years ago. This is the best purchase I have ever made. I buy in bulk; I break it down to the portions I need to fit my family, seal it, freeze it and it is just as good a month in the freezer as it is the day I bought it. No ice crystals; not freezer burnt; thaws out and cooks up just like it was freshly purchased. Last so much longer than freezer bags. This is a must have for any family and a great gift for friends or newly-weds. You don't even know how much you need this until you buy it. I couldn't live without mine, thank you for making an outstanding product.
Date published: 2017-11-05
Rated

3

out of

5
by
Do Bourd
from
Great product, but hard on bags !!
Love the product, seals everything I need with ease. But wish it would seal (melt) the bags with less bag loss. The bags are melted, sealed when push in "slot" and detected only at about 1 1/4" of length. So every time I lose about 2 1/2" of useful bag space. I guess this is done one purpose and is a company strategy for buying more bags!!!
Date published: 2018-01-06
Rated

2

out of

5
by
shellyf
from
Doesn't fully vacuum!
I have lost so much food using this! Even on dry food regular settings (as opposed to wet/gentle) it does NOT fully remove the air and seals automatically. Sealing air IN. I have tried over and over cutting new bags (wasting bag material!) to push as much air out as possible before putting it in the machine, but it still fails to remove the small amount of remaining air. Food spoils, rots, molds and freezer burns. HUGE waste of money!!!
Date published: 2015-07-01
Rated

2

out of

5
by
Pamala
from
Not As Good As My Old One
We have been extolling the virtues of FoodSaver for years. In fact over the years we have exhausted 4 of them (we have a home in Florida and one in Wisconsin). We recently replaced the one in our Wisconsin home and find it does not work as well as the old one. We use it to reseal chip bags, etc., and it is difficult to get the edges of the bag to catch and seal. Also, for vacuum sealing it needs to use more of the bag to create the first seal to create a bag. The only advantage I can find over my old model is that it takes less counter space and is black instead of white so it is less conspicuous.
Date published: 2017-07-23