FoodSaver® Countertop V2040 Vacuum Sealing System, White with Starter Kit
Details
https://www.foodsaver.ca/en_CA/vacuum-sealers/foodsaver-countertop-v2040-vacuum-sealing-system-white-with-starter-kit/T000-36120.html
Images
Product Actions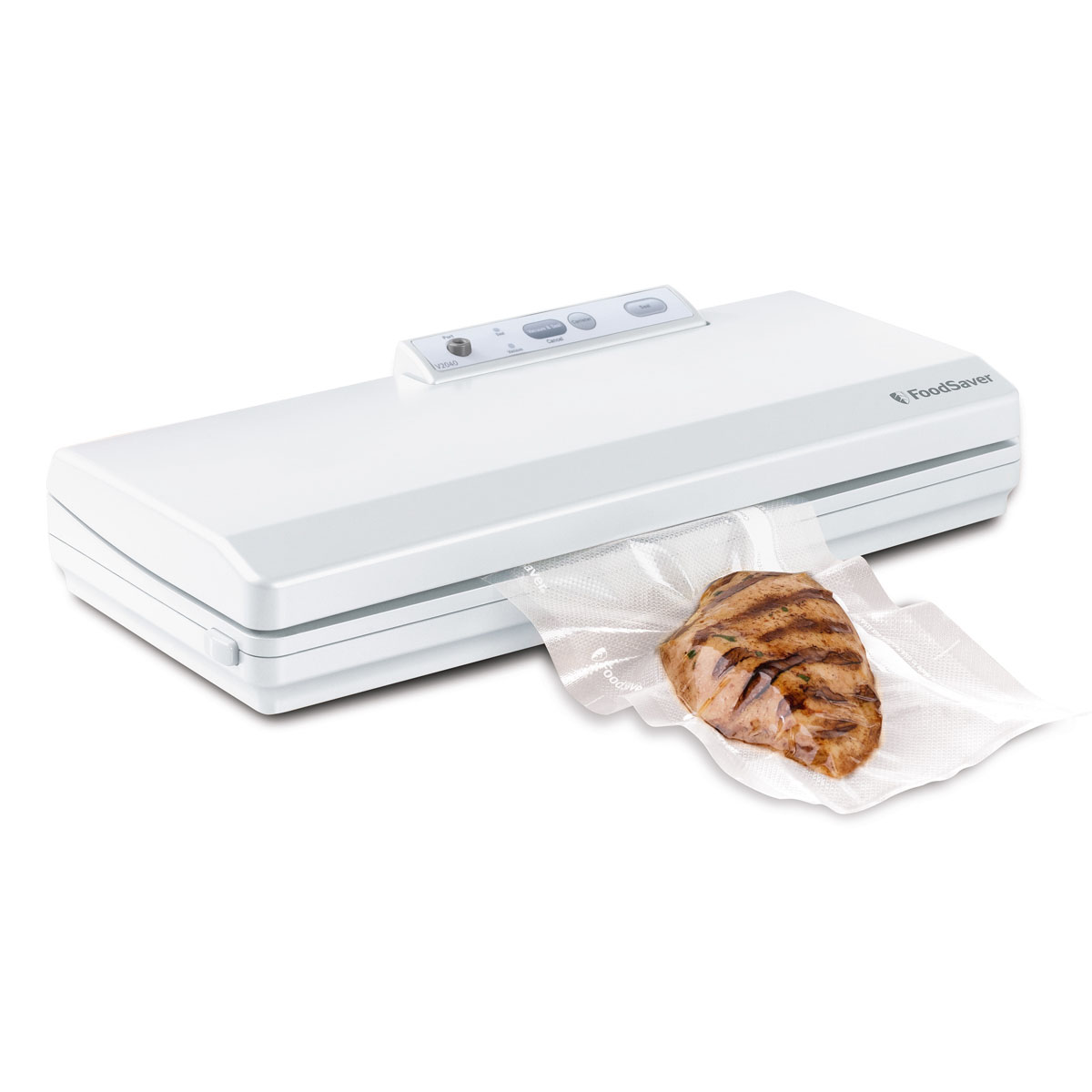 FoodSaver® Countertop V2040 Vacuum Sealing System, White with Starter Kit
- See final price in cart
Promotions
Starter Kit Includes:
1 - 11" x 10' FoodSaver® Roll
3 - Quart Size FoodSaver® Bags
2 - Gallon Size FoodSaver® Bags
Accessory Hose
The FoodSaver® V2040 Vacuum Sealing System keeps food fresh up to 5x longer (when compared to ordinary storage methods).
Product Specs:
Dimensions: H: 3.3" W 6.8" x D 15.7"
Cord length: 47"
Weight: 3.87lb.
Overview
The FoodSaver® V2040 Vacuum Sealing System combines form and function in a compact-designed unit and easy-to-use manual operation. Versatile settings and modes provide convenience to seal a variety of foods using bags, rolls or accessories.
Compact design
Manual operation
CrushFree™ Instant Seal helps protect delicate foods during sealing process
Patented, removable, dishwasher-safe, drip tray
Extra-wide sealing strip creates secure, air-tight seal
Accessory port and hose vacuum seals canisters and marinates food in minutes
1-year limited warranty
Questions & Answers
Service & Support
FoodSaver® Countertop V2040 Vacuum Sealing System, White with Starter Kit
is rated out of
5
by
33
.
Rated

1

out of

5
by
Sally
from
SallySalSal
I purchased this product last fall for vacuum sealing salmon prior to freezing. The machine failed to vacuum the air out of the machine about 50% of the time even with giving it extensive rest periods between use. I credited my user technique as the issue but this year the same thing is happening even though I have read the directions several times and watched youtube videos on it's use. Now I read on this site that I am not the only one disappointed with this product. I no longer have the receipt so I can't even attempt to return even though I have only used it a few times. Very upsetting because I believed that I was purchasing a quality product.
Date published: 2015-09-23
Rated

2

out of

5
by
dbcn
from
hate plastic latching piece
only used it about 10 times and it no longer latches to seal or vacumn the bags. One of the plastic parts has broken completely off. In order to use the machine I have to press one side down. Not worth buying this model.
Date published: 2014-12-11
Rated

3

out of

5
by
Hrhonda
from
Not so great.
I have used the V2040 about three dozen times and the system fails about a quater of the time to seal. I have flipped the upper gasket and made sure it is clean and undamaged.
Date published: 2015-02-16
Rated

2

out of

5
by
Karenaj
from
Not great
Have had limited success with sealing unit. Find I must press down on unit to make it seal and even then it doesn't always work.
Date published: 2015-01-29
Rated

1

out of

5
by
Helen
from
Poor Quality
I received this as a Christmas gift, and fell in love with it. However after only a couple of months it is no longer working. I went to seal a bag, first one of the day, and while it was vacuuming the air from the bag,it made a very loud bang, and smelt like burning plastic. I immediately unplugged the sealer, and opened it up to remove the bag. The sealer was very hot, and where the motor is located, the sealer was warped ( indented ). As this was a gift, I do not have the receipt to return it. It was also purchased in another town as the person who gave it to me lives about 5 hours away. I am very disappointed in the quality of the item. I have always wanted one, and would like to replace mine, however, I do not want to spend money one such a poor quality item/brand.
Date published: 2015-04-20
Rated

2

out of

5
by
John
from
sealer latch
plastic sealer latch...have not had this product very long and the plastic sealer latch broke and does not permit the machine to turn on and engage. Frustrating when this product cost me over 100. dollars and doesn't last long. I think they may have made it so as to make us have to buy another. I'm quite disappointed in the product..
Date published: 2015-02-23
Rated

1

out of

5
by
MarkB
from
Rubbish
This was a Christmas gift in 2014 that I used for the first time in the fall of 2015. I only use it once a year when I make sausages in the fall. It worked so-so in November of 2015, about 50 per cent of the time. And now, one year later, it doesn't work at all. No vacuum whatsoever. I feel like this was a complete waste of money but with it being a two-year old Christmas gift, I'm sure that I'm SOL. I would stay away from this product.
Date published: 2016-11-22
Rated

1

out of

5
by
Wes78
from
Poor vacuuming
My second foodsaver and this one seems to have a very weak motor in it. Has a difficult time getting the air out. I would go for a better model next time ,this one is not worth it.
Date published: 2015-04-25