Images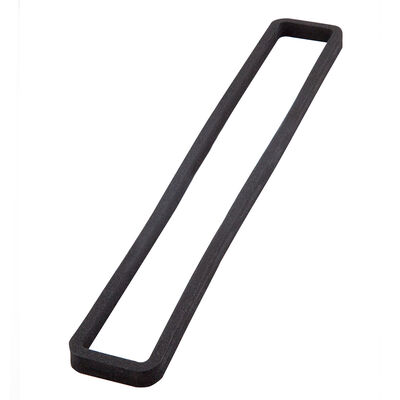 FoodSaver® Replacement Gasket for FM2000, FM2010 and FM2100 Series
Details
https://www.foodsaver.ca/en_CA/replacement-parts/foodsaver-replacement-gasket-for-fm2000-fm2010-and-fm2100-series/176870-000-000.html
Foodsaver
176870-000-000
https://www.foodsaver.ca/on/demandware.static/-/Sites-master-catalog/default/dw9ac2d831/images/highres/176870-000-000-1.jpg
Availability:
This item is currently not available online.
Prolong the life of your FoodSaver® unit by replacing the gasket. Easy to install and affordable, this is an essential addition to any home vacuum sealing system.
See More...
Additional Information
When replacing a gasket, we recommend that 2 are purchased and used at the same time to better ensure optimal function of the unit.
Compatible with these FoodSaver units:
FM2000 Series
FM2010 Series
FM2100 Series
FoodSaver® Replacement Gasket for FM2000, FM2010 and FM2100 Series
is rated out of
5
by
60
.
Rated

2

out of

5
by
Jack975
from
Not what we needed
Our sealer, model V2460, has foam seals with half-circle ends. We were unable to find anything on your web site that looked like them. We took a chance on the only seals we found - those with a rectangular shape with rounded corners. The seals that arrived were exactly as shown on the web site, but won't fit our sealer. Not worth the cost and effort to send back. We'll continue to use the aging seals we already have.
Date published: 2015-06-04
Rated

5

out of

5
by
Acajun
from
Backup for when my current gaskets wear out.
My current gaskets (for vacuuming and holding the vacuum for sealing) work really well. They have performed admirably so far. The only problem was once when I had a wrinkle in the lip of the bag, then the heating element didn't completely seal the ends (my fault, for being careless). It is obvious, that over time, the gaskets will eventually wear out, so I wanted to have a second set for when that happens. Since the price of the gaskets are really inexpensive it just made sense to have a set on hand for when that happens.
Date published: 2015-05-12
Rated

5

out of

5
by
Yellowdog
from
Great replacement parts
I currently use the game saver vacuum sealer to seal bags for sous vide cooking. Meaning, I use thing a lot! I carefully replace the cardboard lid spaced and set the locking lever to "storage" to preserve the seals on the unit. Alas, the unit started to loose vacuum so I replaced the seals with this kit and the unit is pulling vacuum as it did when it was purchased new! So nice to buy an electronic device with consumer replaceable wearable parts! Nice job food saver.
Date published: 2017-05-28
Rated

4

out of

5
by
Kiowaklipper
from
I purchased my FM2100 several months maybe years ago and have loved using it. Today, after plugging it into the electrical socket, it would not come on. Thinking I must purchase a new one I looked one last time for something unusual and saw my foam rubber seal was out of place. I removed it completely and plugged unit back in and BINGO it came on. After further inspection I noticed the seals were stuck together rather than having one on the lid and the other on the body. After separating them and re-installing properly my unit works just fine and I saved $$$ and my unit will live for another day.
Date published: 2016-09-19
Rated

5

out of

5
by
victoria4800
from
2100 series
I bought mine a little over a year ago. The gaskets needed to be replaced. I washed the old ones real good and reinserted. Works perfect but ordered anyway for stand by
Date published: 2018-01-17
Rated

5

out of

5
by
swiss1
from
useful product
my food saver was not always sealing after vacuum. It was suggested that the gaskets needed replacing. The first set of gaskets did not fit, and a second set was sent at no charge--Great customer service ! I replaced the gaskets, but the problem still persists. Sometimes it will vacuum and seal, other times it just vacuums forever--I'm not sure what is going--I have had it many years so would still recommend it.
Date published: 2017-01-15
Rated

4

out of

5
by
Judy1604
from
The rubber strips solved my problem with sealing.
The only problem with getting the rubber sealing strips was that I couldn't find my model of the food saver so the strips were too long. I cut them to fit and the worked fine getting my food saver to shut off when the bag was evacuated.
Date published: 2015-01-06
Rated

5

out of

5
by
dickie
from
UPPER & LOWER GASKETS
It was exceedingly difficult to find the right gaskets for my Food Saver model V2490 on the Food Saver web site. I never did! There was only one pictured, and it looked rectangular in shape. Didn't match mine in appearance. Frustration set in! I should add that I am an advanced computer user and order online from various web sites 5-6 times a month. I know what I'm doing. So . . . I ordered the gaskets listed on the web site. What choice did I have? There was a comment box on the order form, and feeling uneasy about the order, added the following (now from memory): I explained that I could not find what looked like the gaskets I needed. Nor was there a gasket product number listed. My Food Saver is model V2490, Please send appropriate gaskets for that model. I thanked them for their consideration of my request and signed it. The gaskets arrived on a Friday afternoon and to my udder dismay they sent the WRONG ones . . . the rectangular shaped gaskets! Here's the good news! I called the company early Monday morning, explained the situation to a delightful lady. She looked up my model and confirmed the wrong gaskets were sent. I also told her about my written request included with the order. She apologized and sent TWO sets of the correct gaskets at no additional charge. When asked, do I send back the rectangular gaskets? She said no. I'm a "happy camper!" Food Saver redeemed itself in a great way!
Date published: 2017-03-23