Images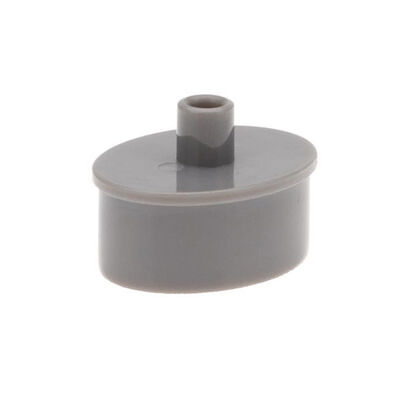 FoodSaver® Container Adapter
Details
https://www.foodsaver.ca/en_CA/replacement-parts/foodsaver-container-adapter/130527-000-000.html
Availability:
This item is currently not available online.
This adapter allows you to seal FoodSaver
®
deli containers using FoodSaver
®
FreshSaver
®
handheld units.
See More...
Additional Information
Compatible with the FoodSaver® Deli and Lunch & Leftover containers and FoodSaver® FreshSaver® handheld units.
FoodSaver® Container Adapter
is rated out of
5
by
61
.
Rated

1

out of

5
by
dannymrmissile
from
Bad Design !
I had No choice but to buy this as my round plug in hose won't work on the newer canisters. This "Oval" design is a Poor design on both the adapter And the canister tops. Wish they'd left the old design as it was. They were Easy to plug in. I have my Original Round hose/plug from over 15 years ago, and it's still working fine! This Oval one, which I do Not understand,,,you must hold into place, plus it don't always seal, etc. Sorry,,, Very Poor design. " If it ain't broke, don't fix it " ! Old design one is better and easier.
Date published: 2017-08-26
Rated

2

out of

5
by
LadyMac
from
Didn't need it
Not finding adapters in the package with the food saver containers, I ordered these. Then when I opened the containers to wash them, the adapters were taped to the underside of the lid! Not a hint in the leaflet that served as an instruction manual that adapters were included. They weren't a huge expense, but annoying that I couldn't find them and then bought them unnecessarily.
Date published: 2014-04-13
Rated

1

out of

5
by
Wizop
from
Not what I thought it was and included in kit anyw
I thought this adapter would allow the new hand held to work with the old canisters. it does not. it allows the new hand held to work with the new deli canisters. Without it the hand held only works with the new bags. Also, I didn't need to buy this as one was included in the kit with the handheld. It wasn't expensive so having two isn't terrible but if I had it to do over again I wouldn't have bought it.
Date published: 2014-08-06
Rated

2

out of

5
by
Consumer
from
Container adapter
This piece does not work as well as the old one. The black end on the tubing does not fit into it right ( it broke off a piece on the black end). I found one of my old adapters( that came with one of my containers and the black end fits into it better even with it broke. I don' t know what I am going to do when something happens to the one I found because the one I ordered doesn't work. I should get a new black end for the tubing also. I love my FoodSaver, it has saved me a lot of money on food. But I am not happy with this piece.
Date published: 2014-10-05
Rated

5

out of

5
by
Bob123a
from
Works great to adapt to the container
It's easy to use. I wish there was an adapter to use the hand held vacuum use on the canisters as well. Since we keep these in the fridge and counter it would be easy to use he hand held that could be stored in the kitchen as I can't store the large vacuum in my kitchen.
Date published: 2016-02-05
Rated

1

out of

5
by
Pompoms1
from
Limited Use Item
I ordered your 2 pack Deli Container set. They are very nice, however, I was not advised nor was there information offered that I need an adapter for it to work. . You sell ONLY 3 items in your whole line of products that NEEDS this adapter to work. Why don't you send it along, so we can use the deli or lunch sets. I have used FoodSaver for the past 30 years.
Date published: 2017-12-11
Rated

2

out of

5
by
beep57
from
Functional
Adapter was functional, however the plastic container did not hold the seal.
Date published: 2013-10-15
Rated

5

out of

5
by
joanie
from
Recent on line purchase
I was so pleased with the speed of which I received my order. I was easily able to locate the part that I needed - on line. The price was reasonable and I got my replacement part in a few days. This unit I have now is the best I've had and I use it almost every other day. From a Satisfied Customer.
Date published: 2014-09-25