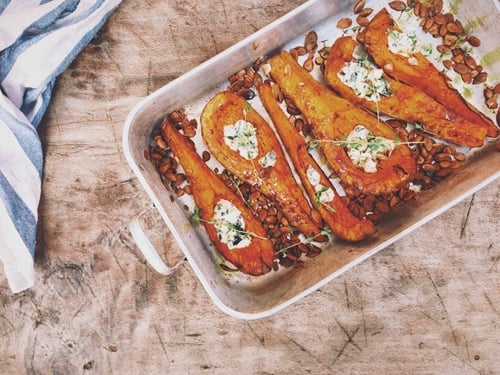 The Meal Prepper's Starter Kit: Everything You Need
Planning and cooking your meals for the entire week saves time and money. You won't waste ingredients by buying food you won't end up using and you won't have to spend your evenings cooking. What's more, made-ahead meals are easy to take for lunch the next day. But if you've never prepped meals ahead of time, the idea might seem a little daunting. Fortunately, it doesn't have to be. Here's everything you need to plan, make and store meals for the week:
Tools of the Trade
Before you pick out meals and cook, you'll need the right storage tools. Cooked food especially spoils quickly in the fridge, and the freezer can compromise the taste of your dishes. To make sure your meals last long enough to eat and maintain their flavor, use a vacuum-sealing system. It will remove air from your meals, preventing the spread of bacteria.
The Vacuum Sealing System
The FoodSaver® FM5460 2-in-1 Food Preservation System comes with everything you need to get started, including a vacuum sealer, rolls and bags. Once your food is cooked, you can divvy it up into a pouch, remove the air and store it in the freezer. Not only does the system remove air for long and better storage, but the process is also space-saving so you can keep more in your freezer.
Extra Containers
You will eventually run out of rolls and bags, so stock up on more. The FoodSaver® Freeze 'N Steam™ Microwave Quart Vacuum-Seal Cooking Bags, for instance, are perfectly sized for individual portions and allow you to steam your leftovers right in the microwave. To make sure you have bags when you need them, consider subscribing with FoodSaver®. They'll arrive at your door so you can always plan ahead. Additionally, invest in FoodSaver® Fresh Containers. These stackable vacuum-sealed bins are BPA-free and dishwasher- and microwave-safe, making reheating your meals a cinch. They're perfect for taking your pre-made lunches on the go and storing liquid meals, like soups or pastas.
Organizing Your Recipes
With your prepping tools ready to go, you can search for recipes your family loves and that are ideal for big-batch cooking. Pastas, stews and casseroles - basically anything that can go in a slow cooker - are obvious winners, but you can get creative, too. Ask your family what kinds of foods they want to eat during the week and search for ideas around that.
No matter what you cook, you need a way to organize your recipes. You can keep a backlog online through sites like Pinterest or make a physical organizer. For instance, divide a binder by days of the week or meals and fill each sections with recipes you've found in magazines, online or that you've written yourself. That way, you have everything you need right at your fingertips. Swap out recipes at the end of the week, but don't get rid of the ones you liked - you can always make them again in the future.
A calendar can also be your friend. Write down what meals you'll reheat each day for every meal. That'll tell you how much to buy for each recipe to ensure the food lasts long enough.
Planning Your Time
Choosing a time to prepare your food makes the process as easy as any other scheduled activity. For many, weekends are ideal because they have the time off of work. But if your kids have extracurricular activities or your schedule won't allow it, pick another time. Evenings, particularly when the kids are busy with homework, are ideal for many families. Or, choose recipes that allow you to step out of the kitchen and complete other tasks.
With careful planning, organizing and storage, you can save time and eat healthy. See, prepping isn't as daunting as it sounds!