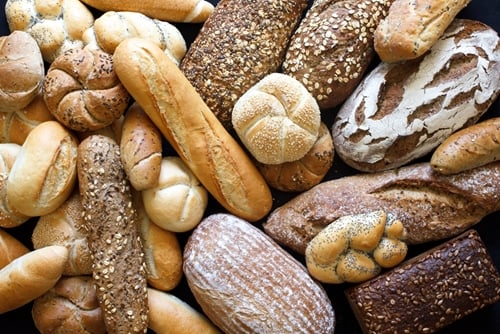 The FoodSaver® Guide To Sealing Bread
The smell of freshly made bread is one of those little reminders that life is full of good things. Whether you've just baked a loaf of sourdough in the oven, used a bread maker to whip up a loaf of berry-filled wheat bread, or even just walked into a bakery first thing in the morning - you know how that delicious scent makes you feel. It probably reminds you of home, or of some special memory from your childhood. For many people, bread making is a tradition that they share with their family. Others love to pick out a fresh loaf at the bakery and nibble on it as they walk home.
Whatever your preference, you probably enjoy bread several times a week, if not a few times a day! But when you make your own bread or buy a loaf at the store, you might not get to all of it right away, and the remainder of the loaf can go stale. Sure, you can use it for toast, but it won't have the same fresh flavor. Thankfully, you can use your FoodSaver® Food Preservation System to help lock in that freshness and flavor. And with the special PulseVac™ feature, your bread won't lose its shape or structure! That loaf of banana bread you made will still look and taste great, like it just came out of the oven!
Watch how it works:
The FoodSaver® V4865 2-In-1 Food Preservation System
When you want to preserve a fresh, flaky loaf of bread, the FoodSaver® V4865 2-In-1 Food Preservation System is the ideal tool for the job. It has a ton of great features that will help you keep all of your food fresh and help retain its delicious flavor. Top on the list of its features is PulseVac™. This button gives you manual control over the flow of the vacuum, making it super easy to seal delicate items, such as bread. When you'd you like to seal up a half-dozen freshly baked rolls, use the PulseVac™ feature so they keep their shape.
Additionally, the FoodSaver® V4865 2-In-1 Food Preservation System has a built-in bag cutter, so you can create bags of any size your needs require. Those who like to buy artisanal loaves can create a bag that perfectly fits their rustic, crusty round loaves.
Save Money
One major benefit of owning a FoodSaver® Food Preservation System is that you can take full advantage of sales, especially those buy one, get one free offers. Put the first loaf in your bread box and preserve the second using the use PulseVac™ function on your FoodSaver® System. You can keep the sealed loaf in your pantry for later in the week, or store it in the freezer for up to three years. When you need it, the bread will still taste fresh and delicious.
You can apply the same method to leftover bagels. Sometimes you buy a dozen delicious bagels, because it's more economical, but you always seem to have leftovers that get dry. No worries! Just separate the bagels you'll eat over the next few days and seal the rest. Just like that you will have reduced food waste and saved money in the process.
The Artisan Advantage
Freshly made bread that is baked without preservatives has a short shelf life. It's delicious, but it needs to be enjoyed quickly, or it will get stale. With the FoodSaver® Food Preservation System, you'll never have to worry about that again! You can use FoodSaver® Gallon-Sized Heat-Seal Bags to save an entire loaf, or you can portion out some slices using a smaller roll, like the FoodSaver® 8-inch-by-20-inch roll. It's entirely customizable to suit your needs.
And for the home baker, being able to save your culinary creations is a big advantage. Gift your sealed homemade loaves to friends and family, or keep a stock of them in the pantry or freezer for meals over the next couple of months.
Make Ahead Lunches
Save time by making sandwiches at the beginning of the week and sealing in the freshness with a FoodSaver® Handheld Sealer and a FoodSaver® Vacuum Zipper Quart Bag. You can even use the attached handheld sealer on the FoodSaver® V4865 2-In-1 Food Preservation System! How does it work? Simply place sandwiches in the zipper bag, close the top by pressing down on the zipper, then use a handheld sealer against the circle on the bag to gently remove the air. This will seal in the love and freshness and keep the air out.
Bread is delicate, flaky and delicious. Keep all of those qualities by preserving with the FoodSaver® Food Preservation System!