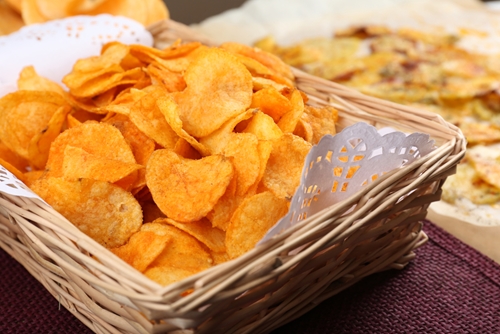 How To Make Homemade Potato Chips
Making your own potato chips at home is a healthier and less expensive option than buying them at the store. Plus, you can spice them up, make them salty and sour, or season with your favorite flavorings. With just a few ingredients and a little bit of time, you'll have freshly baked, crispy chips ready to eat. And if you want to save your chips for later, the PulseVac™ feature of the FoodSaver® Vacuum Sealing System lets you do that with ease! But more on that later. First, here's how to make your own chips at home.
Crispy Potato Chips
Once you master this recipe, you'll never have to worry about spending money on chips again!
Ingredients:
Golden potatoes
Ice water
Canola oil
Salt and pepper, to taste
Other seasonings, if desired.
Directions
1. Heat your oven to 450 degrees.
2. Fill a large bowl with ice water and set aside.
3. Peel your potatoes and then slice them into extra-thin slices. Unless you have a very steady hand, it's probably best to use a mandolin.
4. Place the slices into the ice water as you go.
5. Remove the slices from the water and press them between two sheets of paper towels. This will remove the excess moisture.
6. Lightly oil the baking sheet, then place the slices onto it in one layer. Brush the tops of the slices with more oil. Sprinkle with salt and pepper or the seasoning of your choice.
7. Bake for 5 minutes or until the edges crisp.
8. Remove from the oven and allow to cool for a few minutes before enjoying.
How to Vacuum Seal the Chips
To vacuum seal your chips, wait until they are completely cooled. They will cool fastest on a wire rack. Then place them into a sealing bag. Use the PulseVac™ function of your FoodSaver® Vacuum Sealing System to manually control the sealing process. Adjust the chips in the bag as necessary. Gently remove the remainder of the air and seal. Store the chips in a cool place away from direct sunlight.
Other Seasoning
If you're short on ideas for other seasonings, try out one of these:
Sea salt and vinegar
Powdered cheese
Onion and chili powder
Melted chocolate
Paprika and chili powder.