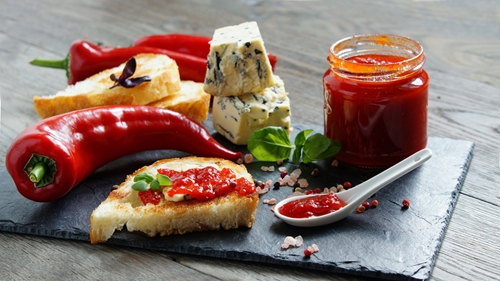 3 Unusual Jams to Vacuum Seal
It's not every day you'll need a jalapeno jelly to complement your Spanish chorizo omelet with toast, but that doesn't mean you shouldn't have it on hand when you want to give your breakfast in bed a little spice.
In fact, there are dozens of distinct jams and jellies worth keeping in the reserves to give your meals a much-needed twist. But even a jam can go bad if the seal on your jar isn't adequate. Instead of worrying about using every last spoonful of jelly, use your FoodSaver® 2-In-1 Vacuum Sealing System and a Jar Sealer to preserve it effectively.
Once you're confident you can seal and save those jars, try these unique jam options you can find at a grocer or make yourself.
1. Bacon Jelly
For a true breakfast of champions, there's bacon jelly. Slow cooked bacon with garlic, yellow onion, vinegar, brown sugar, maple syrup and coffee turn this early morning favorite into an unbeatable spread for toast or bread.
The catch: You'll likely have to make this recipe yourself, as bacon jelly is a rare find, but it's actually a very simple recipe to make. Just make sure you have the right tools. Bacon jelly doesn't have the shelf life of your regular preservatives, which can last for years under the right conditions. With an airtight vacuum seal, however, you can lock up the freshness of this delicious treat for at least one month.
2. Rose Petal Jelly
For a gourmet jam with a light, sweet and slightly tart flavor, rose petals are what you need. Like the bacon recipe, this jelly lasts about a month to one year - if you seal with your FoodSaver® Jar Sealer. Luckily, the recipe is simple and delicious on pastries, bread and more. You won't have any trouble using it all within a month.
Recipes call for rose petals with the white tip cut off, white sugar, lemon juice, water and pectin.
3. Hot Pepper Jam
Whether it's habanero, jalapeno, serrano or chili, one thing is certain: There's no better combination than a little sweet and heat. Spicy jam is a perfect spread for morning toast, and it's sure to wake you up in the morning. Just make sure you're pairing it with a cold glass of water or milk.
Even better, you can mix the hot peppers with other fruit jams to give your favorites a heated twist. Try hot pepper peach, strawberry or blueberry jam.
With the right ingredients and tools, you can make your own unique jams that are sure to impress. Just be sure to stock up on crackers and bread, since these will likely run out quickly!