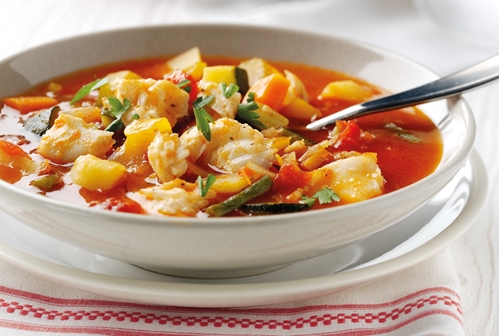 How to Seal Your Soup
No more canned soup. Ever. That's what your trusty vacuum sealer can do for you.
Homemade soup doesn't last forever. It might have a longer shelf life than fish fillets, but it can turn in about a week in the refrigerator, and that's probably where you put your leftover stews and soups for safe keeping. Freezing has its own set of problems. Without the right container, soups can get freezer burn easily, which has a noticeable flavor cost.
If you want to seal in the freshness of any soup or stew for years, vacuum sealing is the easiest way to do it, but there's a method to it.
Freeze it First
You can't vacuum seal a soup while it's still a liquid and throw it in the freezer. For one, vacuum sealing liquids can be a little tricky - thank goodness for the FoodSaver® 2-In-1 Vacuum Sealing System's drip tray. Secondly, liquids tend to expand in the freezer, and this could compromise that sturdy vacuum seal. Anyone who has put a can of soda in the freezer has run into this problem.
The way you get around all this is to freeze the soup first and then vacuum seal it. Put the soup or stew in a container or even a FoodSaver® bag and only seal it. Put it in the freezer after.
Transfer the Soup and Vacuum Seal
Once that soup is frozen, take it out of the freezer and move it into a vacuum seal bag. With a solid substance, you'll be able to tightly vacuum seal that soup without flooding your drip tray. It's the easiest way to save tasty stew for a rainy day or even some fresh veggies you've diced.
How long will that FoodSaver® bag keep your soup fresh? It won't just lock in the flavor for the season - it will preserve it for two to three years. That's comparable to a can, and vacuum sealing is far easier to do than canning a homemade meal yourself.
Go From the Freezer to the Slow Cooker
When you're in the mood for soup, take your homemade stuff out of the freezer and move it straight to your Crock-Pot® Slow Cooker. Set it to low, and you'll have a delicious meal ready for your bowl in no time. It's a simple way to save time, money and all that prep work effort.