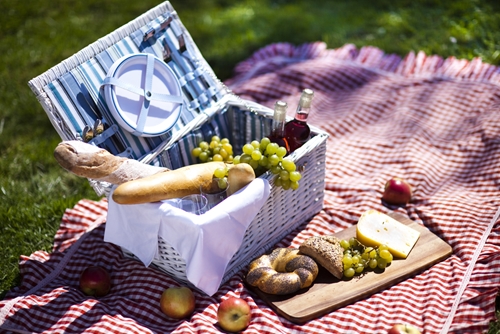 5 Perfect Picnic Tips
The easiest way to get out of the house for a nature-filled lunch is to simply pack up a basket and head out! Picnics are easy to throw together in a hurry and perfect for enjoying those pristine summer days.
Before you pack up and go, check out these five tips to make sure it all goes off without a hitch.
1. Bring a Basket and a Cooler
Packing a picnic basket is a no-brainer, but people tend to forget the cooler. Coolers are perfect for keeping your beverages chilly and refreshing, and they'll keep any meats, cheeses or salads from the heat. Throw in some ice and vacuum seal the snacks with a FoodSaver® Vacuum Sealer to keep them safe and separated.
2. Go for the Finger Food
When you're carrying all the picnic supplies here and there, it makes sense to consolidate what you can. That means sticking with finger food, like sandwiches and fresh fruits, so you don't have to carry a cluster of dirty plates and utensils.
3. It's all About the Specialty Drinks
A wide variety of foods is great, but it's the drinks that really make the picnic. Staying out in the sun can make you and your friends thirsty, so don't skimp on the beverage options! A chilled sparkling cider is great for picnics, but you can brew up your own recipes, too. Make smoothies, fruity cocktails or a different blend of your choice. Then, seal your drinks in jars with FoodSaver® Wide-Mouth Jar Sealers to avoid spillage. Just make sure you bring plenty of water.
4. Pack Meals Individually
If you have a lot of guests joining you, it might be wise to pack up those snacks in separate containers and label them. Then, snacking is as easy as taking out those sealed containers and going at it. Less time preparing during the picnic means more time to chat and enjoy the sunshine.
5. Aim for the Shade
Think of a picnic lunch like a day on the beach. You'll want to protect yourself from those sun rays in the same way. Unlike the beach, you can find a nice shady area to go. Either way, pack a sun hat and sunscreen.