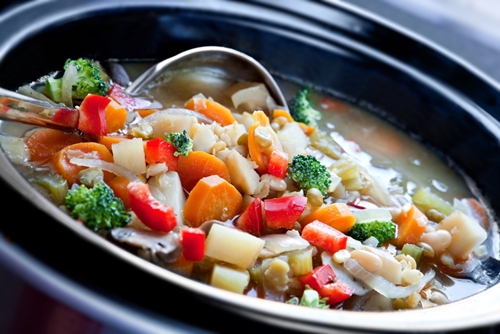 Freezer to Slow Cooker: Meals to Cool and Cook
Have you ever wondered how to get high-quality meals without the hassle of dirtying dishes, monitoring appliances and cleaning for hours afterward? Forgo these culinary concerns by preparing a large batch of food, storing it in the freezer, then transferring it to your slow cooker for a simple and savory way to cook your meal.
Try freezing one of these dishes in a vacuum sealer container, then adding it to your slow cooker for best results.
White Chili for Winter
Warm white chili is a great dish to serve during the winter, as the tasty ingredients form a perfect treat to enjoy while watching snow fall outside.
You'll need:
1 pound boneless chicken breasts
1 large onion, diced
1 green pepper, chopped
3 cloves garlic, minced
1 can chicken broth
2 cans white kidney beans
1 1/2 cups white cheddar cheese
1 tablespoon oregano
Olive oil
Salt and pepper to taste.
Directions:
Begin by cutting your chicken breasts into bite-sized pieces, coating with oregano, salt and pepper, then browning on a large skillet. Add green pepper and onion, then continue stirring for five to six minutes. Turn the stove off and allow your meat to cool for about 10 minutes. In a large bowl, combine your remaining ingredients - except the olive oil - and your skillet contents, then place the bowl in the freezer for about two hours. After the ingredients have started to solidify, transfer them to a vacuum sealer bag and remove the air with your vacuum sealer. Place back in the freezer until you're ready to serve.
When you're ready to use your slow cooker, coat the bottom with olive oil then put the frozen contents in the appliance and cover. Set the slow cooker on high and cook for three to four hours, stirring constantly.
Creamy Chicken and Dumplings
It's hard to beat homemade chicken and dumplings, so get out your favorite spices and get to work on this classic dish.
You'll need:
1 1/2 pounds chicken breasts
2 large carrots, sliced
2 stalks celery, sliced
1 can peas
1/4 cup all-purpose flour
1 can chicken broth
1 small onion, diced
2 cloves garlic, minced
1 teaspoon poultry seasoning
1 teaspoon oregano
Salt and pepper to taste
1 package frozen biscuits.
Directions:
Coat your chicken breasts with oregano, poultry seasoning, salt and pepper, then seal with your vacuum sealer. Combine carrots, celery, peas, flour, broth, onion, garlic, salt and pepper in a large bowl, stirring until ingredients are well-blended. Place the bowl in the freezer for about one hour, then spoon into a vacuum sealer bag.
When you're ready to use your slow cooker, defrost your chicken breasts, then place them at the bottom of the appliance, which should be coated with nonstick cooking spray. Allow your remaining frozen ingredients to thaw on the counter for about an hour, then transfer to the slow cooker. Set the appliance on high and cook for about five to six hours, stirring about once every hour. Serve over your favorite biscuits, whether you have made your own from scratch or you're thawing out frozen ones.