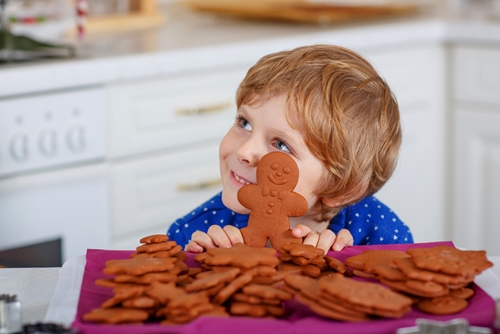 Seal The Love In With These 2 Festive Cookie Recipes
Christmas cookies are one of the best parts of the holiday season. You get to make them with your friends and family, fill your house with delicious scents as they bake, and share them with your neighbors. This year, vacuum seal your baked goodies to lock in the love and the delicious flavor. Give them away as gift or save them until later in the season. Whenever they're enjoyed, they'll taste freshly baked.
1. Gingerbread Men
This classic cookie is yummy and fun to eat. Bake a whole troop of gingerbread men and send them to your friends with the seasons greetings.
Ingredients:
3 1/2 cups flour
1 tablespoon ground ginger
2 teaspoons ground cinnamon
1 teaspoon baking soda
1/4 teaspoon allspice
1 teaspoon salt
1/4 teaspoon ground cloves
1 tablespoon shortening, melted
6 tablespoons butter, melted
3/4 cup molasses
1 egg
2/3 cup brown sugar.
Directions
In a large mixing bowl, sift together the flour, ginger, cinnamon, baking soda, allspice, salt and cloves.
In a separate bowl, combine the shortening, butter, molasses, egg and brown sugar.
Pour the wet ingredients into the dry ingredients and mix until it forms a thick dough.
Place the dough on a sheet of plastic and flatten it until it's approximately half an inch thick. Wrap with plastic and place in the refrigerator for 2 hours.
Heat the oven to 350 degrees. Line a baking sheet with parchment paper.
Sprinkle flour onto a clean surface and press the a portion of the dough onto it until it's about a quarter of an inch thick. Use a cookie cutter to create the gingerbread man figure. Place each cookie on the baking tray, keeping them approximately an inch apart.
Bake for 10 minutes.
Allow the cookies to cool, then decorate them with icing. Let them sit for another 20 minutes before using your FoodSaver® 2-In-1 Vacuum Sealing System. Use the PulseVac™ feature to keep the icing from crumbling.
2. Peanut Butter Chocolate Drops
What's better than a sugar cookie? A peanut butter sugar cookie topped with a chocolate drop, of course! This recipe is sure to be a favorite of anyone who tries it.
Ingredients:
1 cup brown sugar, packed
1 cup white sugar, and more to coat
1 cup peanut butter
1 cup shortening
2 teaspoons vanilla extract
1/4 cup milk
2 eggs
1 teaspoon salt
2 teaspoons baking soda
3 1/2 cups flour
18 ounces chocolate drops.
Directions
Heat your oven to 375 degrees.
In a mixing bowl, combine the sugars, peanut butter and shortening until the ingredients form a consistently colored cream. Then, add in the vanilla, milk and eggs, stirring all the while.
Add the final ingredients: salt, baking soda and flour. Stir well.
Using a tablespoon, form the dough into balls. Roll each ball in white sugar and place on a lined baking tray approximately 1 inch apart.
Bake for 10 minutes. Upon removing the tray from the oven, press a chocolate drop into the center of each cookie.
Allow the cookies to cool before eating or vacuum sealing.