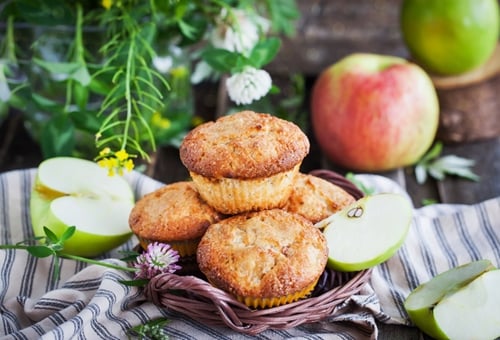 2 Delicate Desserts You Can Vacuum Seal With PulseVac™
The FoodSaver 2-In-1 Vacuum Sealing System comes equipped with the awesome PulseVac™ feature, which lets you vacuum seal the most delicate food items with the press of a button. You never have to worry about crushing your desserts again. Try out these recipes today to prepare some delicious desserts for the weeks to come.
1. Apple Muffins
Need a recipe that will make use of some of your apple orchard haul? These muffins are a perfect autumnal treat. Normally, these tasty muffins would be nearly impossible to save, but with the PulseVac™ feature, vacuum sealing them is super easy.
Ingredients:
1 tablespoon vanilla
1 cup canola oil
2 large eggs
1 1/2 cups sugar
3 cups flour
1 teaspoon salt
1 teaspoon baking soda
1 teaspoon ground cinnamon.
Directions
Heat your oven to 350 degrees. Line your muffin trays with paper or grease them lightly.
In a mixing bowl, stir together the vanilla, oil, eggs and sugar until the texture is consistent throughout.
In another bowl, sift together the flour, salt, baking soda and cinnamon.
Combine the wet and dry ingredients. Stir until the batter becomes very thick. Fold in the apples last.
Fill the muffin cups up nearly to their brims.
Bake for 20 minutes, or until a toothpick comes out clean.
2. Carrot Cake Pancakes
It's not often a recipe could either be your next breakfast or dessert. These fluffy pancakes are delicious and thanks to the FoodSaver 2-In-1 Vacuum Sealing System, you can make a whole batch and easily save some for later.
Ingredients:
1 1/4 cup flour
1/4 teaspoon ground ginger
1 teaspoon ground cinnamon
1/4 teaspoon ground nutmeg
2 teaspoons baking powder
2 eggs
3/4 cup buttermilk
2 tablespoons canola oil
1/4 cup brown sugar
1 1/2 teaspoon vanilla extract
2 cups grated carrots.
Directions
Heat up your waffle maker.
In a large mixing bowl, whisk together the flour, ginger, cinnamon, nutmeg and baking powder.
In another bowl, combine the eggs, buttermilk, oil, brown sugar and vanilla extract.
Combine the wet and dry ingredients, stirring thoroughly.
Fold in the carrots.
The amount of batter you use will depend on the size of your waffle maker. Refer to your specific machine's instruction booklet. Pour the proper amount of batter into your waffle maker and follow the machine's directions as you would normally.
Let the pancakes cool completely before sealing them.