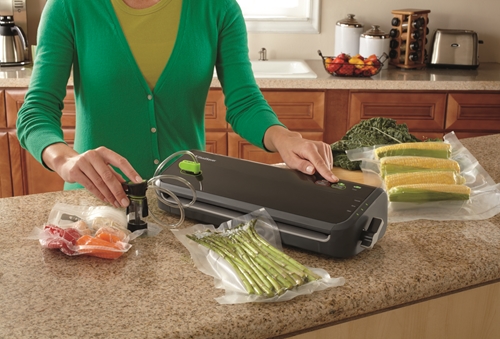 Perfect Pairs: Things you Should Vacuum Seal Together
You already know how helpful a vacuum sealer can be when it comes to combining savory meals with tangy tastes. Accessories like the FoodSaver® Quick Marinator were made to effortlessly infuse your meats and veggies with flavor.
What you might not have thought about is how your FoodSaver® Vacuum Sealer can be used to seal up a number of other food combinations to make your work in the kitchen easier, faster, fresher and more flavorful. Here are a few ideas.
Use FoodSaver® Portion Pouches for Main Courses and Side Dishes
How can you make sealing up your leftovers more convenient? By using FoodSaver® Portion Pouch Heat-Seal Rolls. The roll is perforated in the middle so you can separate food items but still seal them using one sturdy vacuum seal, and that's the perfect invention for preserving individual dinners without impacting flavor.
For instance, what do you do if you want to vacuum seal a leftover steak and a savory portion of sauteed spinach? You can't expect to seal them up together without getting the juice from the steak on your veggies and the buttery flavors of the spinach on your meat. The alternative is sealing them in two separate bags, but that adds more steps and wastes more bags.
With the Portion Pouches, the juicy side dishes and the savory main courses can be sealed together without worry. Barbecue chicken and salad veggies, fish and asparagus, steak and sweet potato fries - now you can seal them together without affecting the flavors.
Forget the Perforated Barrier and Seal These Things Together
Then again, there may be times when you want those flavors to mix together using a vacuum seal. Food pairing is an art in and of itself that food prep professionals are just starting to explore using ingredients from around the world.
Your vacuum sealer takes this culinary crafting to the next level by locking those foods in a tight seal that helps mesh the subtle flavors together. Here are a few pairs you have to try out:
Butternut squash and lime - perfect for making roast squash with a little zing
Red bell pepper and strawberry - for a real treat, serve both chopped on top of a gourmet cheese
Cinnamon and thyme - vacuum seal these seasonings together with your chicken for an all-new delicious flavor.
There are dozens of other interesting combos you should explore, and your vacuum sealer can help you take advantage of them all.