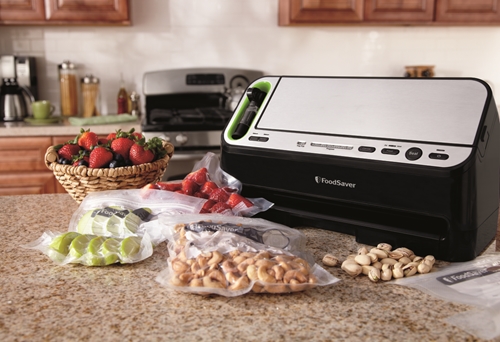 How to Preserve Food so it Won't Spoil and Smell
There's nothing worse than spoiled food in the fridge. If you can't locate that bad food, you may have to take everything out one by one to find it, and that can waste a lot of time.
There are certain food items that require a little extra care to preserve. With the right prep and packaging, you can store nearly anything in the fridge for a fresh meal weeks or even months later. FoodSaver® Vacuum Sealers are specially made to lock air out, seal freshness in and keep your foods from spoiling for as long as possible.
Here are a few tips about storing food that goes bad quickly or sealing up ingredients with intense odors.
FoodSaver® Brand Bags and Rolls Lock Odors in
Not only are FoodSaver® brand bags and rolls perfect for keeping your food fresh for longer, they also provide an air tight barrier that locks in smells. That's what makes a vacuum sealer a must-have appliance for anglers and gourmet food lovers.
Taking freshly caught fish home on a regular basis is a great way to prepare fresh and flavorful meals, but it might give your kitchen and your freezer that unmistakable fishy smell. That odor can become even more intense if your catch begins to go bad. By vacuum sealing your fish beforehand, you'll prevent smells from wafting into the house while simultaneously preserving the catch for longer.
Lengthen Shelf Life with a Vacuum Seal
Even foods that don't ordinarily smell can spoil and become a problem later on. This is a particularly tricky problem if you buy in bulk and keep a heavily stocked fridge and pantry. Luckily, FoodSaver® vacuum sealers were made specifically to preserve those items for longer, so you don't have to worry about things spoiling on a regular basis.
Here's a quick rundown of a few items your vacuum sealer can keep fresh for longer:
Flour and sugar can be saved for one to two years
Baked cookies will be preserved for six weeks
Cheeses can be sealed for up to eight months
Meats and veggies can stay fresh for six months.
As a general rule, your vacuum sealer can preserve food up to five times longer than ordinary bagging and sealing. Refer to our fresh food comparison chart for specifics!