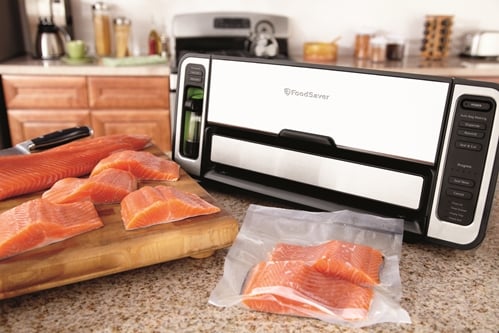 How to Pre-Season and Vacuum Seal Fish for the Best, Long-Lasting Flavor
Nothing beats a salmon or a hearty snapper cooked fresh on the grill - that is, except for a catch you've pre​-seasoned and vacuum sealed beforehand.
Whether you're saving your fish for a special dinner later or you're going straight from the stream to the cookout, seasoning and sealing is always a good idea. It will preserve your fish so it's as fresh as the moment you caught or bought it, and it can even enhance the seasoning flavor. The pressure of the vacuum seal helps draw flavor into the fish.
Seasoning and the FoodSaver® Manual Vacuum Sealer go hand-in-hand. If you want to wow your guests with a zesty and flavorful catch, follow these tips.
1. Squeeze out All Those Liquids
As with any fish, your catch is going to be a little moist once it's cleaned and ready for bagging. Luckily that juice will go straight into the vacuum sealer's pull-out drip tray drawer, keeping your counter top clean. Nonetheless, before you toss that tuna in the FoodSaver® bag, try to squeeze out all the liquid you can.
Put the cut of fish between two paper towels and squeeze firmly. Dab it a few times afterward. Make sure you're using a quality paper towel, too, as some of the cheaper materials can leave flecks of paper on your fish.
This is also a good reason to use a FoodSaver® Liquid Block Heat-Seal Bag because the moisture will be caught by the liquid-blocking strip before reaching the seal.
2. Add a Pinch of Seasoning
Now it's time to crank up the flavor. Add your favorite flavored seasoning to the fish. If you're having trouble deciding what to go with, get a little creative. There are dozens of tasty seasonings and you probably have a few options in your spice cabinet already. Here are a few pointers:
Cayenne, thyme and Cajun seasonings give blander white fish, like cod and flounder, a spicy kick
Savory salmon goes well with a hint of brown sugar, crushed red pepper and dried mustard, or just a little lemon zest and garlic
Tuna steak is more flavorful, so go light with a little onion salt, pepper and mesquite seasonings.
Old bay, garlic powder, onion powder, cayenne, thyme, cilantro, rosemary - they can all be used individually or together to create some surprisingly delicious recipes. Choose what suits your palate best and roll with it.
3. Vacuum Seal and Save
And that's really all there is to it. Move the fish into the bag and vacuum seal it. Those flavors will seep into the fish in minutes, and you'll be ready to cook in no time. Or you can throw your catch into the freezer for a meal in the future.