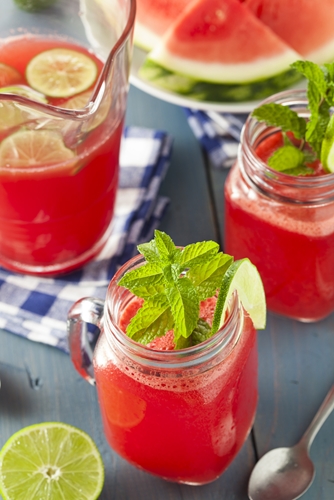 Handy Flavor Combinations Using Mint and Herbs
There are dozens of delicious flavor combinations the typical foodie may have never tried or even thought about using with mint and other herbs. From tangy fruit drinks to slow simmered dinner dishes, these flavor-packed plants can add a lot of zing to whatever you're making.
These recipes are even better using freshly grown herbs, but not everyone has access to a spice garden year-round. Before your next herb harvest wraps up, make sure to seal plenty of extras using a FoodSaver® Vacuum Sealing System. Pluck, blanch, seal, freeze - it's the perfect way to keep the freshest herbs around any time you need them.
Mint and watermelon
Whether you're making infused water, fruit salad or smoothies, watermelon and mint are two perfect flavor combinations, especially for the spring. It's incredibly simple and surprisingly refreshing. After trying mint, combine watermelon and cilantro next. It works particularly well in watermelon fruit salad with lime and feta cheese.
Parsley and tropical fruit
This herb is anything but sweet, and it comes as a surprise to quite a few that it blends so well with sugary summer fruit. Mix parsley with tangy tropical fruits like pineapple, mango, grapefruit, banana and melon for interesting and mouthwatering results.
Lavender in drinks and with salad
Yes, lavender is beautiful to look at, but they're a useful tool in the kitchen, too. Intensely aromatic and flavorful, the purplish petals make a stunning addition to a fresh garden salad. For flavor's sake, mix in blueberries, blackberries or raspberries or add a bit of lemon zest. The flavors are complementary.
Basil with peaches and strawberries
Believe it or not, the same herb used to season spaghetti sauce adds a perfect amount of slightly spicy, slightly sweet flavor to fruits like peaches and strawberries, too. Next time you're chopping strawberries for a snack, add a dash of basil, and prepare for a delicious surprise.
Thyme with cherries or pears
Time after time, cooks use a little too much of this herb and it overpowers the flavor of the dish. The trick is to use thyme very sparingly. Its flavorful floral qualities can bring out the best in cherries and pears, but don't go overboard. Start small and taste as you go until the combination is just right.