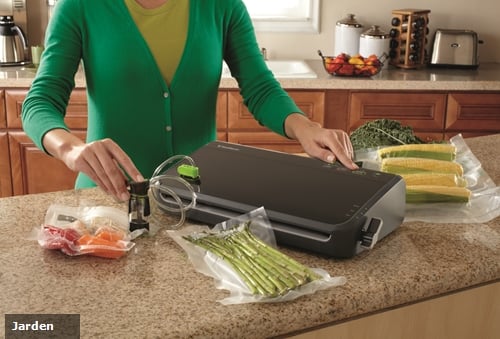 4 Unexpected Uses for Your Vacuum Sealer
Vacuum sealers have revolutionized the realm of food preservation, but did you know there is a range of uses for this versatile machine that extend far beyond the kitchen? With the right supplies and a can-do attitude, virtually anything can be vacuum sealed - something that can come in handy when you're participating in messy or rigorous activities. Here are four reasons to start looking at your vacuum sealer in a new light.
1. Water Sports
Whether you're kayaking on the lake or paddleboarding on the river, the possessions you bring along run a high risk of getting wet. Plastic bags and waterproof containers can help protect your items from moisture, but vacuum sealing ensures that water cannot permeate the packaging and ruin your goods. As an added bonus, your smartphone touchscreen can still be used when protected in a vacuum sealer, meaning you can still text or call while on the water.
2. Home Repair
Painting your walls? Installing new shelves? Finishing those renovations on the bathroom?
Your vacuum sealer can be a life saver when completing home repairs. If you're having a difficult time keeping track of cords, spare parts or building supplies, use your sealer to ensure your materials stay organized during your home improvements. If you're painting over the course of several days or weeks, consider vacuum sealing your paint brush, as keeping this item in an airtight container can prevent it from drying or clumping.
3. Camping
There are several ways to use your sealer when packing your bags to go camping. Not only can you package dried foods - like homemade trail mix or dried fruits - but you can also seal your essentials to prevent them from getting destroyed by the elements of the wild. For example, you can seal emergency supplies - such as a first-aid kit - to ensure all your medical supplies are in one organized location that's easily accessible in your backpack.
4. Kids' Crafts
There's no denying it - kids are messy. Your vacuum sealer may be one of the best ways to extend the shelf life of your kids' craft materials while keeping them safe and organized as well. The sealer comes especially in handy for parents whose children tend to lose pieces or containers, such as those that hold moldable dough or the tops to paints and markers.
When your children are done creating their masterpieces, your vacuum sealer can also prove to be an effective way to safeguard their creations for several years to come.