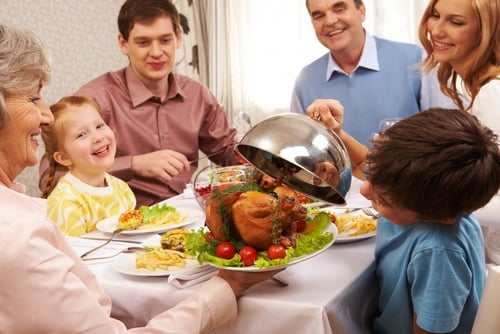 Tips and Tricks for Preserving Your Thanksgiving Leftovers
Happy Thanksgiving!
Between the gobbling guests, chummy children and delicious dishes, you'll need to find time to clean up your festive feast when everyone has finished enjoying it. While storage containers and plastic bags can make your food last a few days longer, using your FoodSaver® 2-In-1 Automatic Bag-Making Vacuum Sealing System may further elongate the shelf life of your leftovers.
Using your vacuum sealer can make your leftovers last up to five times longer than traditional storage methods - something that comes in handy when you're prepping to send your guests off with a goody bag of their own.
Be sure to keep the following tips and tricks in mind when you're packing away your Thanksgiving leftovers this year.
Minding Your Meals
Your vacuum sealer can preserve a number of dishes from your holiday feast, but there are certain steps to follow for each to ensure that your food retains its quality and texture. Start with your stuffing - for short-term storage, spoon the contents of your side into a vacuum sealer bag, then remove the air and place in the fridge. Keep the stuffing in the freezer if you want to further extend its shelf life. This process works for any non-liquid based side, like vegetables, meats or desserts.
For casseroles or other dishes that have a little more moisture, it's important to stock up on vacuum sealer bags that are equipped to handle liquids - like the FoodSaver® 12 Liquid Block Quart Bags, which come with moisture strips to keep your food stored in a juicy state. Watch this video to learn more about the bags and how to use them this Thanksgiving.
Goody Bags for Guests
Why keep all your leftovers to yourself if you prepared the feast for your family and friends in the first place? If you're loaded up with leftovers that you don't have enough room to store, or you recognize that you may not be able to eat all that's left on your own, use your vacuum sealer to create homemade gift bags for your guests.
To prevent your foods from spilling over and becoming one messy heap, start by freezing all of your leftovers for just about two hours - this will allow them to become firm but not frozen. Then, place individual portions in your vacuum sealer bag, and finally, preserve the contents with your vacuum sealer. Hand out goody bags as your guests go home after the holiday - they'll surely thank you for providing their next meal!