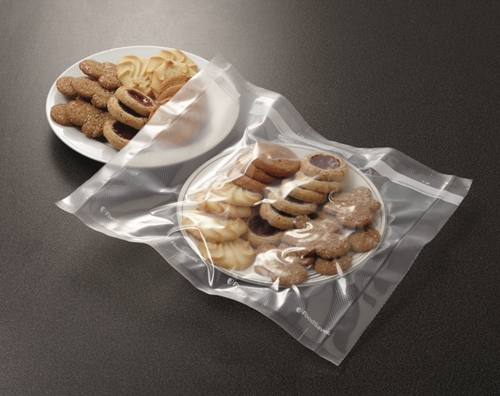 How to Manage Holiday Baking Projects
Break out your baking trays, cookie cutters and festive ribbons because the holiday season is upon us. It's time to start baking Grandma's prized cookies in large batches, because sweet holiday treats are the perfect presents for friends, neighbors and co-workers.
Whether you prefer bringing trays of treats to holiday parties or arranging your best cookies in a festive basket, you're no doubt looking for time-saving tips and tricks to make the process easy, fun and effective. Managing your holiday baking projects is simple with the right tools - you'll need your baking pans, favorite wrapping and vacuum sealer to seriously simplify the process.
Plan Your Treat Menu
Before you can start sending your seasonal treats, you'll need to do a little planning first. Start by creating a list of each treat you plan on baking. If you're making cookies or desserts with nuts, peanut butter or gluten, be sure you're not giving them away to people with allergies. If you're not sure whether the people on your gift list have food allergies, err on the side of caution and include disclaimers with your basket.
Save Your Dough with Ease
If you're making a variety of cookies, consider making your dough ahead of time and freezing batches using your vacuum sealer. Whether you prefer storing uncooked dough in an airtight container or a resealable bag, using your vacuum sealer can ensure that your dough stays fresh until you're ready to thaw and cook your treats.
When preserving your dough in the freezer for future use, blend the ingredients as you normally would, rolling the dough into the same shapes you would cook them in. Place them on an oven sheet as you normally would, but place the slab in the freezer for about one to two hours - this allows the dough to harden a bit before storage. Place the dough balls in a vacuum sealer bag and use your system to remove the air from the bags. By the time you thaw your dough, your cookies will already be separated and ready to go.
Pack Away Goody Bags
Wanna send your tasty treats to friends or loved ones who live far away? Your vacuum sealer comes in handy here, too. After baking your batches, set aside the cookies you wish to send and place them in a vacuum sealer bag. The airtight packaging will prevent harmful particles or critters from getting to your treats before your loved ones - and it's perfect for packing and shipping.