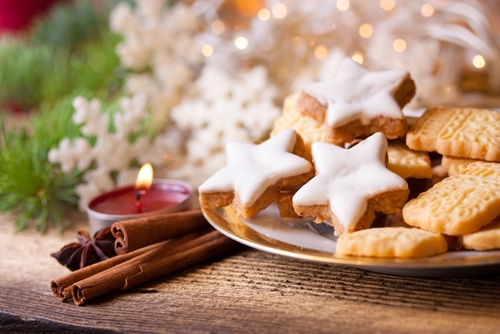 How to Keep Holiday Cookies Fresh this Season
The holidays are all about spending time with those who you love, and few activities are as fun as baking and eating festive cookies along with your friends and family members.
As you're topping peanut butter blossoms with chocolate drops and sprinkling your snickerdoodles with cinnamon sugar, start thinking about how you can keep your cookies fresh for the next few weeks. Whether you're saving your sweets for Santa or handing them out to your neighbors, here's a quick guide on how to prevent your cookies from hardening or crumbling before their time.
Separate Cookies by Consistency
Holiday treats come in a variety of shapes, sizes and consistencies, so it's important that you keep your cookies contained with others that share the same texture. Baked goods laced with icing shouldn't be stored with those that are meant to remain crunchy. Martha Stewart Living magazine recommended storing your cookies along with those that have similar bites - chocolate chip cookies, for example, should not be stored with cinnamon ones, as the two opposing tastes respond differently to traditional storage methods and may alter the taste of both types when kept together.
Store with Add-Ons
Did you know that putting a piece of bread in your cookie jar can keep your batch from going stale? Cookies draw moisture from bread, so while the piece of bread will gradually become hard over time, the cookies will retain their form and stay fresh longer. Martha Stewart Living also recommended keeping a small piece of parchment paper kept between your crunchier cookies, as this may prevent them from sticking together.
Know when to Keep Cookies in their Pans
Most cookies are best stored in batches with other individual cookies, but certain sweets - like brownies and bars - are best kept in their original baking trays. Instead of slicing and storing, keep the tray intact by vacuum sealing it with FoodSaver® Expandable Heat Seal Rolls.
Freeze in Batches
Freezing your cookies is another way to easily and efficiently store your sweets for the season. This is a particularly preferable method if you've prepared a large batch of baked goods, as you can keep some on the counter for guests while the rest remain in your freezer. Separate your cookies into small stashes, then use your vacuum sealer to create an airtight environment, which can extend the freshness of your treats. Storing them in small batches makes the thawing process easier, as you can choose a set quantity of cookies to unfreeze at any given time.