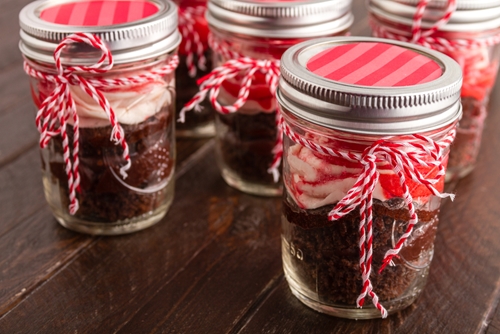 7 Ideas for Holiday Gifts in a Jar
Looking for a simple, sweet and easy gift to distribute among the many people on your Christmas list this year? Consider creating and handing out gifts in a jar, which make for fun and festive treats that can be tailored to everyone on your list.
All you need for these homemade and heartfelt gifts is your vacuum sealer, several Mason jars and your FoodSaver® Regular Jar Sealer - which can create an airtight seal and prevent the contents of your jar from ruining. To view how to use your sealer, be sure to watch this tutorial.
1. Scrumptious Cupcakes
For an appetizing and unconventional take on the cupcake, try handing out this simple treat to your loved ones. After making a batch, slice each cupcake into thirds. Ice the top of each part - leaving the most intricate decoration for the top one - and place in the jar. Be sure to tie a festive ribbon on the lid!
2. Teacher Appreciation
Want a touching treat for the teachers in your life? Stack pens, pencils, chalk, erasers - any supplies your teachers need can be easily kept in a festively decorated jar. Just be sure to include a sweet note along with the gift!
3. Stash for the Seamstress
Got a friend who enjoys sewing? Compile a collection of thread, needles, buttons and thimbles in your Mason jar. This is a perfect gift for any seamstress or fashion-forward friend who could benefit from some new threads.
4. Colorful Candy Jars
Satisfy your loved one's sweet tooth by giving him or her a series of jars filled with the tastiest morsels you can find, whether they prefer chocolates, hot candies or fruity bites.
5. Keepsake Collection
Go with this portable version of a scrapbook for those on your list who you share a lot of memories with. Include mementos that will remind him or her of your best moments - like movie tickets, small photographs and tokens.
6. Beach-in-a-Jar
Who needs to go to the shore to enjoy the beach? Bring the coast to your Christmas by loading a jar with sand and seashells. This standalone decoration is perfect for putting out during the summer or adorning your loved one's desk at the office.
7. Hot Cocoa Mix
Pile your jar full of hot cocoa mix - you can choose a homemade concoction or a store-bought one - then load it with marshmallows and cocoa sticks. For a more festive feel, opt for a sprinkle of peppermint both in the mix and on the outer decorations.