Images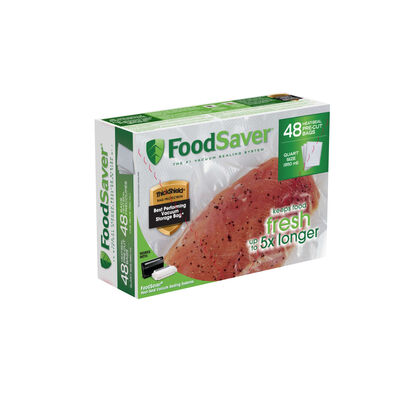 FoodSaver® Quart Size Heat-Seal Vacuum Sealer Bags, 48 Count
Details
https://www.foodsaver.ca/en_CA/bags-and-rolls/foodsaver-quart-size-heat-seal-vacuum-sealer-bags-48-count/FSFSBF0226-033.html
Foodsaver
FSFSBF0226-033
https://www.foodsaver.ca/on/demandware.static/-/Sites-master-catalog/default/dw66bbed9b/images/highres/FSFSBF0226-033-1.jpg
Keep foods fresh up to 5X longer with the FoodSaver® Quart-Size Heat Seal Bags. Durable, multi-ply material creates an air-tight seal to lock in freshness and taste.
See More...
Additional Information
FoodSaver® Quart Size Heat Seal Bags are pre-cut for quick, convenient vacuum sealing. Preserve, protect and prevent freezer burn using these FoodSaver® bags, designed with channels that allow complete air removal. Multi layer material blocks moisture and oxygen to protect foods. The material is also puncture resistant and durable enough to simmer and microwave. BPA free.
48 quart size, pre-cut bags
Multi-ply material prevents freezer burn
Specially designed channels block oxygen and moisture to maximize air removal
BPA free
Simmer and microwave safe
FoodSaver® Quart Size Heat-Seal Vacuum Sealer Bags, 48 Count
is rated out of
5
by
518
.
Rated

5

out of

5
by
LilysMom
from
An essential for the sustainable gardner!
I live on a tight budget and grow the majority of my own produce. The Food Saver is THE MOST IMPORTANT TOOL I own to help me preserve my fruits, veggies and herbs in the freezer long past harvest. It also allows me to purchase my meats and fish in bulk without fear of freezer burn. The Food Saver extends the freezer life of all my food. Awesome for cheeses, too. PLUS the FS is fun and easy to use. (:
Date published: 2013-03-26
Rated

5

out of

5
by
rbwatt1
from
This product is a time and a money saver.
I have used Food Saver, the bags and rolls for over twenty years. I love to cook and find that I can portion pack large meals and freeze them for later use and they taste as if they were freshly cooked. I, also, like to buy in bulk, especially fresh fish. The fish always tastes as if it were freshly caught. I honestly cannot live without the system and bags. I make my own pasta sauce in huge quantities and portion them in the bags and I have saved time and made fixing so many other meals later easier.
Date published: 2013-11-12
Rated

5

out of

5
by
FASTEDDIE
from
If you want to try some of the bags, try this!
For a new FoodSaver customer who isn't sure of which accessories to order in bulk, this is a great idea! You can try some of each and then watch out for future sales and stock up! Each piece of this box is very versatile and has many uses; all are easy to use.
Date published: 2012-09-09
Rated

5

out of

5
by
juliev6435
from
Great Value
The multi pack starter kit is a very good value and great for the person just starting out with a sealer and also for those of us who have been using a sealer for years. I can always use different sizes of bags as well as the new portion bags. The pre-made bags are useful when I don't have the extra time to measure and make a certain size bag.
Date published: 2012-08-04
Rated

5

out of

5
by
mommominaz
from
LOVE IT LOVE IT LOVE IT
My grand daughter says I need a vacuum sealer intervention. I use my vacuum sealer every day. I use it to seal cereal bags, and potato chip bags, right in the bag they came in. The intervention remark came when I had sent my daughter some wine bottle spoon rests that a friend had made in her glass kiln- It was from a bottle of wine that both my daughter and I really enjoy. I had brought the wine home to Arizona from Pennsylvania and since my daughter was 1200 miles away I drank the wine and had the spoon rest made for her. My friend made her a smaller one also - so I wrapped them both up in newspaper to cushion them and then vacuum sealed them, They made it from Tucson, AZ to Parsons, KS intact. Wont be without my vacuum sealer. Thank you for saving me tons of money.
Date published: 2012-09-29
Rated

5

out of

5
by
Zebopper
from
Love the convenience of pre-made bags
I use these bags for everything! The fact that they are pre-made for me is awesome. They are usually plenty big enough for whatever I am doing as well as having a little extra that can be sealed again after opening it.
Date published: 2011-04-02
Rated

5

out of

5
by
GMGP
from
Wonderful Variety
The Variety pack I bought is just what I need for various foods to freeze. I am very pleased with the prices and offers I get from Food Saver.
Date published: 2012-09-11
Rated

5

out of

5
by
Jean51
from
This product is great
We have been using your products for many years. I have worn out 2 sealers & am on my 3rd one. I use it almost daily. We make our own summer & country style sausage. We seal them in your bags & have some items that are 3 years old & you can not tell the difference between the new stuff & the 3 year old stuff. Thank you having designed this product. The only complaint I have is that the seal gets hot after using several times & I have to wait for awhile before I can continue sealing. Any suggestions as to how to cool down the sealer faster. We usually seal between 60 & 100 packages at a time, once a year. Eileen
Date published: 2015-02-28
Rated

5

out of

5
by
DebMissouri
from
Great family fun!
My brother in Pa swears by this product. He makes small bags of fruit for smoothies and even put banana.....in a bag for two years and it still came out fresh as ever and looked good. Now THAT is amazing....I am sold now and bought it and will begin my journey with using it. He freezes meat for more than a year and still swears by this product. He loves it. I imagine I will also! He is a very happy senior citizen but young at heart! I love him and love the product for making him so happy!
Date published: 2012-08-26
Rated

5

out of

5
by
Bigjohnone
from
Keeps me able to buy on sale
The ability to vacuum pack meats and fish for the freezer when they are on sale is a great money saver. I buy whole beef loins and cut them to filet size and then wrap and freeze them individually. It's a wonderful money saving device. And the filets are fresh and tender when I grill them.
Date published: 2012-03-31
Rated

5

out of

5
by
geogiajett
from
Love these products
I bought a roll and the quart bags. I like keeping the roll around because I never know what I am going to need to freeze, so being able to customize the size at the drop of a hat is awesome. I keep the quart bags because they are a versatile size that fits so many things - from meats to veggies, beans, etc. When I first bought my machine, it came with some bags and a small roll. My husband was convinced that I would never use the machine. Needless to say, I have used up everything that came with the machine and needed to buy more supplies. I highly recommend these products.
Date published: 2016-02-15
Rated

5

out of

5
by
vvandyke
from
Everything works as advertised!!
Have thought of buying a Food Saver for sometime, but got pushed over the edge on a fishing trip to Canada. One of my fishing buddies brought his Food Saver along to store and freeze the walleye fish we had caught. It worked so easy and you won't have to worry about freezer burn or aftertaste, in fact, it's just like eating fresh walleye just caught. We've used our Food Saver for freezing sweet corn, salsa, and other garden goodies. I just wish I had done this sooner!!
Date published: 2014-08-04
Rated

5

out of

5
by
Deanie2216
from
FoodSaver is the best
My husband and I have used another food sealer product. I will recommend FoodSaver to everyone. We have even sealed potato chip bags with it before going camping. The bags we use are the perfect size for left overs and making longer bags with the rolls are perfect for large steaks, chicken to take along for the grill. Thank you FoodSaver
Date published: 2012-03-24
Rated

5

out of

5
by
Jen12
from
The size of these bags are perfect.
I ordered these bags along with the new foodsaver I ordered. These bags are ready to use if you don't have time to cut and make your own bags. They are spacious, fit meats, veggies and regular items I need to freeze. With a large summer garden I do alot of par boiling veggies and freezing them. These bags are perfect for that. I usually do large batches of veggies at a time so these bags are handy and make for a quick job. Corn on the cob is awesome in these bags to freeze. Just love them.
Date published: 2015-03-13
Rated

5

out of

5
by
BruceG
from
Love these bags
These bags have special channels to prevent liquid from getting in my unit. I am used to using paper towels to prevent the liquid from coming up when I buy the rolls. I wonder why the rolls don't have those special channels. I may not buy rolls anymore if this continues to be the case. Anyway, very happy with these bags. Air is pulled out better with the special channels also. A very tightly sealed bag.
Date published: 2018-10-04
Rated

5

out of

5
by
Injun
from
Cooking for one
It's almost impossible to cook for one, so I cook for 2, 3, or 4 and freeze meal size portions in either pint bags or quart bags. Last week I cooked 10 live lobsters, ate 2 and shelled out the other 8, and sealed the meat in quart bags. I will heat them in boiling water for an easy gourmet meal.
Date published: 2011-12-09
Rated

5

out of

5
by
mmmma
from
Ms mmm
I'm 73 yrs; raised 5 kids; wish I'd had Foodsaver back then! No more ice crystals, no more prying food apart; no more wasting left overs!! Also, no more worrying about using food up in a week! Cooking is my favorite thing to do, and this is one of the best kitchen tools! Thumbs Up!!
Date published: 2011-07-14
Rated

5

out of

5
by
Bob63
from
Soups & Stews
Bought our first vacuum sealer 23 yrs ago. Would have gotten one sooner if the demo lady had mentioned putting soups & stews in bags, freezing them, then sealing. Over the years, learned to freeze the bags where you don't have pointed corners that cause leakage. Great for hunting camp - pot of boiling water with no mess and easy clean up.
Date published: 2011-12-26
Rated

5

out of

5
by
Sheri
from
These bags are a perfect size
These bags are the perfect size for the saved proportions for two people. I love my Food Saver machine and the way it packages food items so they do not get freezer burned. Often times, if I only take a few good items out of the package, I reseal it and return it to the freezer. The amount of food spoilage I've avoided has been dramatic.
Date published: 2011-12-02
Rated

5

out of

5
by
bettyboop
from
Don't know what I would do without it
I love my Food Saver and the bags that you make. They make my life so much easier.I have a big garden and freeze all my vegetables. Also buy meat by the BIG pieces and cut it to size. Freeze this too. Oh thank you Food Saver. No freezer burn, no ice crystals. Accolades to you
Date published: 2011-09-23
Rated

5

out of

5
by
Carol66
from
Foodsaver bags
I am very satisfied with the Foodsaver bags . They are very good for vacuum sealing for the freezer . I would never use any other brand bags but Foodsaver . I have bought these bags for years & I will recommend that you buy the original Foodsaver name bags. The meat or anything that you use them for will really last in the freezer for a long time without any burn. Wonderful product.
Date published: 2011-12-01
Rated

5

out of

5
by
AngieCat
from
This machine has truly saved me money.
This has been my second food saver. I have enjoyed the products. However, I have tried the marinade container and had poor results in the past of cracking in the corner areas of the plastic container. One I made the mistake of putting it in the dishwasher but the replacement I was very protecting with and this still happened. I feel they are too expensive to experment with again.
Date published: 2013-01-22
Rated

5

out of

5
by
Gwendolyn1
from
A Must Have!
I have had a FoodSaver for many years and could not be without one. It is easy to use and has saved me a lot of money because I can buy in bulk. The food stays in perfect condition. I also love the fact that I can reuse the bags. Win-win all the way around,
Date published: 2011-06-29
Rated

5

out of

5
by
DShermanator
from
FoodSaver equal money saver!
I love being able to purchase large quantities of fresh meat, fish and vegetables, as well as fruit during sales, seal them up into the appropriate portions, throw them in the freezer and forget about them until needed! In the long run I save a lot more money than I ever spent on my FoodSaver and the bags. I also love the portion bags. I make large casseroles on my days off, then portion them into the bags, seal them up and all I have to do is thaw, heat and eat!
Date published: 2011-06-28
Rated

5

out of

5
by
McNurdy
from
Great Way to Start Out with FoodSaver!
This pack is a great way to begin using your FoodSaver. Box includes bags and rolls of the most used sizes along with some specialty bags that are nice to try. It definitely helped me know quickly which bags would be the ones I use the most. Saved money by not buying bags on a trial-and-error basis and finding I didn't use a certain size much.
Date published: 2013-07-25
Rated

5

out of

5
by
Carrie77
from
Excellent product
I've used foodsaver for years and hardly a day goes by that I don't use it, from storing lunch meat and cheeses to freezing meat and preserving very important papers and documents. I LOVE my vacuum system and will not go without it in the future.
Date published: 2012-04-29
Rated

5

out of

5
by
Susie
from
fantastic product
It is so nice to make the size bag you want. I am a BELIEVER on vacuuming my fish and all the bulk meat I buy. We go fishing each summer and I vacuum pack about 100 lbs. of salmon and it keeps beautifully. Won't use anything else.
Date published: 2011-12-20
Rated

5

out of

5
by
Noam
from
Multi-Pack Starter Kit
A great way to start out using a new Foodsaver. Lots of options and perfect for learning to use the machine.
Date published: 2012-11-07
Rated

5

out of

5
by
Jimmy4
from
Bags and rolls are fantastic and easy!
Have always enjoyed the simplicity of using the food saver bags and rolls. Work great, are extremely durable and have never had a bad seal. Easy to boil or microwave food directly in the bags.
Date published: 2011-12-06
Rated

5

out of

5
by
Lorama
from
Food Saver and Supplies
I have had my Food Saver and supplies for a couple of months now, and I love it! I use it almost everyday for one thing or another. I've never had one, and always wondered if they were really worth the cost--THEY ARE! I especially love the jar sealers--I use them for fruits, vegetables, spices--anything I can put in a jar. I have already saved money by freezing my leftovers instead of throwing them away. Lasagana and chili are my favorites, so far.
Date published: 2015-08-05