Images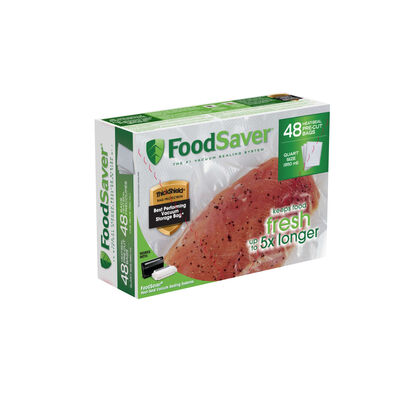 FoodSaver® Quart Size Heat-Seal Vacuum Sealer Bags, 48 Count
Details
https://www.foodsaver.ca/en_CA/bags-and-rolls/foodsaver-quart-size-heat-seal-vacuum-sealer-bags-48-count/FSFSBF0226-033.html
Foodsaver
FSFSBF0226-033
https://www.foodsaver.ca/on/demandware.static/-/Sites-master-catalog/default/dw66bbed9b/images/highres/FSFSBF0226-033-1.jpg
Keep foods fresh up to 5X longer with the FoodSaver® Quart-Size Heat Seal Bags. Durable, multi-ply material creates an air-tight seal to lock in freshness and taste.
See More...
Additional Information
FoodSaver® Quart Size Heat Seal Bags are pre-cut for quick, convenient vacuum sealing. Preserve, protect and prevent freezer burn using these FoodSaver® bags, designed with channels that allow complete air removal. Multi layer material blocks moisture and oxygen to protect foods. The material is also puncture resistant and durable enough to simmer and microwave. BPA free.
48 quart size, pre-cut bags
Multi-ply material prevents freezer burn
Specially designed channels block oxygen and moisture to maximize air removal
BPA free
Simmer and microwave safe
FoodSaver® Quart Size Heat-Seal Vacuum Sealer Bags, 48 Count
is rated out of
5
by
518
.
Rated

5

out of

5
by
DoubleD
from
Wonderful product!!
Trying the sample package, I still am not sure what I like better. I really like the rolls but sometimes have difficulty in sizing the right size for efficiency. Then I tried the bags and I love those too. I guess I will stick with the 11" roll because I gives me the best flexibility. I am also going to stock up on the quart size. It is a great product that I can label with size portion and date purchased with marker and toss in the freezer. With meat, sometimes I just poke holes in the tray and vacuum pack the whole package for freezer storage and the supermarket label is still on with the size and date of purchase. The food stays very fresh.
Date published: 2013-11-25
Rated

5

out of

5
by
ChilenaComilona
from
Perfect multipack
We love the multipack starter kit because it has the perfect variety of bag sizes that we need for the different food items we are saving throughout the year. For instance, at Christmas time we make tamales, and we use the larger ones to bag up and freeze up to 2 dozen uncooked tamales at a time. Then we use the smaller bags to divvy up the cooked tamales into one dozen per bag, which is perfect for gift giving. When you give someone a gift of food sealed in a food saver bag, that really impresses people, and they feel like you are giving them something really fresh, that will still be fresh when they get home and open that bag.
Date published: 2014-12-16
Rated

5

out of

5
by
copilot3
from
Great Products
Seniors and those is two person households are now able to think big!! As we know, buying in bulk usually means great savings on most foods . However keeping large amounts of food fresh and tasty is difficult without the food loosing its flavor or spoiling. Food Saver has turned out to be a lifesaver! Now we can enjoy bulk savings by simply using the Food Saver bags and canisters which are easy, efficient, and safe. In addition, we can cut the bag to any size we choose, depending on how quickly we are going to use the food. For me, Grandma, my Food Saver is not only a food saver but also a real life saver!! I give it five stars!!
Date published: 2012-03-22
Rated

5

out of

5
by
MaryJane2
from
Good Value
I find that the quart size is v ery practical for many items. And if a bag is still pristine after one use I can reuse it for a smaller item for storage. Forinstance I freeze butter sticks. So as I remove a stick I can reseal the leftover items. The other night we had frozen corn on the cob from our garden last summer and it was wonderful. The two cobs had sealed up tighter than a tick. Between the mason jars, marinator, and bags I wouldn't know which to choose as a favorite as they all server their own purpose. I do recommend that you keep your sealer out on the counter for easy access or you will not use it and it will become another one of those plastic appliances with a cord.
Date published: 2014-04-20
Rated

5

out of

5
by
cindyj
from
long time user
I have been using food saver products for years, and have always been very happy. Putting away in the fall means that I will have fresh all winter at huge savings--on a fixed income, that is important--and with bad weather, having a good stash is important.--food saver products do that for us. I wish there were smaller ready made bags sometimes, but the rolls are okay for customizing--- the vacuum is also wonderful for packing things for travel stuff--and keeping things waterproof-- there are so many uses for the vacuum sealer--
Date published: 2010-11-30
Rated

4

out of

5
by
Bill
from
Food Saver & Food Saver Bags...
Have used FoodSaver Products since 3/2010 and find them to be excellent. My sealer is automatic, just slip the bags into position and the sealer starts automatically and seals the bags everytime, unless they are not placed between the suggested lines on the sealer. The moisture is removed from the bag that sometimes has moisture from the food placed in them. This is all done by the Sealer or machine; mine is the V 3840. Finally I have and are using vegatables today that was sealed in March 2010, and they are completely Fresh!
Date published: 2010-10-11
Rated

5

out of

5
by
Bobbie73
from
Every household should use these bags.
I raise and harvest all my meats, fruits and vegetables on a small farmstead. Honestly, I have used every size bag and roll you sell and could not wrap the pork, poultry and beef without them. Each cut of meat is as fresh one year later as it was the day I sealed in the bag. The pecans from my trees stay wonderfully fresh, never getting rancid, sitting on the shelf from year to year safely sealed in one quart bags. Raising the best meat possible deserves the best bags available and this is why I use Food Saver bags. Sincerely, Bobbie
Date published: 2013-11-25
Rated

4

out of

5
by
jan911
from
I love food saver; however
I took advantage of an email offer, only to have 1/2 the order shipped. I called upon reciept of items and was told they were on a first come first serve basis. That was fine; however, my girlfriend took advantage of the same offer, after I told her about the promotion. She recieved her full order; I was told they were out of the product, when in fact they had some available. I just recieved the rest of my order; was a little unhappy with the customer service.
Date published: 2013-01-21