Images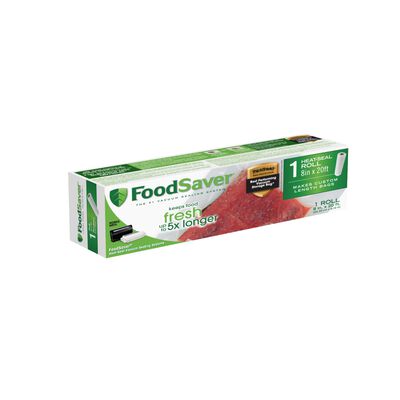 FoodSaver® 8"x20' Heat-Seal Vacuum Sealer Roll, Single
Details
https://www.foodsaver.ca/en_CA/bags-and-rolls/foodsaver-8x20-heat-seal-vacuum-sealer-roll-single/FSFSBF0516-033.html
Foodsaver
FSFSBF0516-033
https://www.foodsaver.ca/on/demandware.static/-/Sites-master-catalog/default/dwfde32f02/images/highres/FSFSBF0516-033-1.jpg
Keep foods fresh up to 5X longer with the FoodSaver® Heat Seal Roll. Durable, multi-ply material creates an air-tight seal to lock in freshness and taste.
See More...
Additional Information
FoodSaver® 8 Inch Roll is ideal for preserving foods in custom-sized bags, providing convenience and flexibility. Preserve, protect and prevent freezer burn using FoodSaver® rolls designed with channels that allow complete air removal. Multi layer material blocks moisture and oxygen to protect foods. The material is also puncture resistant and durable enough to simmer and microwave. BPA free.
8" x 20' roll
Multi-ply material prevents freezer burn
Specially designed channels block oxygen and moisture to maximize air removal
BPA free
Simmer and microwave safe
FoodSaver® 8"x20' Heat-Seal Vacuum Sealer Roll, Single
is rated out of
5
by
822
.
Rated

5

out of

5
by
sharbear61
from
excellent product!
My husband is our chef; there are only 2 of us at home now but he still loves to cook large quantities of food. Purchaching the FoodSaver was one of the best purchases I've ever made. Now we can freeze the food, in the FoodSaver bags, and whenever we want that meal again...we bring a pot of water to boil, boil the bag until the food is hot and voila! No fuss, no mess! We are campers...this works the very best when we're rv'ing. Can you imagine...the meals while camping are better than most get at home! We love this product!! Love, love, love it!! My husband especially thanks you for the convenience, I thank you because I eat like a queen....
Date published: 2013-03-14
Rated

5

out of

5
by
Tina48
from
FoodSaver has saved me LOTS of $$$$$
I've had my FoodSaver for about 3 years, and can't imagine my kitchen without one. I'm absolutely sure I've recouped the cost, maybe even several times, from not throwing away freezer-burned food, not discarding moldy cheese, and from a thoroughly effective way to freeze the bounty from our home garden. Leftovers are as good as the freshly cooked dish, and my husband (not normally a leftover fan) agrees. We're a two person household, and I LOVE to cook, and can now do it in quantity, assured that everything will be ready to reheat quickly and deliciously. I prefer the rolls instead of premade bags, as they give me the ultimate flexibility in the quantities I prepare for the freezer.
Date published: 2011-06-28
Rated

5

out of

5
by
manders5353
from
I love everything about these products!!
Foodsaver products are so convenient and easy to use and have saved me and my husband a TON of money and to make it even better, they're soooo affordable! Best investment I've ever made! I will be a customer for life and as far as I'm concerned all Food Saver Rolls and products are amazing and above all others! The only recommendation I have is to put more "Dashes" on the rolls so you can count them out to a certain size if you're trying to cut muliples of the same size bags or trying to replicate the same size bag you used in the past/trying to remember the perfect size you cut for your sliced ham, etc. But other than that it's an exceptional product!
Date published: 2013-02-22
Rated

5

out of

5
by
GramMary
from
The best bag in a roll out there!
I was given a Black & Decker Vacuum Sealer for a gift. The bags that came with it were constantly failing to seal. I bought an 8" roll package of bags by Food Saver and I have never looked back. They seal every time! I mostly use the 8" size, because I live alone and that is perfect for the portions I freeze. But occasionally I need the 11" for larger portions, like roasts, or casseroles that I freeze. I have recommended Food Saver products to many of my friends and even to strangers I have met in the store. When my Black & Decker wears out, I will most certainly purchase a Food Saver Vacuum System to go with the bags. :)
Date published: 2014-07-31
Rated

5

out of

5
by
Sherry68
from
Keeps frozen food perfectly!
We live on a lake. Last summer we caught quite a few fish. We cleaned them and I vacuum packed them into the bags, creating different sizes for the different sized fish. This spring my daughter came to visit. Keeping the fish sealed in the bags, I defrosted the fillets in a cool water bath and then we cooked them. They tasted as though they were freshly caught! We also have a vegetable garden, so I like to create my own bags of various sizes to accommodate what comes out of our garden. I have bought these bags several times over the years and I just bought several more for the upcoming fishing and gardening season!
Date published: 2012-04-29
Rated

5

out of

5
by
grammy77
from
HIGHLY RECOMMEND
This complete system is a fantastic way to freeze foods that are always fresh. I even freeze cookies. I put any liquids, for example chicken soup in a container and then freeze. For spaghetti, I spray the container first with PAM. The next day I wrap and put in one of FoodSaver bags. This always keeps my machine from being exposed to liquids. For me it makes the job easier as it is done over a period of 2 days. I don't have to stand a long time in one period. Also since it is only the two of us, I always have a great selection of meas without always cooking. Works great for chili. It is just as easy to make 3 or 4 meals at a time. My machine is one of the older models as I have had for quite a number of years. It has given me great service.
Date published: 2011-06-28
Rated

5

out of

5
by
Tenacious
from
The 8" rolls are a perfect size.
I purchased a FoodSaver a few months ago and I am very happy with my purchase. I use the 8" rolls more than anything and I find this size is perfect for my needs. I have however, used the 11" rolls as well for larger items. I buy in bulk and since using my FoodSaver for smaller portions, I am not discarding as much food as I used to. My FoodSaver has saved me a lot of time and money. It is truly one of the most used appliances in my kitchen. I find myself using it to seal all food items that are in bags such as, chips, rice, bread, frozen foods, etc.
Date published: 2012-01-04
Rated

5

out of

5
by
Joy1
from
If one has a garden a Foodsaver is a must have!
For years I discussed purchasing a vacuum sealer for my garden and berry goodies. I purchased one that wasn't a Foodsaver. My husband read reviews on it and found it wasn't going to work for us. He discovered the Foodsaver had the highest rating and had me return my purchase and order a Professional lll Plus that offered repeditve sealing without having to wait between each sealing. We been putting it through a lot of use in the last two weeks, sealing berries and beans from the garden and it works as advertised. Just a great addition to my kitchen tools, don't know why I waited so long to get one.
Date published: 2011-07-19