Images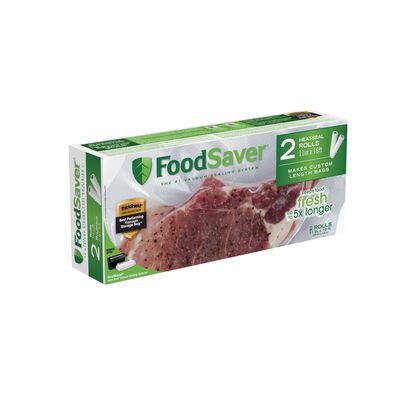 FoodSaver® 11"x16' Heat-Seal Vacuum Sealer Roll, 2-Pack
Details
https://www.foodsaver.ca/en_CA/bags-and-rolls/foodsaver-11x16-heat-seal-vacuum-sealer-roll-2-pack/FSFSBF0626-033.html
Foodsaver
FSFSBF0626-033
https://www.foodsaver.ca/on/demandware.static/-/Sites-master-catalog/default/dw2212dbac/images/highres/FSFSBF0626-033-1.jpg
Keep foods fresh up to 5X longer with the FoodSaver® Heat Seal Roll. Durable, multi-ply material creates an air-tight seal to lock in freshness and taste.
See More...
Additional Information
The FoodSaver® 11 Inch Rolls are ideal for preserving foods in custom-sized bags, providing convenience and flexibility. Preserve, protect and prevent freezer burn using FoodSaver® rolls designed with channels that allow complete air removal. Multi layer material blocks moisture and oxygen to protect foods. The material is also puncture resistant and durable enough to simmer and microwave. BPA free.
2 - 11" x 16" rolls
Multi-ply material prevents freezer burn
Specially designed channels block oxygen and moisture to maximize air removal
BPA free
Simmer and microwave safe
FoodSaver® 11"x16' Heat-Seal Vacuum Sealer Roll, 2-Pack
is rated out of
5
by
572
.
Rated

5

out of

5
by
TampaMan
from
Wouldn't be without them.
These are the best pages by far. I have had chicken parts packed in these pages in my freezer for over a year. And they where as fresh as the day I purchase them. No frost bite or vacuum leaks. I just purchase 50 pounds of chicken breast @ $.99 a lb. They'll last me for a good while. I use and love all The Food Saver Produces. And I have saved so much money from spoilage. I also wash as reuse my pages. And that's a big big savings. A must have, in my household!
Date published: 2010-12-02
Rated

5

out of

5
by
dad1928
from
The product really does the job!!
I use the bags to seal in freshness for the fish I get on our yearly fishin trip to MN. It really works great!!!
Date published: 2011-04-02
Rated

5

out of

5
by
Barbi
from
Having a variety pack maxamizes my options
Used to freeze veggies in reg food saver roll bags made by me, more reasonably priced. Now with the variety pack I can choose to put my veggies in steam bag or re bag, convenience oriented. Having the bag size already available when I am in a hurry cuts time. The rolls are also included so when I want to personalize the size I got it. Couldn't ask for better. Price evereything individually & you will see substantial savings.
Date published: 2014-08-14
Rated

5

out of

5
by
Hissunshine
from
These rolls are great!
I have enjoyed using these bags very much! I can make them any length I choose. I have been a sealing fool ever since I received my machine and the rolls are very easy to use. I use the rolls regulary and have been having great fun figuring out what to use them for next :o)
Date published: 2011-01-17
Rated

5

out of

5
by
Meled1
from
Love It .. Love It!
Have tried all types of pantry and freezer storage containers but nothing can even come close to the food saver bags. There are only two of us in our household and I always thought this system was for big families but decided to try the latest version that offers the zip lock system. Love making my own bags now vs. zip bags. I always leave a little extra room when creating bags so I can cut open and remove pastries for example then reseal. Am sorry I didn't try the system before now and know that I'll never want to be without the system. Absolutely love it. All kitchens should have a food saver system.
Date published: 2016-02-15
Rated

5

out of

5
by
momma81
from
Great value and product!
I am very pleased with the bags and rolls I ordered. They are perfect for freezing my bountiful harvest and the exchanged produce between neighbors. Labeling is easy and I know from past experiences that my foods will retain their flavor and nutrition.
Date published: 2014-08-09
Rated

5

out of

5
by
happymimi
from
love the products
I own a foodsaver and gave my daughter one for Christmas. We have enjoyed using them to put up vegetables from the garden. It is so much better than using the bags that don't seal out the air. The food is always fresh tasting and looks so fresh.
Date published: 2014-08-07
Rated

5

out of

5
by
Fisherwoman5
from
A good sampler of products.
Originally, I purchased this assortment because of the sale price. It had the rolls that I thought I needed and a few bags that I had not tried before. I'm now really happy that I ordered it. I would not have tried the new (to me) products without this assortment. And, I would never have had the opportunity to experiment with the different sizes and determine what really works best for my applications.
Date published: 2014-08-06
Rated

4

out of

5
by
Gadget
from
11" Rolls - Very user friendly!
I love the rolls for when I need a bag other than the pre-maid sizes. Works great for freezing food!! Note: If I'm bagging something which I may wish to open up at some point and then re-seal, I make sure to add a few inches for each time I think I may need to reseal. That way, when you cut the bag open, you'll still have enough bag left to re-seal.
Date published: 2011-06-28
Rated

5

out of

5
by
Alyce
from
Perfect for any size item!
I use my FoodSaver several times a day, from resealing cereals to saving leftovers in the freezer and most importantly, storing and protecting freshly purchased meats and produce. The 11" roll allows me to make any size bag I need, from a tiny one for chopped nuts for tomorrow's baking to extra long ones for my fresh baked french bread loaves! I often seal as directed, but open from the short end ... for example a pepperoni sausage. I make the bag so that it is a snug fit on the sausage and then as I open it, I cut the sort end and reseal the short end as the sausage gets shorter. I hope that makes sense ... I make a 4" x 11" bag and keep cutting across the 4" end until I eventually end up with a bag as small as 3" x 4"! Best product that does exactly what it says it will do!
Date published: 2011-06-27
Rated

5

out of

5
by
MrDave60
from
Excellent bags for saving single portions
I have just two in my family so i was often throwing out food that did not get used until now.Since i have the Food Saver Plus I have been able to portion control for weight control as well as saving the fresh foods for future use.When buying in bulk i save money and with the right portion bags i can freeze just enough for two and not waste anything i have bought.If more folks come to dine i just use a second portioned bag.The quart,gallon,and the rolls where i can make the bags the size i need are perfect for food management. [This review was collected as part of a promotion.]
Date published: 2015-03-02
Rated

5

out of

5
by
Toby52
from
Excellent product to provide meals.
When I retired I wanted to assist others in times of need. I smoke various meats (chicken, sausage, beef, pork, turkey, and chicken) and freeze quanties of various meats to provide the bases of a meal. When a friend has a need or just to provide a little "pick me up", I provide a meal inclusive of the frozen meat they can serve at their convenience. Using my Foodsaver sealed bags there is nothing they have to return. Excellent product. [This review was collected as part of a promotion.]
Date published: 2015-01-20
Rated

5

out of

5
by
stitchhappy
from
Best product out there
I just purchased my Foodsaver and I have to say I'm totally in love with this product. It does all it says it will and more. The only thing that would make this product better would be if it did the dishes.. seriously, I waited a long time to purchase this product and it was worth every penny. In hard financial times we need to make the best use of the food we buy. Keeping my food fresh longer just makes sense. I'm growing a garden full of fresh vegetables and then my Foodsaver will get the full workout.
Date published: 2011-06-28
Rated

5

out of

5
by
LadyDi227
from
well made
Well made, does everything I hoped it would. I have a household full of fishermen and the foodsaver does an excellent job of preserving the fish.we have had Sea Bass 9 months later and it was just as good as the day it was caught. If you have a fisherman or hunter then YOU NEED THIS PRODUCT
Date published: 2014-09-15
Rated

2

out of

5
by
Rob3
from
flimsier heat seal plastic
With the new FM2100, we got some Foodsaver rolls. I ordered additional heat seal rolls, since it was harvest season for us. Unfortunately, the shipper sent us rolls which did not come in a Foodsaver box and did not look or feel like the rolls included with the machine. Instead of a smooth and a textured side, bot sides were textured and the plastic was flimsier/thinner. To me, they looked more like the inferior Seal a Meal type. I say inferior because thin plastics are frequently damaged in a deep freezer, as one digs around or reorganizes. Just a tiny hole will ruin the vacuum and odors can penetrate. I can't help but wonder if the shipper improperly sent us a substitute. We got 8 and 11 inch rolls of inferior sturdiness.
Date published: 2015-11-24
Rated

4

out of

5
by
Tee47
from
Good product, but a little expensive.
I hate to buy Food Saver rolls at retail stores because the price is way too high. I started buying knock off rolls online that were much cheaper and did the job just fine. So when the promo offer came to buy Food Saver rolls at a significant discount from retail, I took it. Even with the promo, the Food Saver rolls are a bit more expensive than the knock offs, but I needed some rolls quickly. I really wish Food Saver would charge a fair retail price.
Date published: 2012-12-03
Rated

5

out of

5
by
StartingOverAt52
from
Everything needed in ONE box
Our family garden is shared, so I buy the bags, while my cousin owns the machine. We find the starter set very useful and fits all our needs from tomato sauce to stuffed peppers. We can "file" our frozen items for easy access all year long.
Date published: 2014-07-15
Rated

4

out of

5
by
Shelli
from
Disappointed,,,,,
these bags are now paper thin, I had to send my first order back as my sealer skipped right over the vac part, would only seal. The next order I received did a good job but again the bags are paper thin not like the original bags I received when I purchased my sealer. Also the rolls seem to be shorter, not getting as many bags as you used too.....Hope things change and you get back to the heavier bags. It would be a great purchase. I have had my sealer for years and recently updated to the newer ones last year.........great purchase if the bags improve.
Date published: 2015-11-17
Rated

5

out of

5
by
Gia62
from
Makes any size bag you want
I buy bags already made. This is the only roll I buy. Sometimes you just need a bigger bag. This comes in handy when that happens. I also purchased expandable roll, but I haven't used yet.
Date published: 2016-02-16
Rated

5

out of

5
by
lkt2
from
11 in rolls
I really like both sizes of the rolls; the 11 inch the best. They are so versatile and easy to use. I use the rolls more often than the bags as I vacuum pack many various sises and types of foods. With a garden they are so helpful in the preservation of the vegetables. thanks, lkt.
Date published: 2011-06-30
Rated

5

out of

5
by
Linda12
from
Unbeatable value
First of all, the FoodSaver vacuum sealer eliminates freezer burn which means that the food that you sealed tastes just like it did the day you put it in the freezer even a year later . I particularly like the flexibility provided by the full size rolls in that I can create just the proper size bag for the size item I'm freezing. I can prepare a large amount of meat or chicken and then seal the portion sizes I want for use at a later date. It does not matter whether or not the item I am vacuum sealing has been cooked or uncooked, it always comes out in the exact same condition as when I sealed it. The cost of the rolls are very reasonable and the sealer unit I bought years ago is still working perfectly. I highly recommend this product.
Date published: 2012-08-17
Rated

5

out of

5
by
Mema
from
Love, Love my Food Saver!
Just purchased additional rolls of wrap for my newest, favorite kitchen helper! The Food Saver does just that....saves food! Keeps meat or vegetables fresh for months! Just took out okra frozen in July of 2013, it was bright green and tasted fresh when cooked! When I froze it in freezer bags, it never looked or tasted like that! I highly recommend this product to all my friends....you will not be disappointed!
Date published: 2014-02-26
Rated

5

out of

5
by
Sealitnforgetit
from
Strong and versatile
I like the size of the rolls they are very versatile. I seal everything from venison to deserts even soup. They very strong and hold up well in the freezer for a long time. I have tried others but they don't compare. Thank you, FoodSaver
Date published: 2011-04-05
Rated

5

out of

5
by
Lynda
from
Food Saver really does save food and money!
I have been using a food saver ever since it was invented! I could not live without it. My husband goes fishing and hunting so its the perfect product to preserve his catch from season to season. We also like to grill, so we can fill it up with meat and have many meals ready to eat because of the food saver and the highest quality bags.There is NEVER any freezer burn! Thanks so much for your product!
Date published: 2014-12-22
Rated

5

out of

5
by
Abbysmom
from
great product
We have been using food saver for many years. We love it. Recently the rolls have been harder to find in the stores where I usually purchase them. I had put off ordering via website to avoid extra shipping charges, etc. I placed an order recently and actually saved money. The product arrived quickly with no problems. I will order via website again. Thank you for your great products and service.
Date published: 2015-01-04
Rated

5

out of

5
by
JoBar
from
The 11" x 16' foot roles are very convenient. I am a new user so there has been a little bit of a learning curve in regards to the length of the material I should cut for each application. I have only wasted a couple of inches here and there so nothing major. I believe buying by the roll will be less wasteful for me as I can just cut the length that I need. I highly recommend using a FoodSaver.
Date published: 2016-03-21
Rated

5

out of

5
by
retired2012
from
Easy to use for many items.
The 11" roles will fit larger items like Baby Back Ribs, cut to fit to save for freezing. Gallon Bags are great for bigger roast, Chicken wings, etc. Ears of corn, Steaks, chops. Quart bags fit almost everything you need to seal. Great Invention ever made. Got the sealer for Christmas 2007, used it Hundred's of times, just replaced seals and going full steam ahead.
Date published: 2014-08-18
Rated

5

out of

5
by
DebbieD814
from
Bigger then I thought
I went out to get more the first time I used the large roll as I did not know just how big it truly was. To my surprise it did way more then I figured it would. I think it is great for larger items and the cost is truly not that bad if you figure all you can seal in just one roll. I just came home from a hunting trip and had 2 deer to cut and wrap or seal and I only used one of the large rolls and 2 of the smaller rolls and we had 85 pounds of meat to seal up. Did a great job and now I have several rolls for the elk that is next.
Date published: 2012-09-29
Rated

5

out of

5
by
Fanfayer
from
Great Value for a fantastic product
I have had my Food Saver for several years, but I like the premade bags. They are convenient and easy to use for quick packaging. The rolls are extremely useful in packaging larger items. Since purchasing out Food Saver, we have saved thousands on our food bill. By keeping food fresh, saving leftovers to being able to purchase bulk foods, it's a great product.
Date published: 2014-10-17
Rated

5

out of

5
by
CC123
from
Love my FoodSaver
I use my FoodSaver all the time. It's perfect for roasts, steak, chicken, etc. I recently started vac-packing fresh bakery bread and rolls. The pulse button keeps them from flattening and you can warm them in the oven for fresh baked bread taste. The 11inch vac rolls are the only ones I use as they seem to fit everything. Buying in bulk saves money too.
Date published: 2015-03-31