Images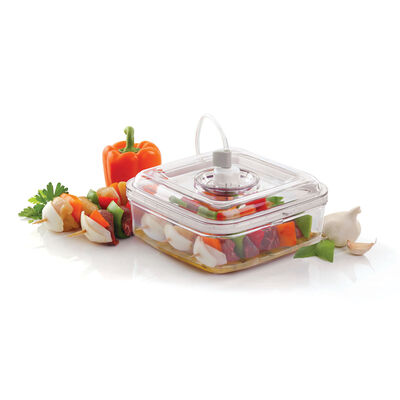 FoodSaver® Quick Marinator
Details
https://www.foodsaver.ca/en_CA/accessories/foodsaver-quick-marinator/T02-0050-01.html
Foodsaver
T02-0050-01
https://www.foodsaver.ca/on/demandware.static/-/Sites-master-catalog/default/dw0527d5c0/images/highres/T02-0050-01-1.jpg
Marinate in minutes with the FoodSaver® Quick Marinator. Prepare flavourful meats, fish, vegetables and more quickly, without hours of marinating, for delicious meals in no time.
See More...
Additional Information
FoodSaver® Quick Marinator is a 2.25 quart canister that marinates meat, fish, vegetables and more in minutes instead of hours. Designed for use with FoodSaver® Vacuum Sealing Systems, the Quick Marinator infuses food with flavour in minutes instead of hours using vacuum power to penetrate marinades deep into the food. BPA free. Can also be used for convenient storage.
2.25 quart size
BPA free, stain resistant and odor proof
Dishwasher and microwave safe
FoodSaver® Quick Marinator
is rated out of
5
by
857
.
Rated

5

out of

5
by
ziniti
from
Nice product
I've had this product for several years and like it very much. It has a heavier than usual thickness compared to other FoodSaver containers. It stands up better. It is easy to use. The size is great. I often use it for left overs. It does marinate, but it's a great container, too. It's flaws are that it can't be used in the microwave and you really can't take it and go, to a party for instance. The lid doesn't lock without the vacuum sealing.. I would like to be able to take it from the refrigerator to the microwave to heat up leftovers or to a party with snacks or...... Maybe the next generation?????
Date published: 2010-11-22
Rated

5

out of

5
by
Colorado Woman
from
Love this product
I recently used my marinator for the first time. It worked great. I was surprised at how big it is. My impression from other reviews and the pictures had led me to believe it was much smaller than it is. For a single person like me it is more than sufficient. After reading the instructions online, I realized that it is not made to be used as a storage container. It is not meant for a constant seal, only a short term one as in the marinator cycle. The first time, I did not realize that the marinade cycle runs through twice and undid it too soon. Now I know to wait until it vacuums out twice and then unhook it. It tastes better that way too.
Date published: 2017-01-23
Rated

5

out of

5
by
Gumshoe009
from
Vast Improvement over previous Marinator
The previous version of the marinator that is rectangular in shape had a defective design that resulted in the lid cracking at the gasket which made sealing impossible. I have two of those marinators with that problem. The current marinator, of which I have one, is a vastly improved design which is sturdy and easy to use. I note that the old marinator is still pictured on this website and appears to be included in some of the vacuum sealer packages. Beware of those packages and insist on the square marinator which is outstanding in performance.
Date published: 2013-05-11
Rated

5

out of

5
by
Rubberweasel
from
Marination
I recently purchased the marinating container because i like to grill a lot, and wanted to step up my game on the Bbq. This product is really easy to use and is built very well. Using this product for the first time, i didn't really know what to expect. I usually just put my meats in a bag with the marinade and vacuum seal them and let them sit over night in the ice box. I must say that i am greatly impressed. it cut my marinating time down from over night to 10 minutes. The steaks that i used were lower quality and they still came out "melt in your mouth" perfect. I just wish that they made a larger size.
Date published: 2015-01-29
Rated

1

out of

5
by
Thud
from
Structural Failure
I bought the FoodSaver® GameSaver® Quick Marinator in March of 2016. I have used it a number of times and have been very satisfied with it's performance until the other day I put a couple pieces of meat and marinade into the container, hit the marinade button on my Food Saver vacuum sealer and after sealing it I put the container into my refrigerator. A couple of hours later I heard an explosion or implosion coming from my refrigerator. I opened the door to the refrigerator and the container was in nine pieces with marinade on splattered in most of the refrigerator; what a mess. 'No animals were hurt during this filming', LOL.The container has never been damaged or dropped and I have always taken good care of it, but look at the photos.
Date published: 2017-12-05
Rated

5

out of

5
by
RJ529
from
We simply LOVE what it does to our meats!
Talk about an item worth every penny! If you like to marinate meats, veges...then you'll love the "MARINATER". It takes your food to a new level of enjoyment! I cook chicken breasts only on my George Forman and now I will never cook chicken breasts without first marinating with the "MARINATER". It is very easy to use with any concoction and any meat. Now I'm eyeballing my summer spear-rib recipes...but I need Foodsaver to make me an extra large "MARINATER"!!!
Date published: 2012-02-01
Rated

4

out of

5
by
JoyceS
from
Love it!
Love this for marinating, I would have given it a 5 star if it were a big bigger in size. But it did hold approx. 3 pounds of sliced meat for jerky. Very easy to use, A word of caution to first time users,,READ the directions,. You CANNOT immerse the lid in water! instead use a damp cloth to wipe it out, I believe that is the problem many have had with it not working properly, they did not read the directions that came with the product. Otherwise, great product with great features. Highly recommend this marinator
Date published: 2015-12-08
Rated

4

out of

5
by
WJSO
from
WJSO
I received this with my new FoodSaver package. I am so impressed! I have used the bags for many years altho I have never used any of the canisters or containers. I am definitely hooked. This marinator works just like advertized. My first dish was a melt-in-your-mouth curry chicken from a recipe I've been using for many years. It has never been so easy or tasted this good. When not in marinating mode it works very well for food/vegetable storage. I stored the leftovers in it and warmed them up in the microwave for lunch the next day - all in the same container.
Date published: 2011-05-06
Rated

5

out of

5
by
Doneal
from
Great product
I purchased two, due to I wanted just one layer of meat to marinate, but with the vacuum, it doesn't matter. I also use it for storage of left overs. The food saver and containers is saving money and we don't get "burnt out" with left overs. It's like having home made "TV dinners". I read the reviews before I purchased it. and don't totally agree with the cost of the bags being a waste. I think who wrote the review didn't take in account the waste of throwing out food that you get tired of eating.
Date published: 2017-06-18
Rated

4

out of

5
by
Corvus
from
Does what it oughta
Bought this a few weeks ago and tried it the first time on store-bought kabobs with what looked like chuck. Ran it though two cycles, turning the kabobs over in between as they were so massive the marinade couldn't cover them completely and maintain the inch-below-the-top the instructions called for. They turned out tasty and much less chewy than unmarinated chuck would be with just twenty minutes' marinating. Only issue: It was a bit short (remember massive?) and I had to nip through both skewers at the 2/3 point and lay the short pieces alongside the two longer ones to get them to fit. When I make my own, I'll make sure they fit first.
Date published: 2017-11-25
Rated

5

out of

5
by
CAJNCOOK
from
IT WORKS!
I've used this product several times to prepare steak prior to grilling and prior to freezing. I don't like a lot of salt on meat but I do like to marinate with other seasonings. This method of marinating really works well when. The seasoning penetrates into the meat and even if you then put the item into a freezer bag and vacuum seal it to cook at a later date the seasoning is there when the meat is prepared either on the grill or in a pot. I only wish there was a slightly larger bowl available.
Date published: 2012-09-13
Rated

5

out of

5
by
Grill Sergeant
from
Great time-saver!
We ordered this after speaking with customer service rep who replaced one of our vacuum canisters that imploded. Weren't sure it would have value for marinating but it looked like it might be sturdier than taller containers so we bought it. Turns out we use it several times a week as we cook in Traeger grill nearly every night & marinated chicken, pork or fish are popular staples. This vaacum marinator facilitates shorter cycle marinating making dinner planning easier. It works great!
Date published: 2016-05-12
Rated

5

out of

5
by
Trautfolk
from
Large and flat - Great for marinating!
I had used other canisters for my marinating, but when I saw this I thought it might be good to give it a try. I must say that I am way more than surprised! It does a great job and is fairly simple to use. The knob on the top has to be screwed closed then turned to the right place before using. I did not realize it was partially unscrewed and sat there like a dummy for a bit waiting.
Date published: 2010-10-23
Rated

1

out of

5
by
Jerskip
from
Hope they've been improved!
I've had my Food Saver for at least 10 years (probably lots more) and have a few food containers, including the marinater, but all of them are unusable due to cracks that came about after some months of use. It appears the plastic used for the containers was not strong enough since the cracks are on each corner of the container and appear to be caused by pressure. While they lasted (not very long) they were great, and if they've been improved I'd be interested in getting some, but not if they're made of the same material. The sealer itself is still working but after all the use we've given it we can't always get it to seal properly and have purchased a new one. So the sealer is a 5 star, but the containers are 1.
Date published: 2019-10-13
Rated

5

out of

5
by
NanniePeg
from
Easy to use product
I bought my V3440 Foodsaver in June 2011. I have filled my freezer with produce from my brother and sisters gardens. I found the Foodsaver very easy to use. It even tells me when I need to empty the overflow tray. How cool is that. I ordered the two marinators, more than a month ago. I just used one of them for the first time this week. I marinated pork tenders. They were fork tender for the first time ever. My only complaint is that there are not enough instructions on how to use these marinators! Do I just hook it up, push a button and wait? What is the machine marinator process? How long do I wait? I put the pork tenders in the square container with my 1/2 cup Dale's Sauce and 1/2 cup Minute Maid Lemon Juice. I pushed the marinate button. The Foodsaver vacuumed the air out, but then what? Nothing is written in the instructions that came with my V3440 FoodSaver or the marinator dishes. There are only safety instructions, how to clean and keep the vacuum nozzle clean.
Date published: 2011-10-01
Rated

5

out of

5
by
chris
from
I love these!
I have had 2 of these for these for years and years.My first FoodSaver was bought when they first came onto the market way back in the 1980's.If you find that it won't seal anymore it is because you have lost the little seal piece that goes under the knob(it is a small 1/4" seal ring).Watch when washing that you don't lose it by taking the knob off in the water remove it and take that out before washing then put it back when done.I give this 10000% rating on marinading meat.This thing could tenderize leather!
Date published: 2012-03-04
Rated

3

out of

5
by
Inkling
from
I really wish they would have included the hose!..
I have owned this for 10 days and have yet to try it because my FoodSaver machine didn't have the vacuum tube and I had no idea the tube wouldn't be included with this product. If they don't include the tubing then I really think that fact should be made obvious to the consumer.
Date published: 2017-06-12
Rated

5

out of

5
by
KMAG
from
Designed for convenience
This is our second Food Saver, the first one lasted several years and still works good, but is not as convenient to use. The bag storage and cutting design on the new machine is a real time and space saver, the extending bowl and bag sealer is a luxury that makes sealing these items an everyday event for keeping foods fresher and the refrigerator smelling better. Due to the design, size and convenience of the new machine it is now kept on the kitchen cabinet at all time and is used almost daily, where as the old machine was stored and only used when we had bulk foods to store. Quality of the containers, bags and machine seems to be very good and should last for many years.
Date published: 2017-07-05
Rated

5

out of

5
by
Cassandra
from
Magical Marinator
After much hesitation (regretful) I purchased the Quick Marinator . It is nice looking, a decent size, and easy to use. Just put your food in, add your marinade, and turn on the FoodSaver. Then abracadabra; ready in a few minutes. The first thing I tried were pork chops. I like pork chops but they usually end up dry. But now that I've got the Quick Marinator no more dry pork chops! Read the cleaning instructions. Be careful when cleaning the lid. You can wash it carefully. Don't immerse the it and let it thoroughly dry.
Date published: 2016-02-07
Rated

4

out of

5
by
MeatAndFireGuy
from
FANTASTIC MARINATOR, JUST ONE IDEA TO MAKE BETTER
THE VACUUM MARINATING IS A FANTASTIC IDEA, GREAT WAY TO INFUSE FOODS, MEATS, WITH GREAT FLAVORS. IM BUYING MORE TODAY ..... BUT ..... ONE IDEA WOULD MAKE THEM SOOOO MUCH BETTER. MAKE THEM STACKABLE (SAVES TONS OF SPACE WHEN NOT USING THEM) YES THERE ARE THE OTHER, MORE TUPPERWARE LOOKING, CONTAINERS THAT DO STACK... BUT, THEY DON'T HOLD A VACUUM VERY WELL AND DON'T HOLD UP TO LOTS OF HARD USE. THE LITTLE RUBBER FLAP NEVER GETS A FULL VACUUM SEAL AND LOOSES PRESSURE QUICKLY. GREAT TO KEEP YOUR LUNCH SANDWICH FRESH AT WORK, NOT SO GOOD FOR MARINATING. IM GOING TO HAVE QUITE A FEW OF THESE NOW, FOR WHEN I DO MY COOKING, BUT IM GOING TO HAVE A HECK OF A TIME FINDING SPACE TO STORE THEM ALL WHEN IM NOT COOKING WITH THEM.
Date published: 2010-12-23
Rated

5

out of

5
by
rlee
from
What a surprise!
I got this marinator with my unit and really wasn't planning on using it much. So I marinated some rib eye steaks in soy sauce and mustard and the results were out of this world! Yes the flavor was amazing and went evenly throughout the meat...it was the first time ever I didn't use A-1 with my steak. What surprised me was the tenderness of the meat...melt in your mouth! Now this accessory is a regular in my meal planning.
Date published: 2012-04-15
Rated

2

out of

5
by
JAB8778
from
Great idea, poor quality
We own two, when they work they are fantastic, unfortunately they crack, the amount of money we have spent on the marinators and canisters is my fault for believing that the quality has got to get better so we will give them one more try...based on the current reviews, nothing has improved. One marinator lid cracked and the other dial seal doesn't seal. All of our canisters are cracked on the bottom.
Date published: 2019-05-28
Rated

5

out of

5
by
Huksgrl
from
So Quick
It's the quickest most effective way to marinate meat. I do it twice on each side then put into foodsaver bag, vacuum on moist, give it a double seal and drop into my anova precision cooker water. The flavor is all the way through the meat. I also cook it other ways and the meat is still flavorful all the way through. I love it! I got it after I got my APC because they said a vacuum sealed bag was best. Now I wonder why I didn't get one sooner.
Date published: 2017-11-18
Rated

5

out of

5
by
Addiebam
from
a great time-saver
I've only used the marinator once, for a large pork chop. I always marinate pork chops to keep them from drying out. It usually takes several hours in the fridge, but I followed the instructions for the marinator and it only took about 20 minutes. The only thing I did differently was not to totally cover the chop with the marinade, as instructed - that would have been way too much marinade for one chop, and I noticed in the photograph of the product with the kebabs in it, they weren't totally covered either. In any case, the chop was tender after a much shorter marinating time.
Date published: 2014-12-19
Rated

5

out of

5
by
Bobbeleh
from
This is a "must-have"!
I've had one of these for years! I make a marinated quinoa salad that contains red, orange, yellow and green peppers, red onion, scallions, cucumber, and zucchini, all quarter-inch diced. After preparing the veggies, I put them into the marinator, add a nice vinaigrette, and put it in the fridge for a few hours, flipping it every hour or so. I love the fact that the seal is water-tight and the vacuum process forces the marinade into the food so efficiently. I have also used the marinator to marinate chicken breasts and other meats. It's particularly useful if you need to marinate something and you don't have a lot of time; the vacuum process forces the marinade into the food. The square shape is perfect for the fridge and the heavy-duty plastic is excellent (yes, I've dropped it). This is a great addition to anyone's FoodSaver arsenal.
Date published: 2012-10-30
Rated

5

out of

5
by
WhoCaresWhoIAm
from
Cheaper than Bags,Rolls but Take Storage Space
Excellent. Great for marinading wet or dry rub meats, poultry, or fish. I use often to prepare veggies dishes in advance, then store in fridge. Nice size. Just note that marinador dish and lids are not stackable, and do take up storage space. If you want more than one and do not have cupboard or drawer space, you will probably be better off using bags and rolls for marinading. I wish they offered larger dishes for marinading foods such as flank steak, rib racks, halved chicken, and kabobs. These marinators wash nicely, do not get cloudy. BPA free!
Date published: 2015-11-28
Rated

5

out of

5
by
FinleyP
from
Excellent Upgrade!
I have had a marinator for years. Love it. I got this new one with my order with the intention of giving it as a gift. HA!! I'm keeping it! The gasket redesign is fantastic! The gasket on my original is sunken into the cover. Cleaning it can be quite a challenge! This new one has a gasket that protrudes out beyond the channel it sits in. Brilliant!! Such a huge improvement! I hope my friend enjoys my old hand-me-down marinator because that is all they are getting! :) (The cool thing is, I know that they WILL love it!)
Date published: 2014-09-15
Rated

5

out of

5
by
LancasterPA
from
Well made just a bit small
I love the marinator. I use it regularly and it must be 15 years old or so. My problem is it is too small. This one is 2 1/4 qts and I think a 4 quart model should be in the future. I need to use the bags just to marinate a "Family Saver" size pack of wings, thighs or drumsticks. I thought the Gamesaver would be bigger but it is the same size. I am glad I checked before I ordered it. Think about a larger unit.
Date published: 2016-10-30
Rated

5

out of

5
by
Sam10
from
Top favorite out of all the containers/canisters.
Very nice, good quality, very efficient in holding the seal, and many other uses. Bought 10 since Xmas of 2015 and not one crack so far, with daily use. Wash by hand in warm water with detergent. When you remove the top, the seal will partially come loose, and you have to make sure you put it back in the groove. Also just before you vacuum, squeeze the canister together and you will hear a slight amount of air being displaced. This tells me the gray gasket is good and in place. No complaints. L O V E them. Highly recommended.
Date published: 2016-02-05
Rated

1

out of

5
by
Trobins6
from
Easy marinade
I own two of the easy marinade. Both of them developed cracks after the second use.
Date published: 2013-12-14